Celebrating Our 50th Anniversary
1972 – 2022
Fifty years in business tells quite a story! Since 1972, the Robson Resort Communities have been a popular choice for retirement living with beautiful locations in Arizona and Texas, resort-style amenities, countless activities, and visionary home designs. Today, the Robson Resort Communities have sold more than 30,000 homes and more than 50,000 people call a Robson Resort Community home.
Watch the Robson Resort Communities 50th Anniversary Video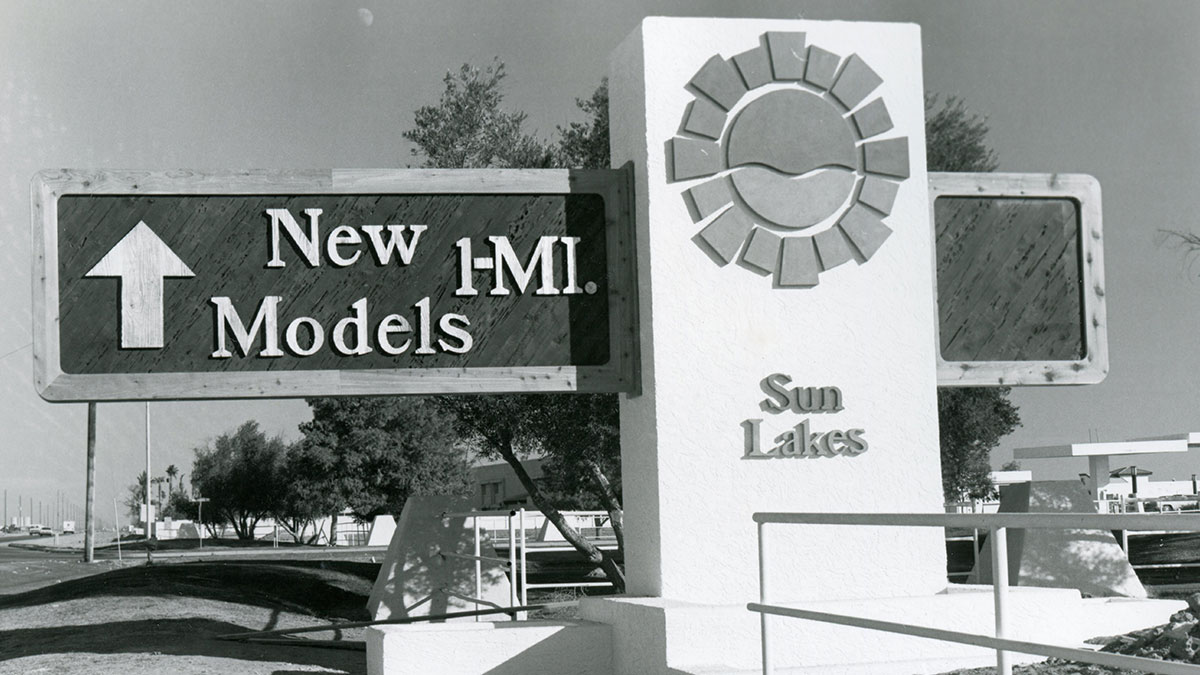 Tenured Teams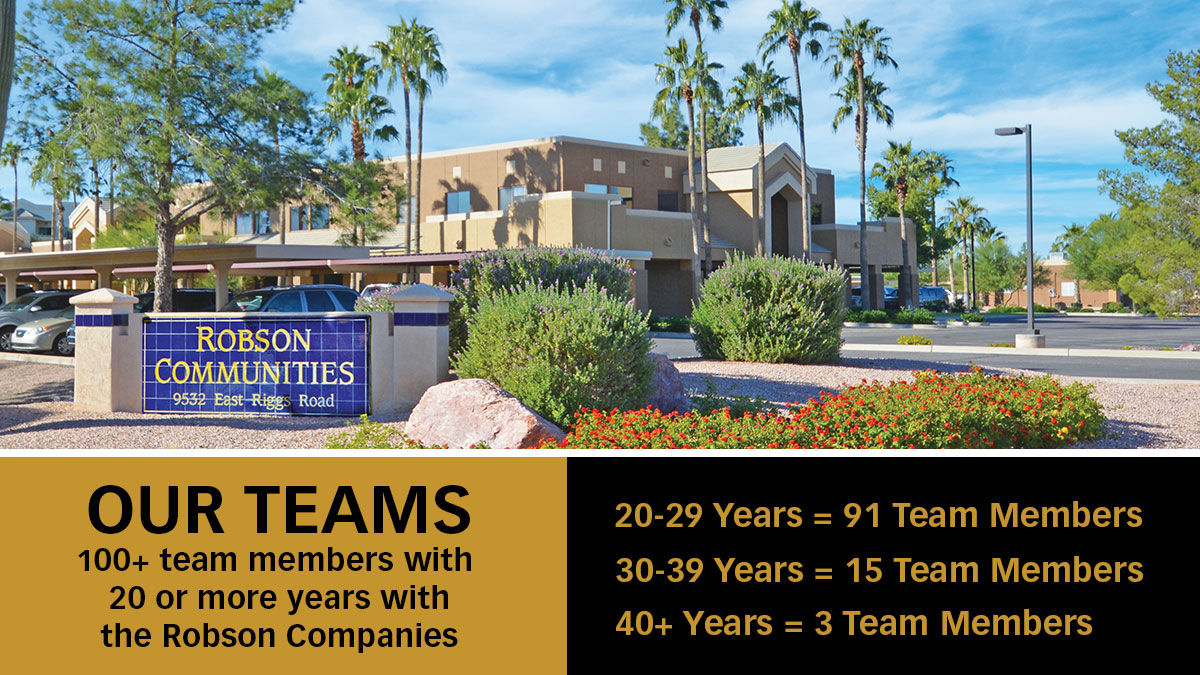 Our golden anniversary is also a celebration of the people that make the Robson Companies an outstanding place to work. Throughout the years, the teams at the Robson Companies have both grown in number and experience. From the most tenured team members to the newest, we recognize that part of our strength comes from the strength of our teams. We are honored to have more than 100 long-tenured team members that have been with a Robson Company for 20+ years!
50-Year Anniversary Brochure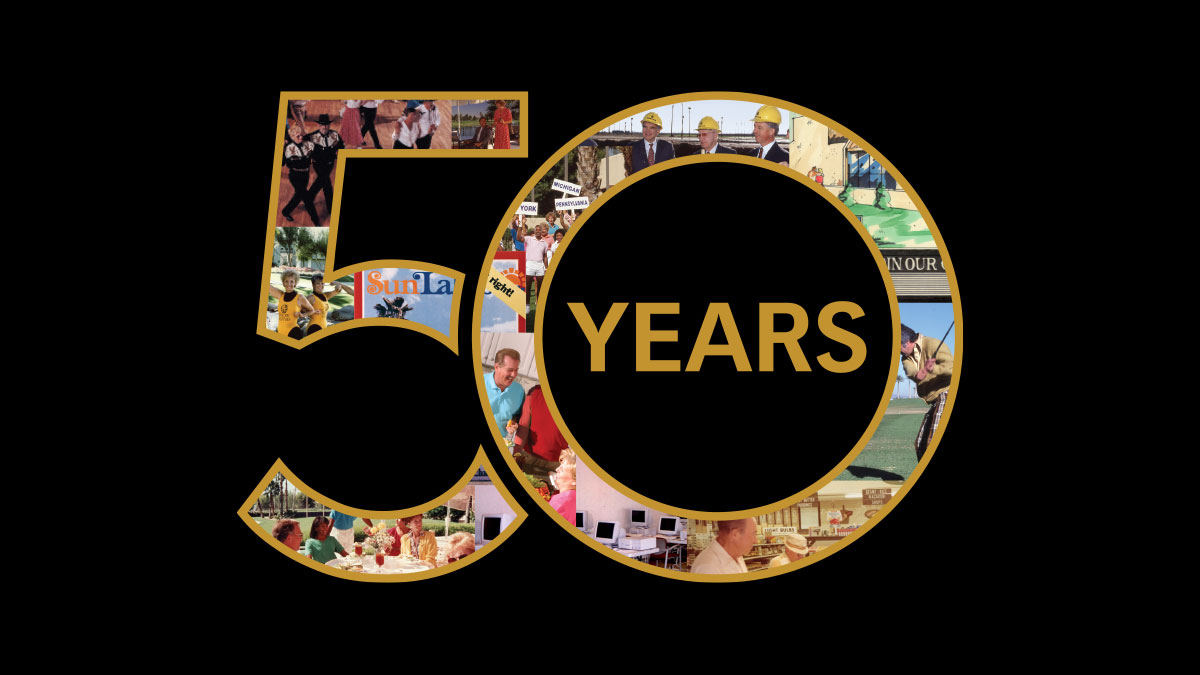 A 50th anniversary is certainly a milestone worth celebrating! The Robson Resort Communities have come a long way – from selling lots and mobile homes in 1972 at Sun Lakes to offering new homes for sale in six retirement communities today.
Learn more about how each 55 plus community began, where they are today, and enjoy fun throwback images of events, advertising, and much more.
Edward J. Robson
In honor of our 50th anniversary, we must also celebrate our Founder, who pioneered the concept of providing active adults with a resort lifestyle. With passion and experience, Edward J. Robson, has become a housing industry leader while remaining focused on the importance of giving back to the community and being actively involved.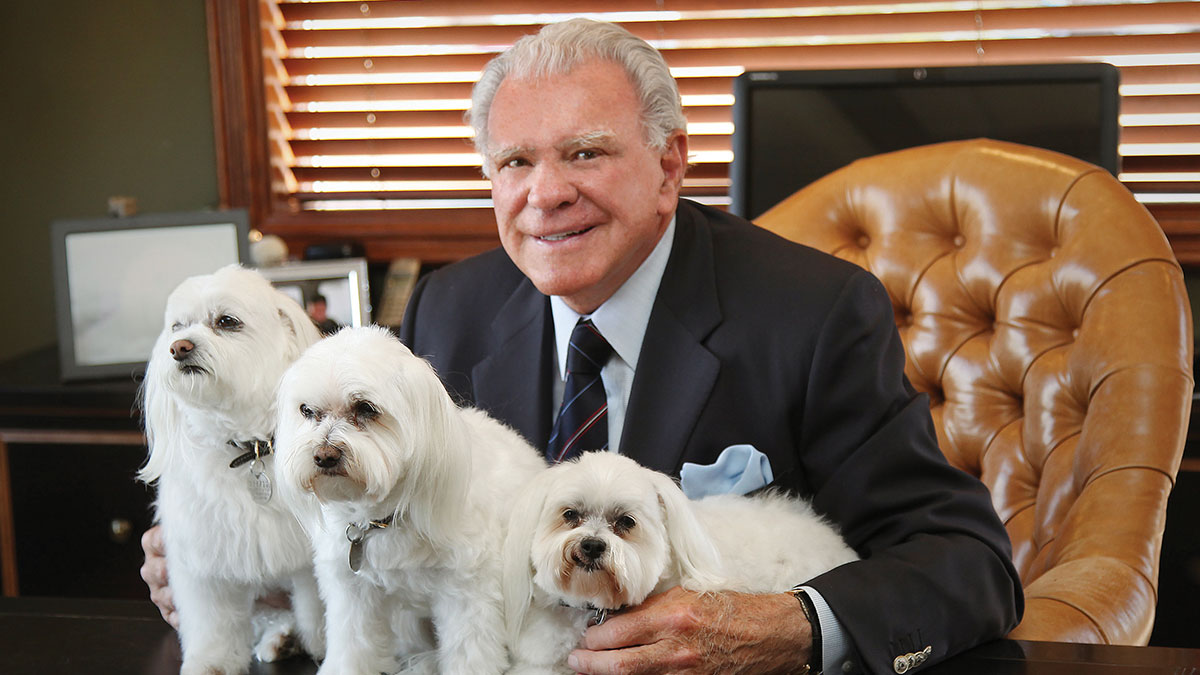 Edward J. Robson Early Years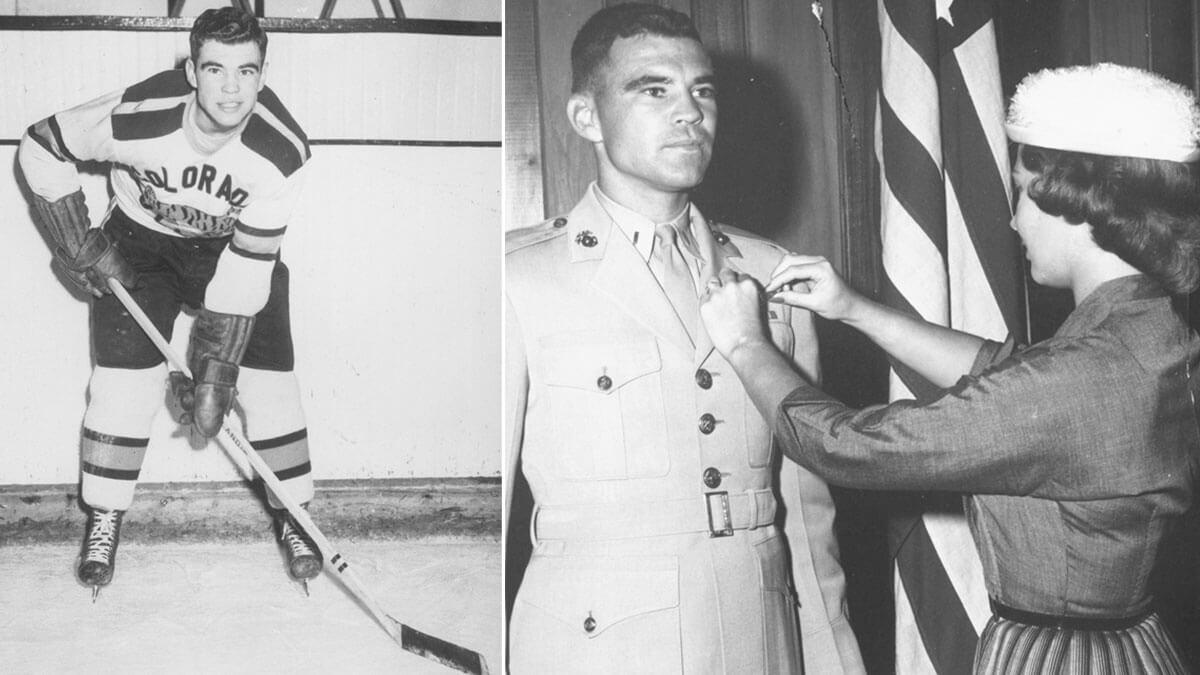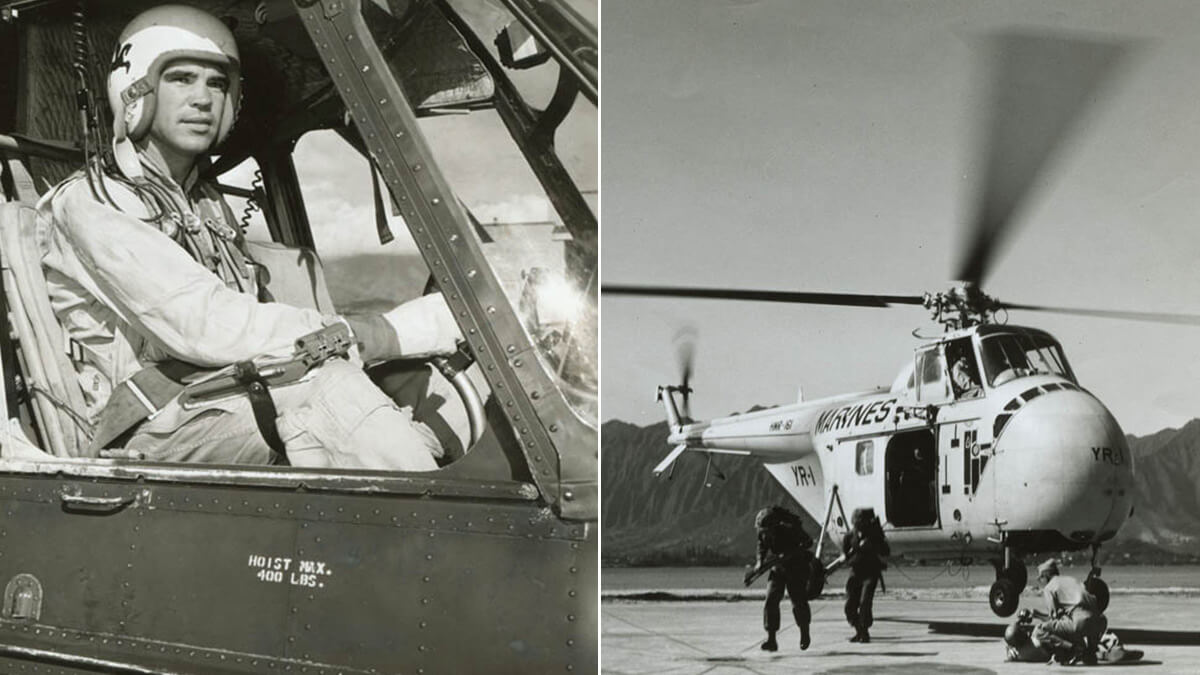 Take a look at the man behind it all, Edward J. Robson, and some memorable moments throughout the years.
• Played hockey at Arlington High School, Bridgton Academy and Colorado College
• Five-year tour in the United States Marines, obtaining the rank of Captain
• Selected to become a member of the US Olympic hockey team in 1956
• Began his real estate career in 1960 with Coldwell Banker
• Joined the Del Webb Corporation shortly thereafter
• In 1972, Robson began his legacy with the flagship community of Sun Lakes
Cultivating A Legacy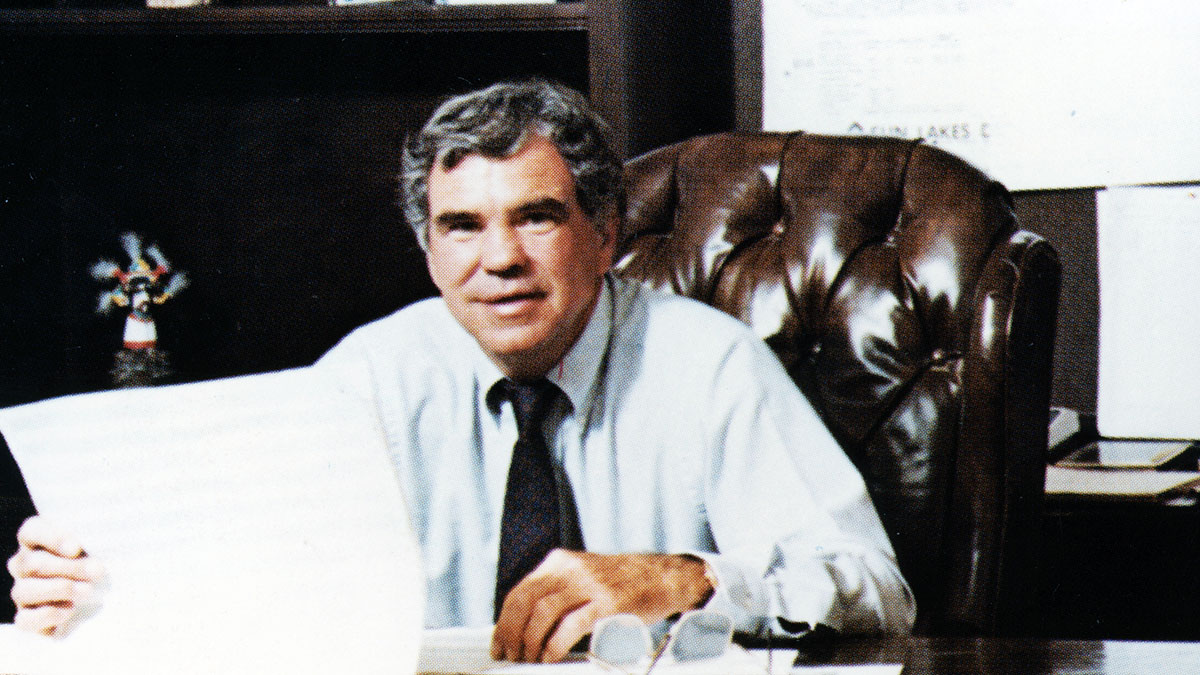 In 1960, Edward J. Robson started his real estate career with Coldwell Banker and joined the Del Webb Corporation shortly thereafter. His legacy of developing upscale 55+ communities began in 1972 with the first Robson Resort Community, Sun Lakes, located in Sun Lakes, Arizona.
Today, Robson, along with his team, oversee active adult communities with luxury new homes for sale in Arizona and Texas, including:
• PebbleCreek in Goodyear, Arizona
• The Preserve at SaddleBrooke in north Tucson, Arizona
• SaddleBrooke Ranch in the north Tucson area, Arizona
• Quail Creek in Green Valley, Arizona
• Robson Ranch Arizona in Eloy, Arizona
• Robson Ranch Texas in Denton, Texas
Distinguished Recognition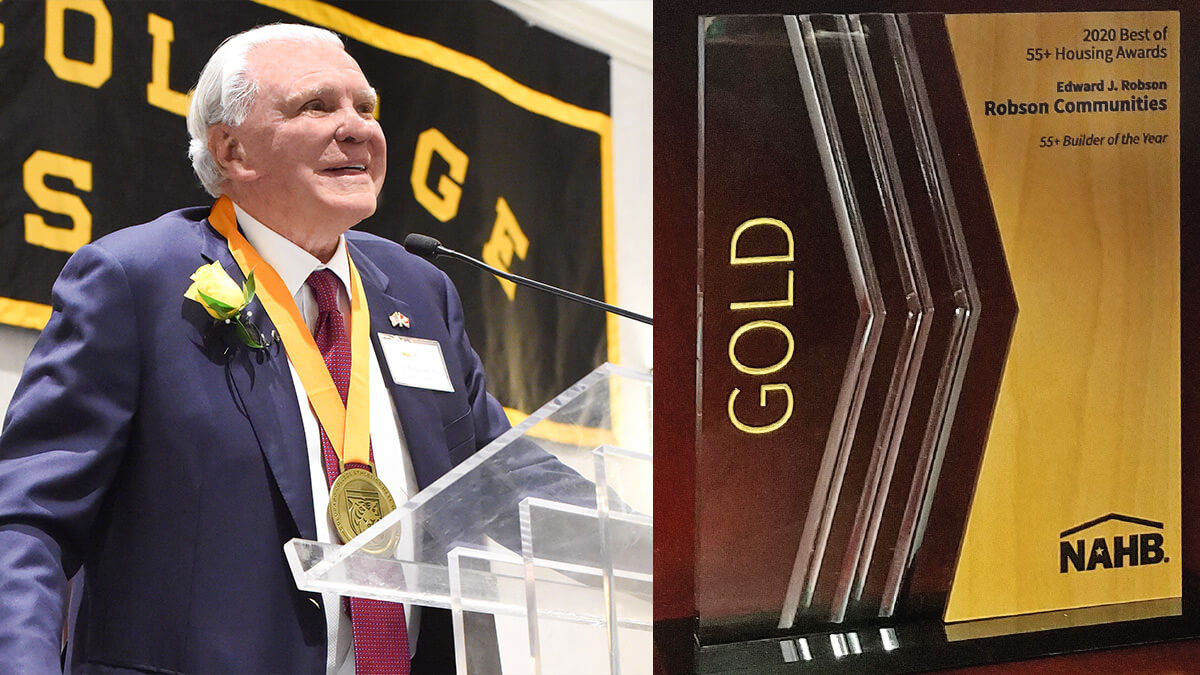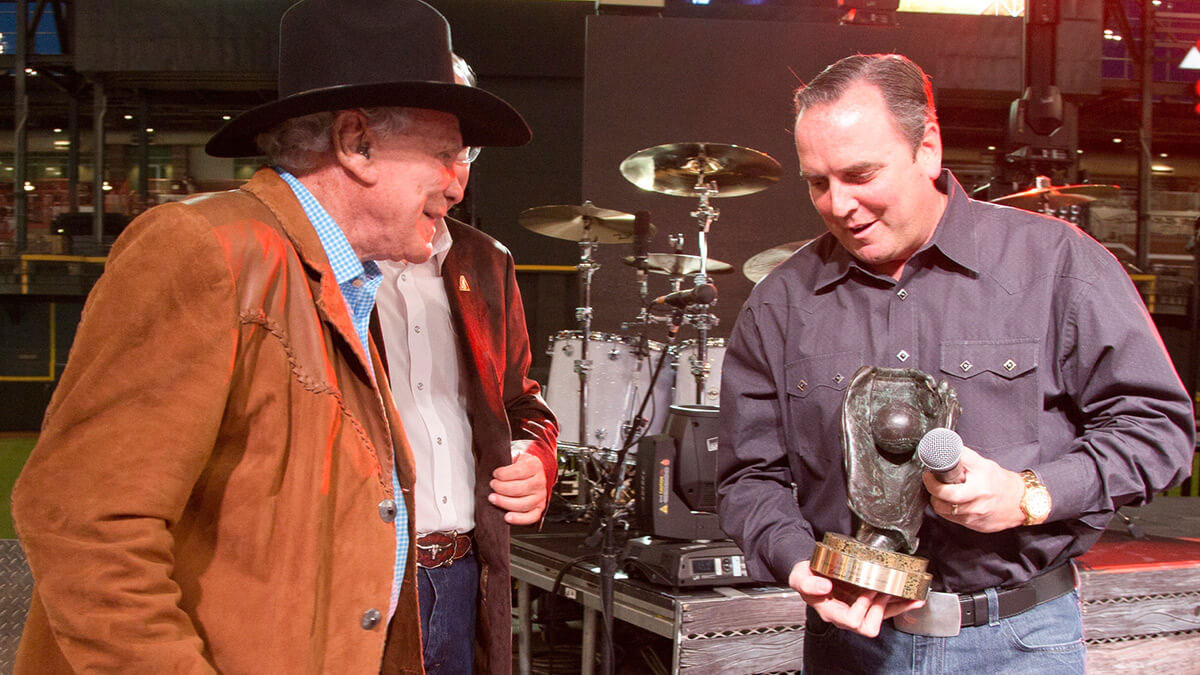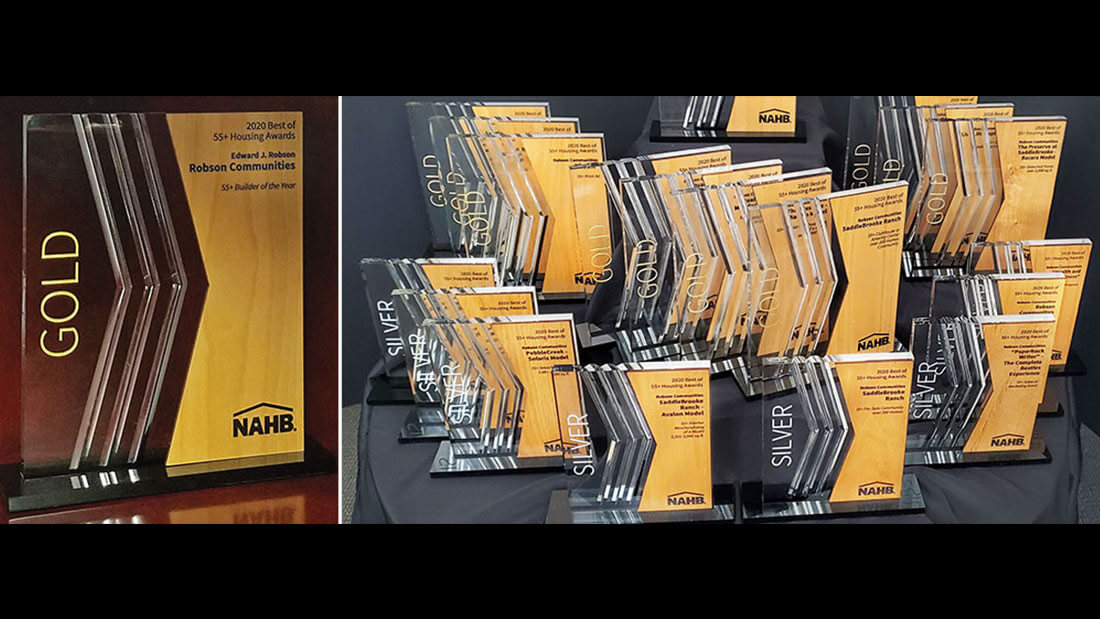 Edward J. Robson has received multiple awards, honors, and recognition throughout the years for his dedication to the home building industry, outstanding achievements, generosity, and much more. Recognition highlights:
• Semper Fidelis Award by the Marine Corps Scholarship Foundation
• Icon of the Industry Award & Best in American Living "Hall of Fame" – National Association of Home Builders 55+ Housing Council
• Lee T. Hanley Community Leadership Award – Arizona Diamondbacks Foundation
• Entrepreneur of the Year Award from Arizona State University
• Outstanding Business Leader from Northwood University
• Doctor of Humane Letters from Colorado College
• Grand Award from the Home Builders Association of Central Arizona
• Golden Hammer award for his generous donations to Habitat for Humanity
Discover more awards and honors for the Robson Resort Communities here.
Philanthropic Activity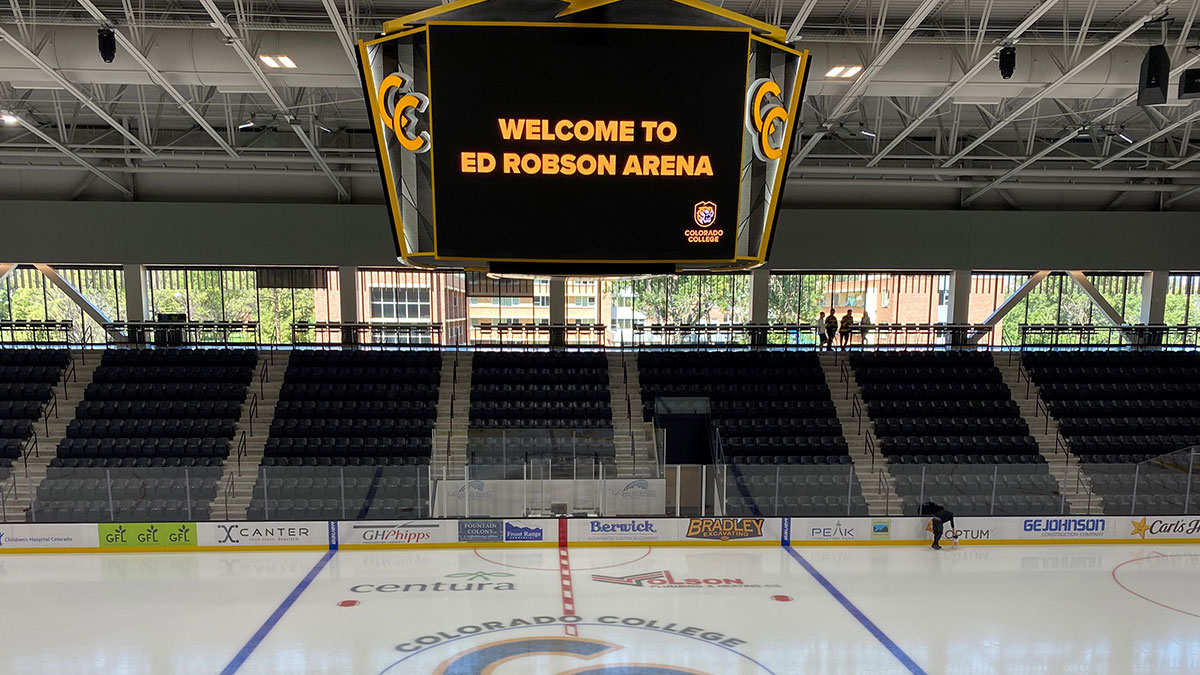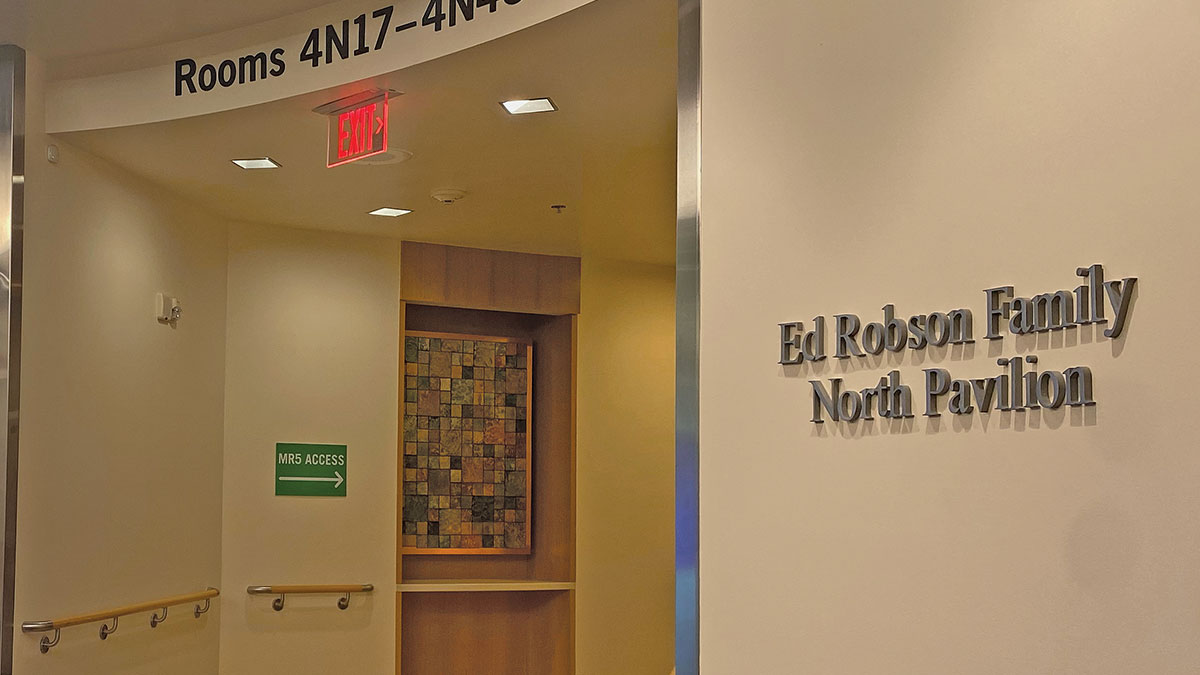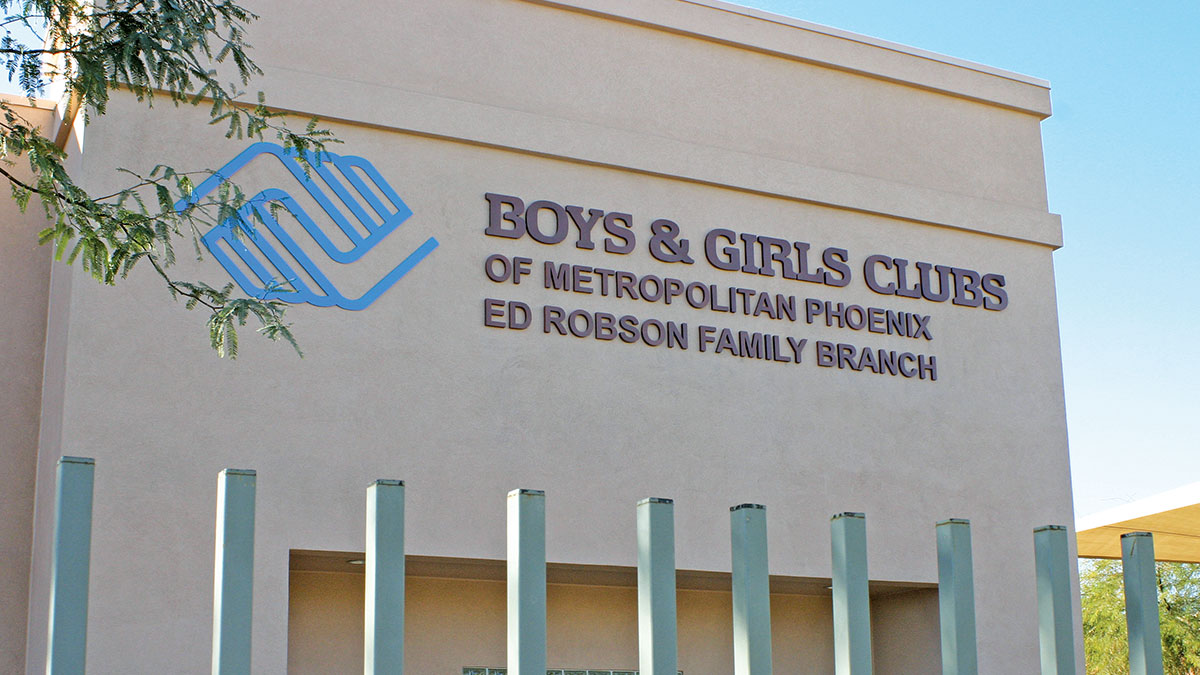 One of the most important parts of Ed Robson's life has been philanthropy. He prides himself on giving back to the community and making a positive difference in people's lives. Philanthropic efforts and support by Robson include significant contributions to charitable organizations such as:
• Barrow Neuroscience Tower at St. Joseph's Hospital
• Marine Corps Scholarship Foundation
• Wounded Warrior Project
• Arizona State University and the University of Arizona
• Boys and Girls Club of Metro Phoenix – Ed Robson Family Branch
• Boys Hope Girls Hope of Arizona
• Arizona State University – Renovated Sun Devil Football Stadium
• Bridgton Academy – Ed Robson '50 Head Hockey Coach Endowment Chair
• Ed Robson Arena at Colorado College in Colorado Springs – named in his honor
Journey Down Memory Lane
The 50th anniversary of Robson Resort Communities is a great time to reflect on the early days of our legacy. We have dusted off the archives and are sharing some fun memorabilia with you.
Take a trip down memory lane with a variety of retro materials including:
• TV Commercials
• Billboards
• Advertisements
• Homes from yesteryear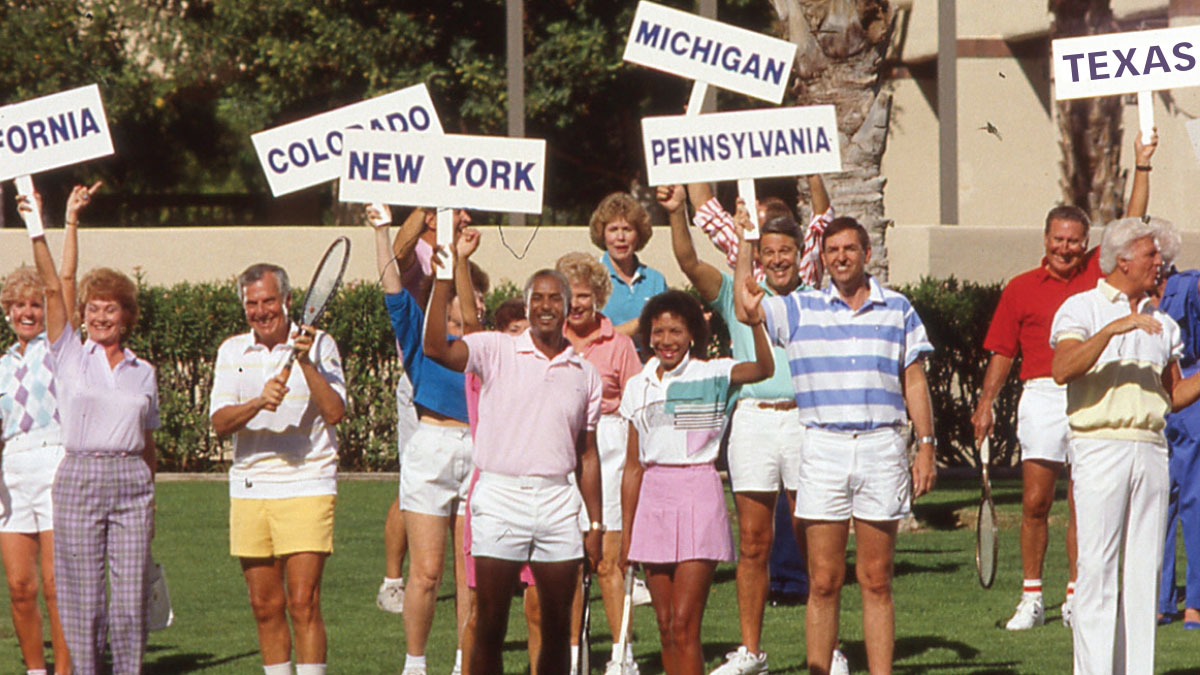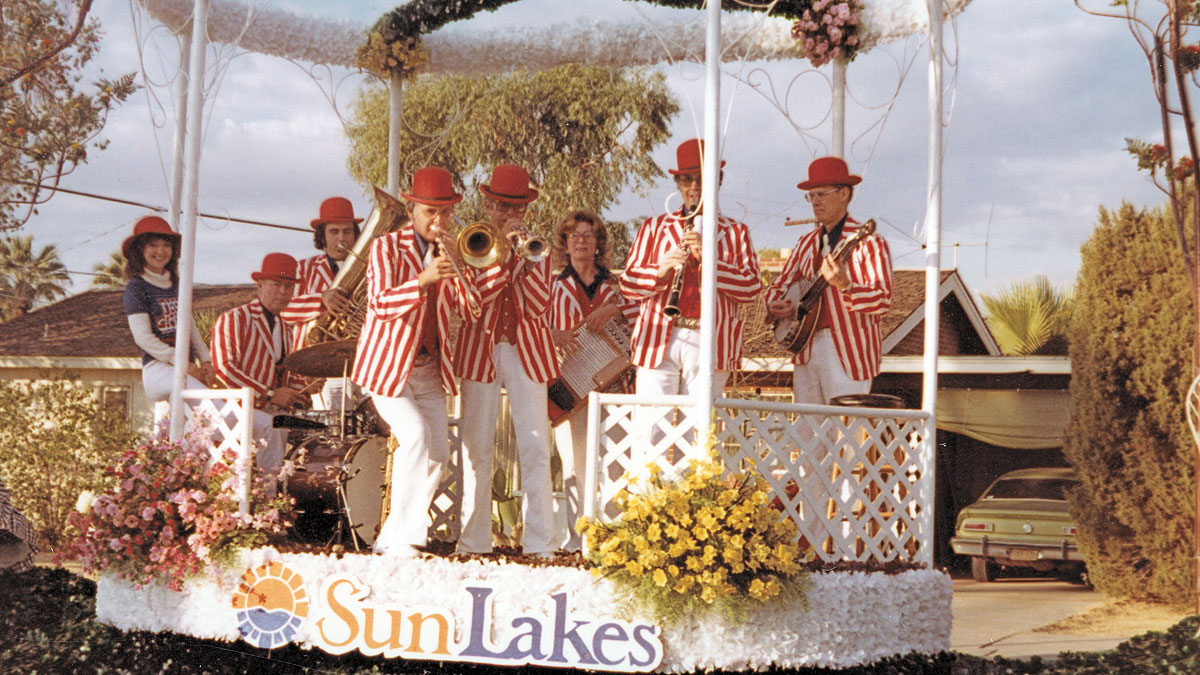 Billboards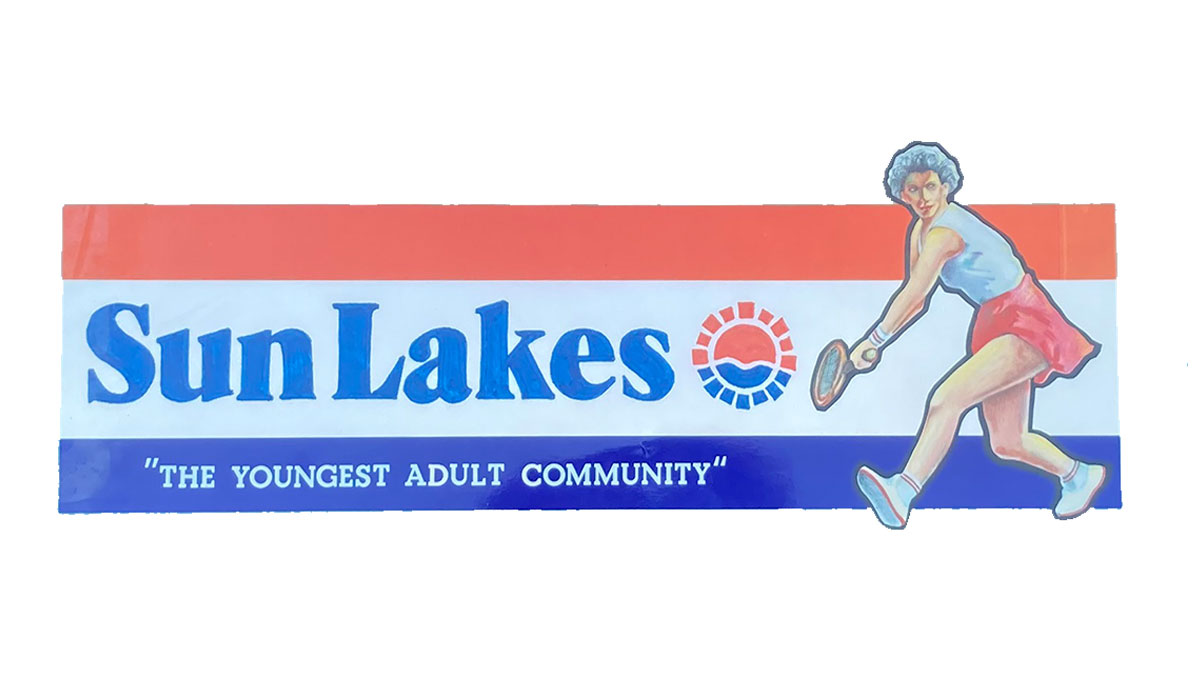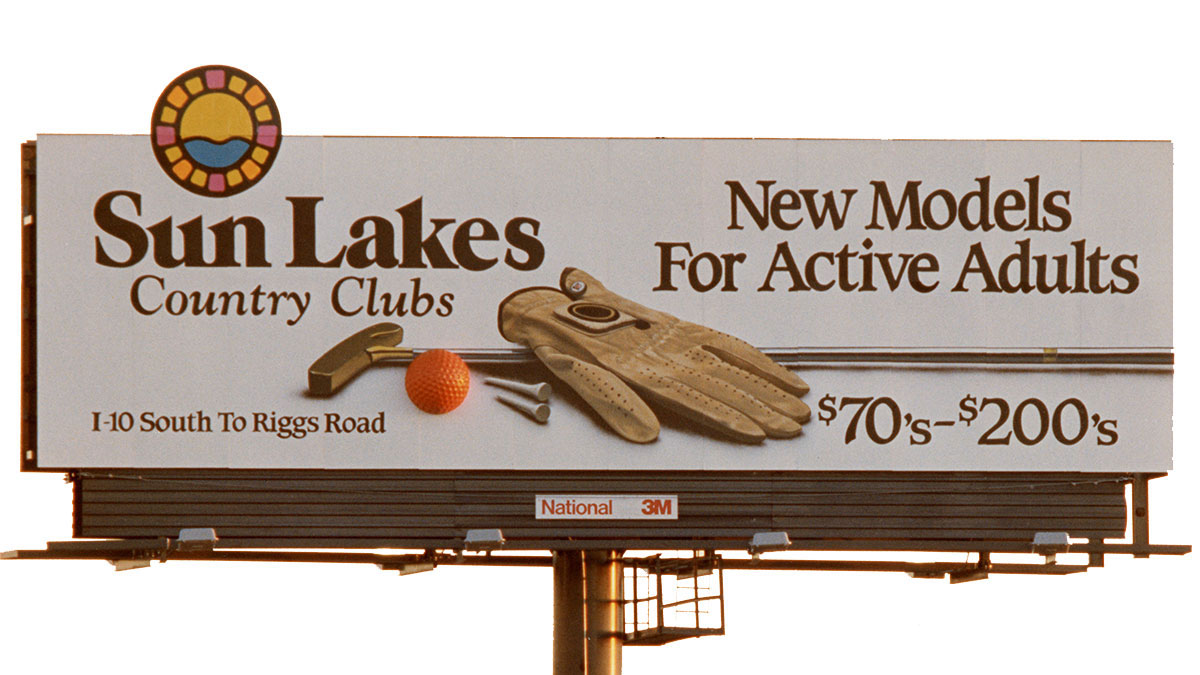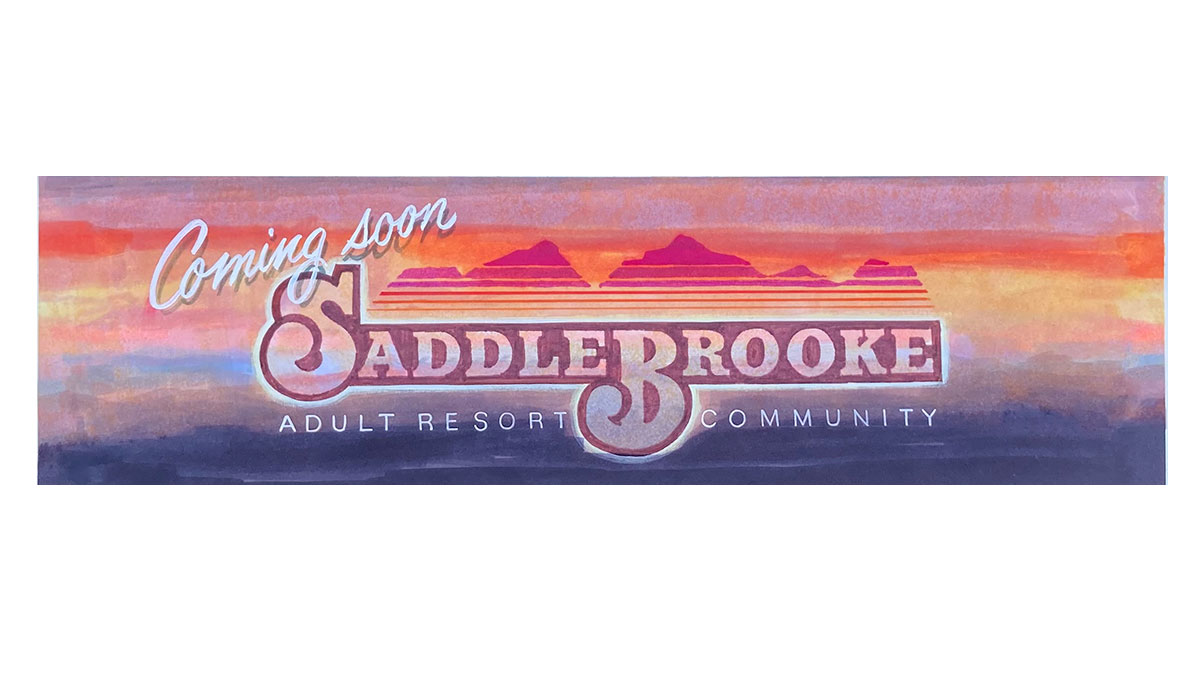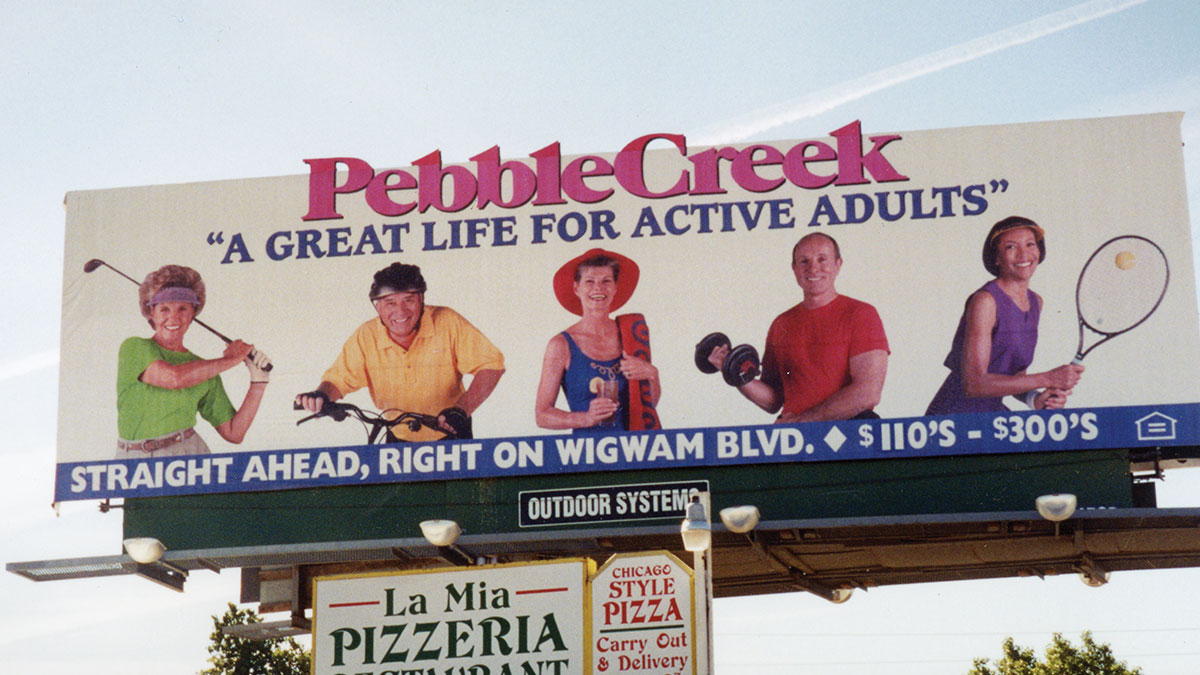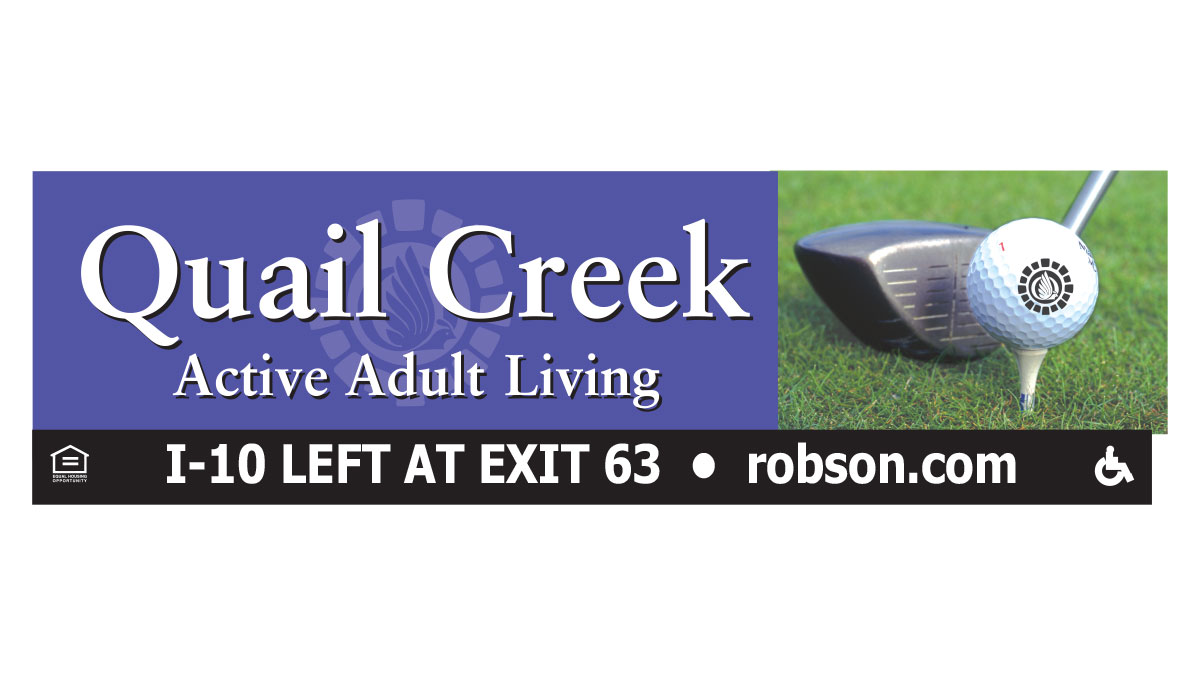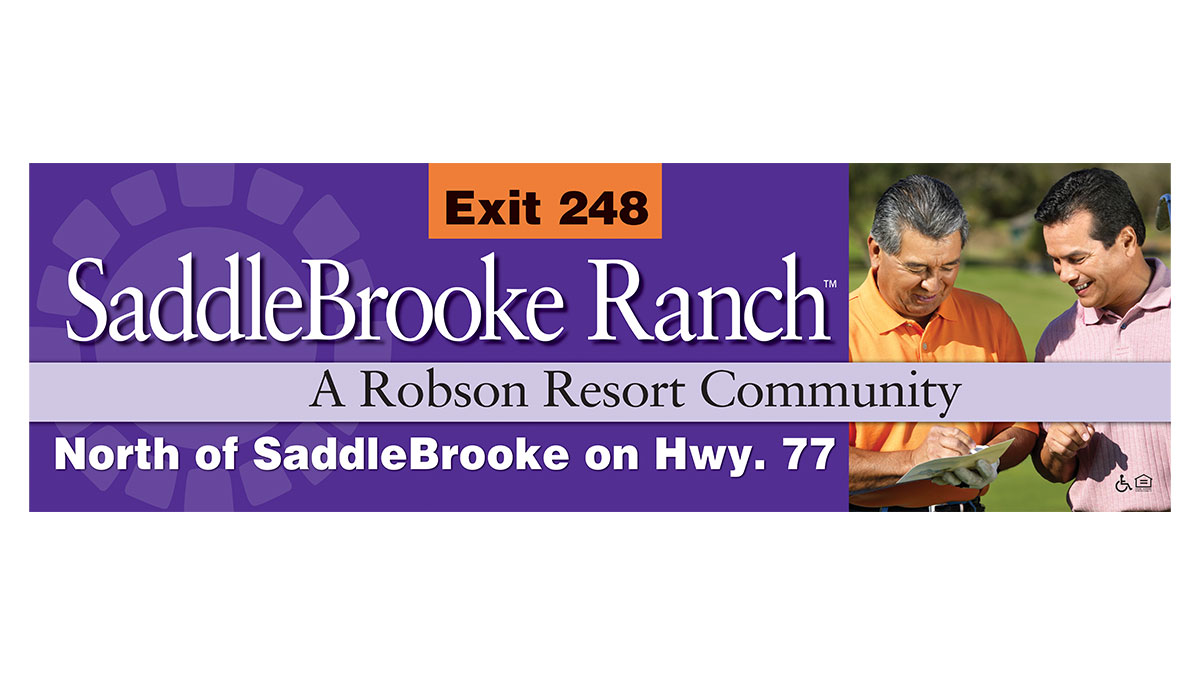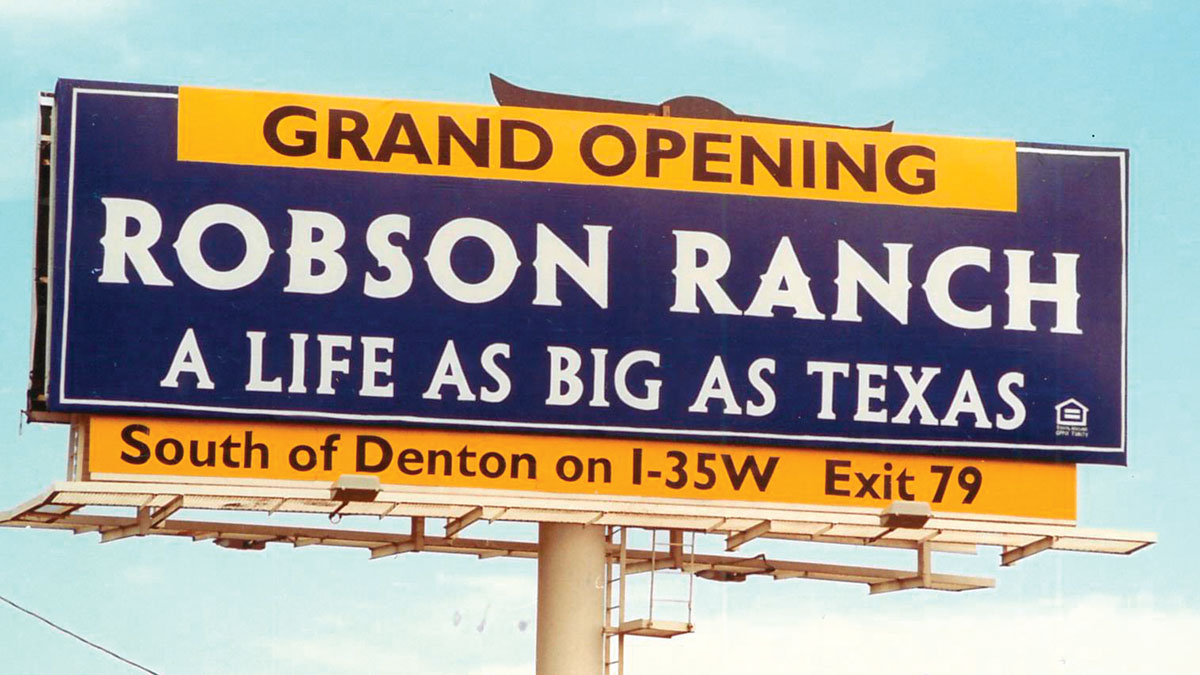 Along the highways of the greater Phoenix, Tucson, and Dallas / Fort Worth areas, you may have seen a billboard or two for a Robson Resort Community. See how we captured attention and raised awareness for the retirement communities with a few of our retro billboards featuring:
• Original sketch art
• Various use of extensions
• Creative designs
Advertisements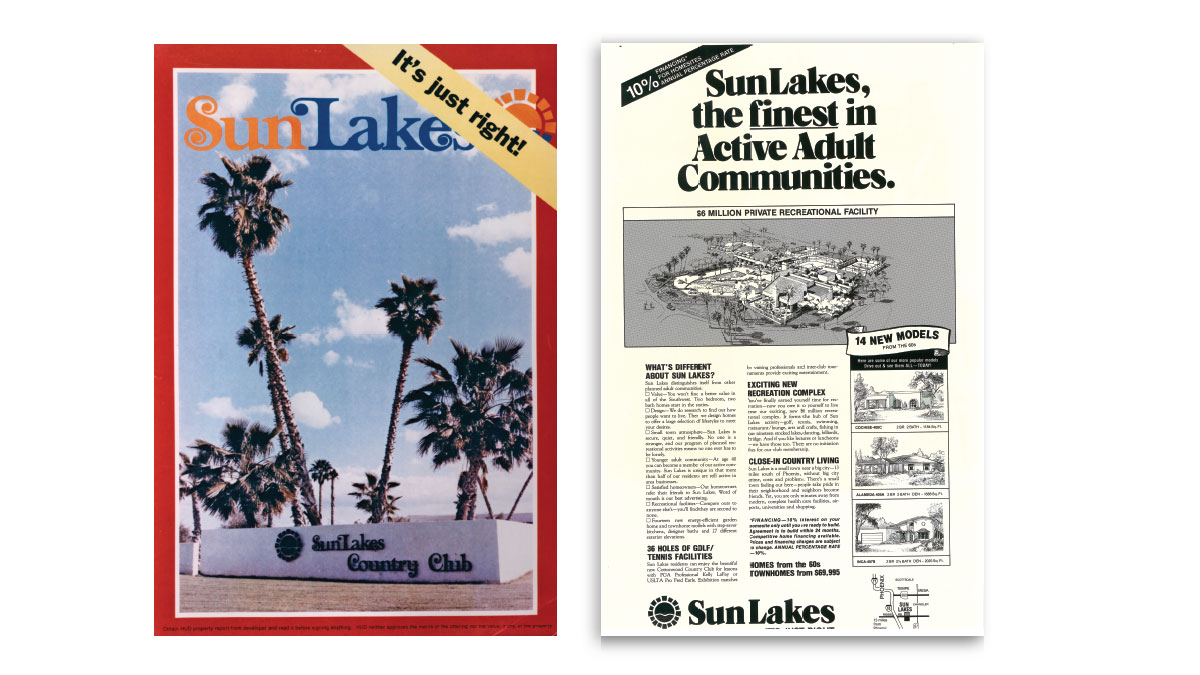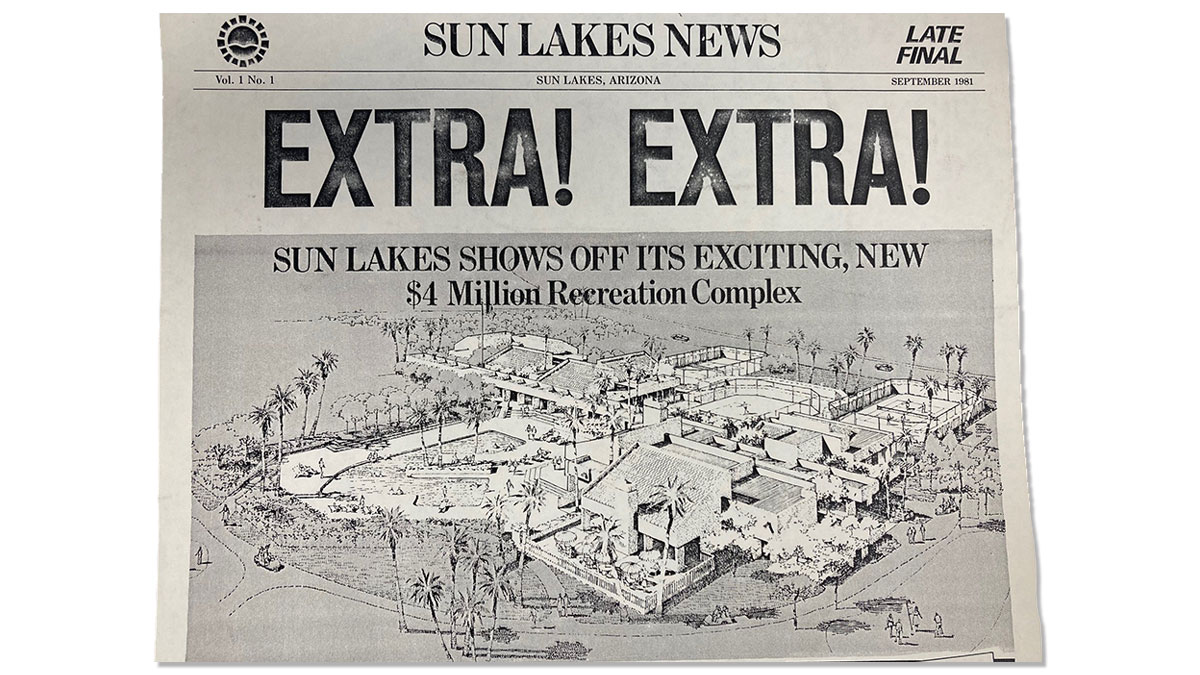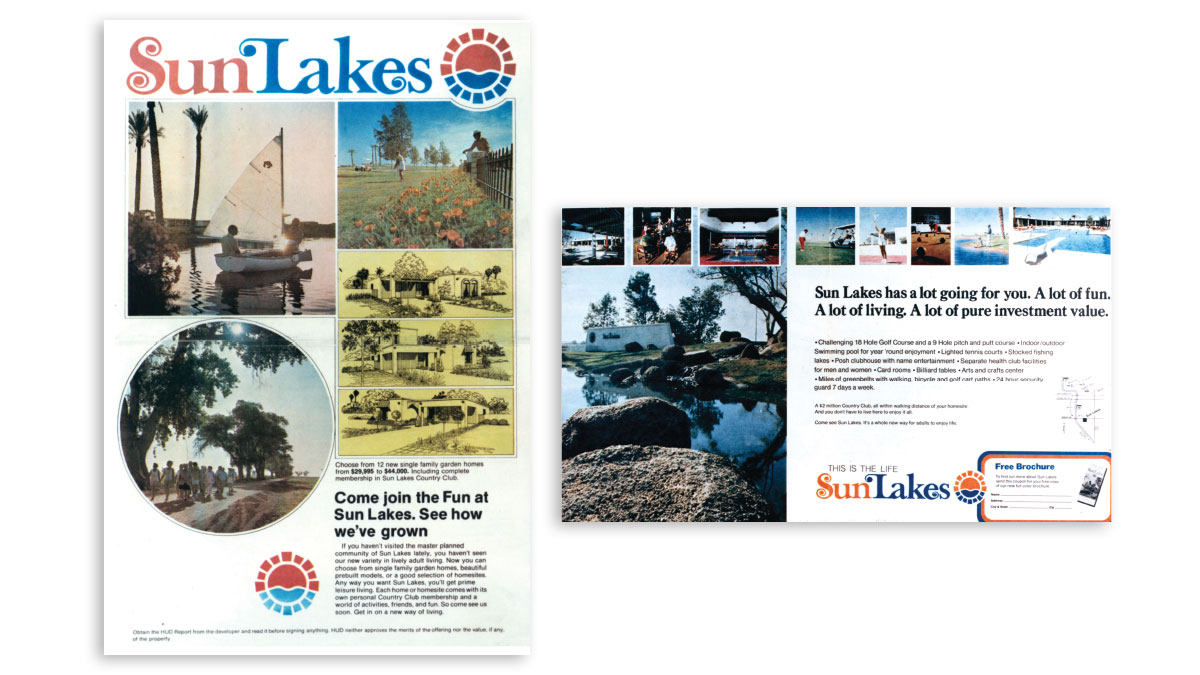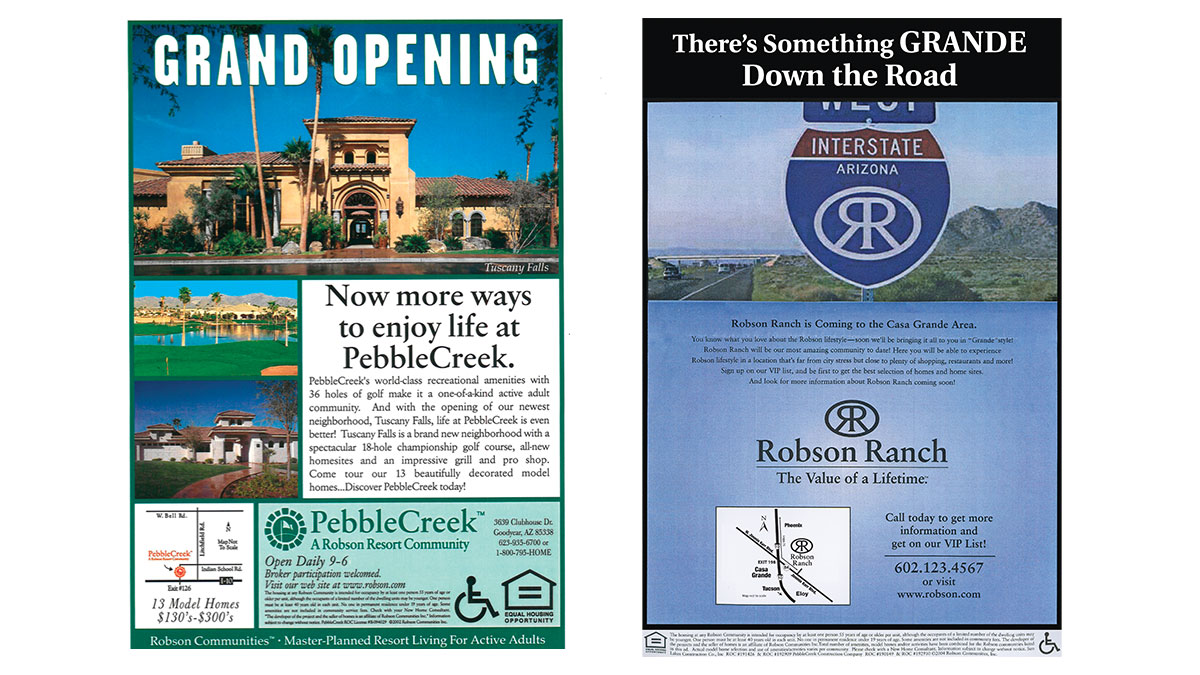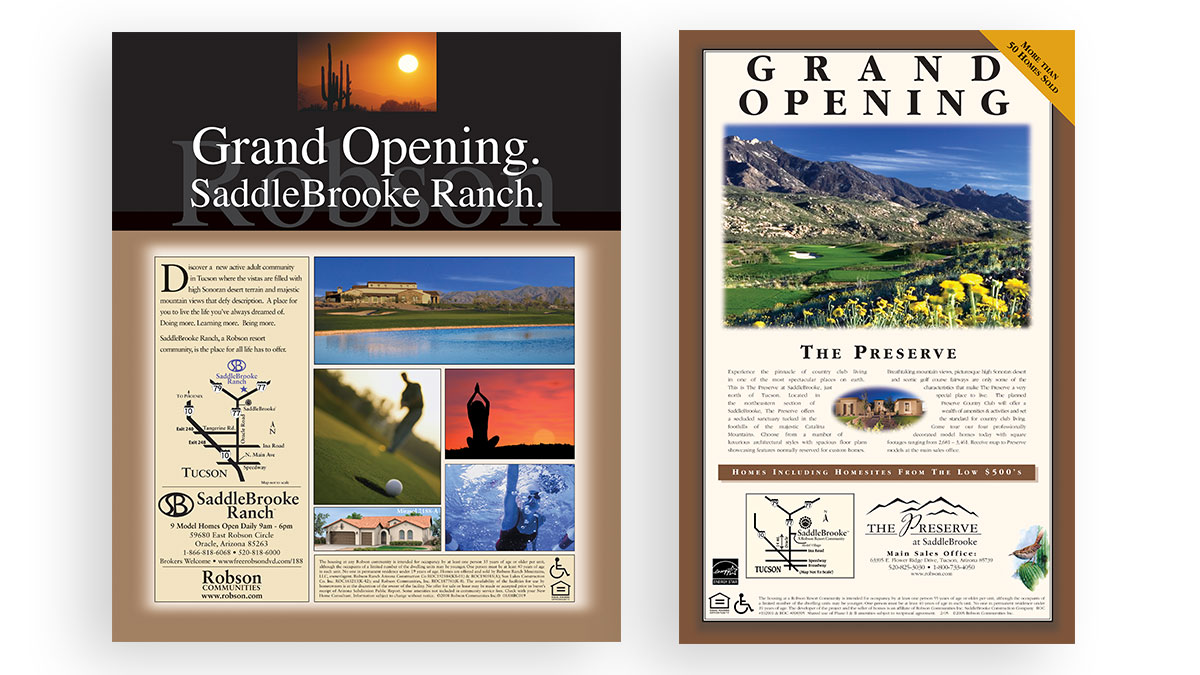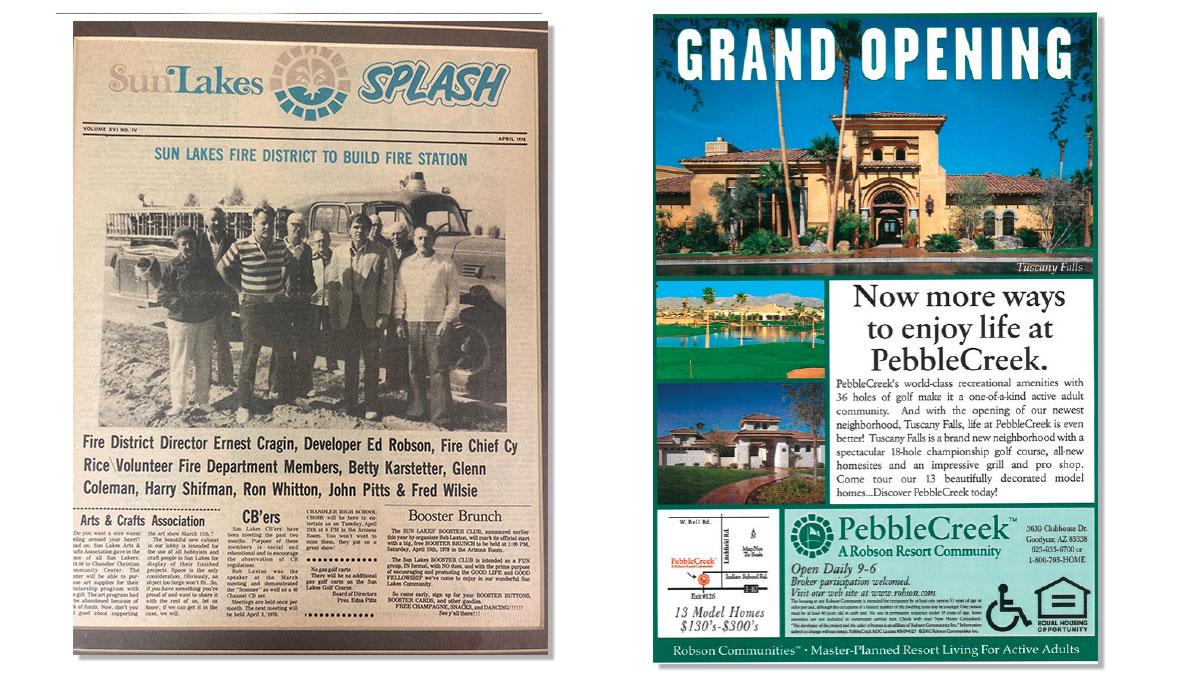 Before the internet became an essential source of advertising, marketing efforts predominantly focused on print media. Take a look back at some original newspaper, postcard, and other print advertisements for a few of the Robson Resort Communities. These retro materials evoke fond nostalgic memories of how each retirement community began and how they have grown.
Homes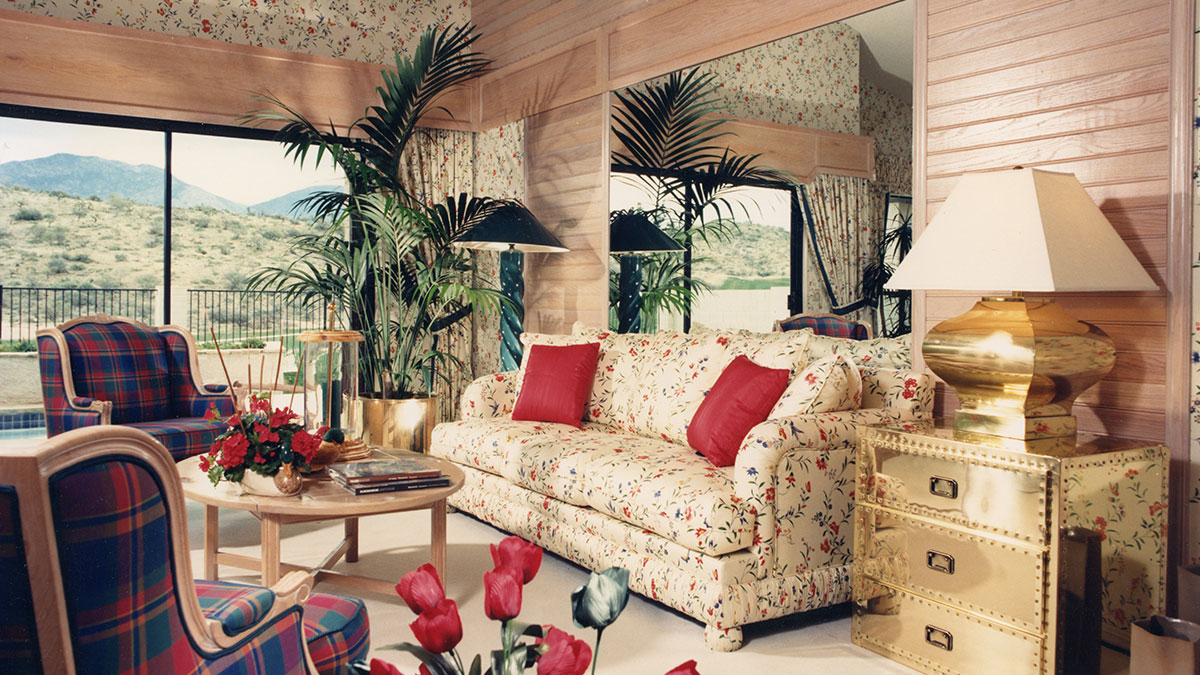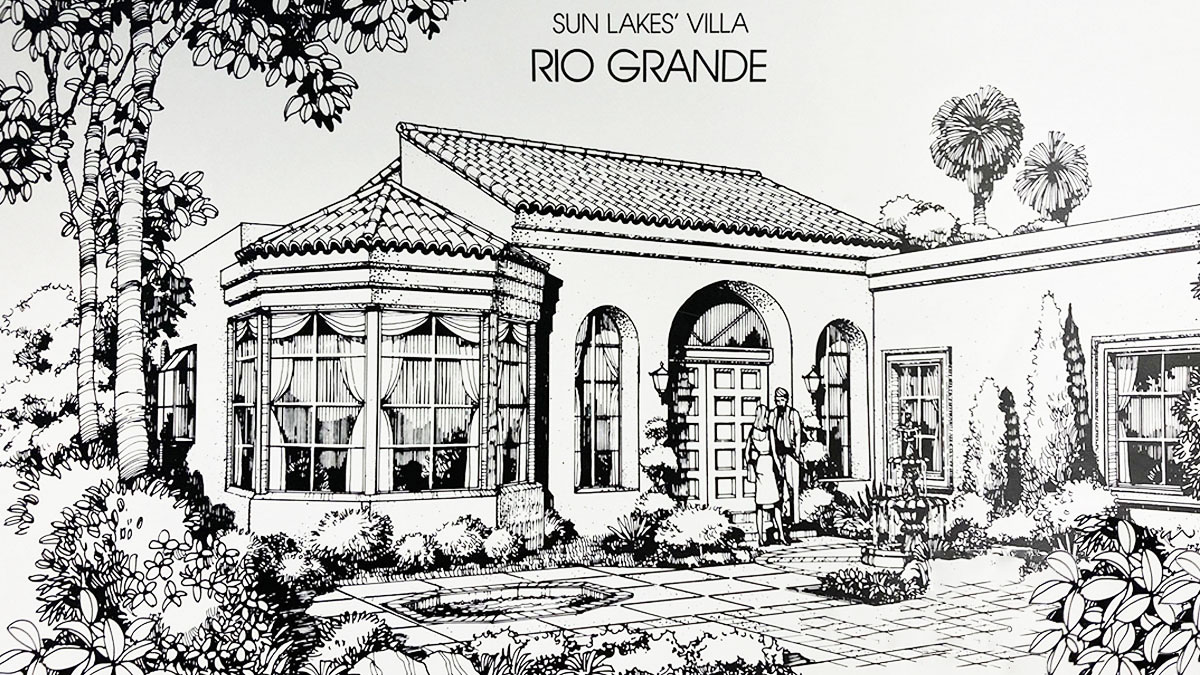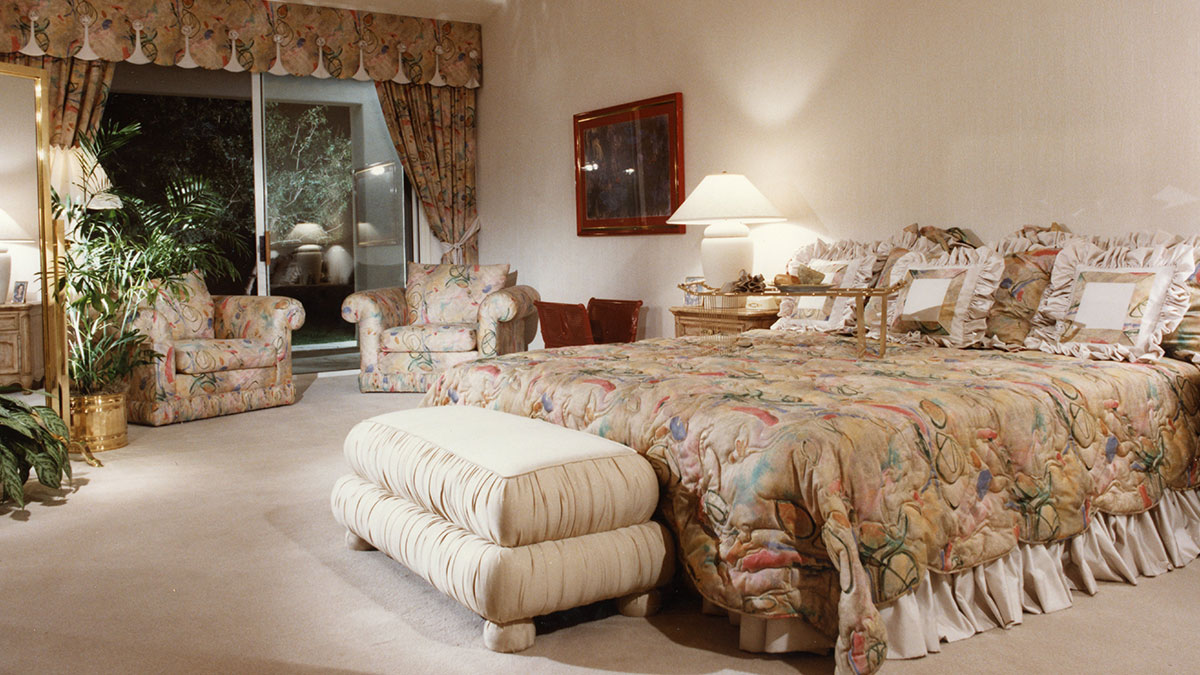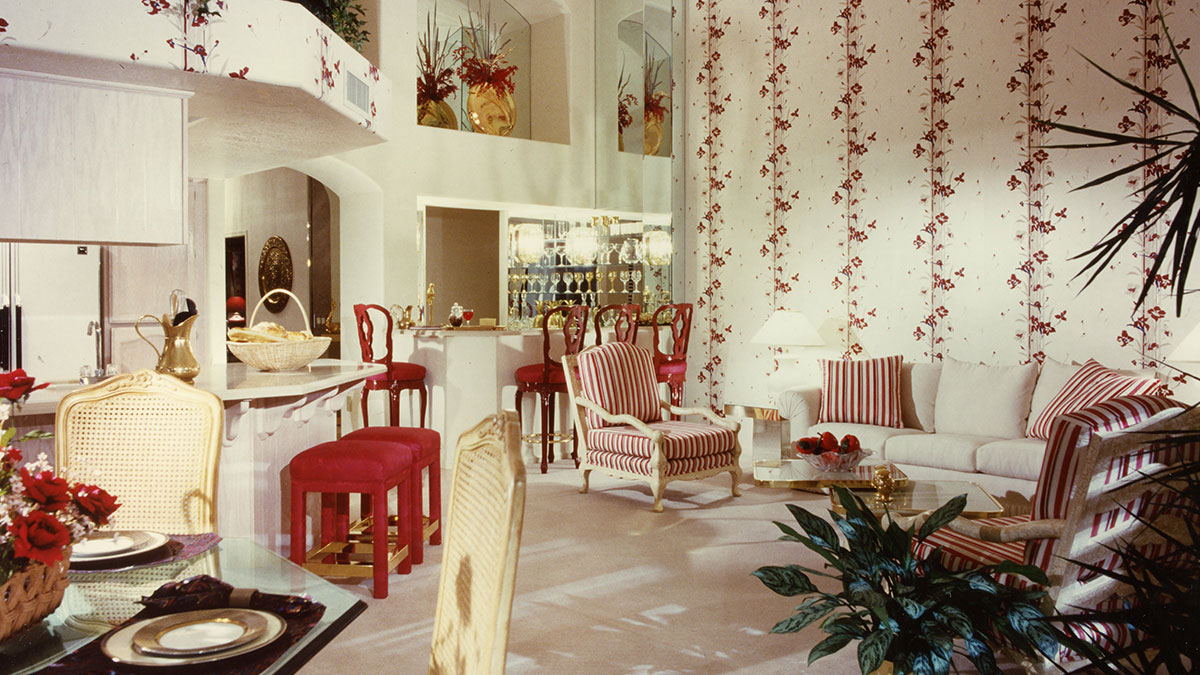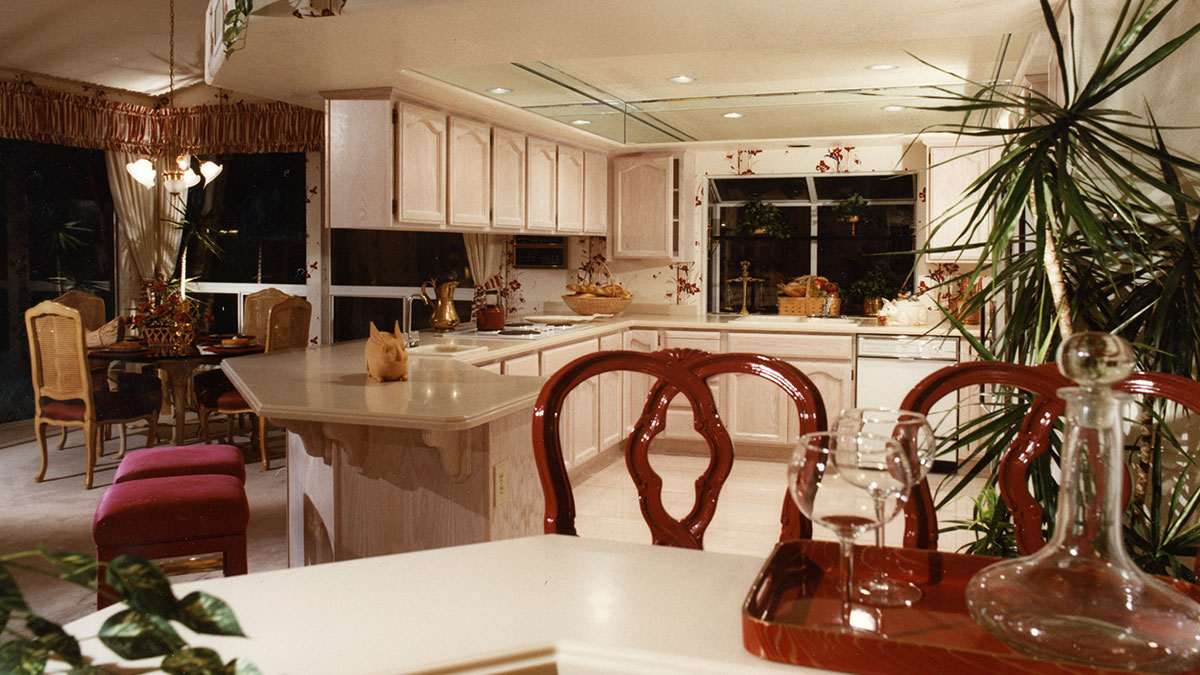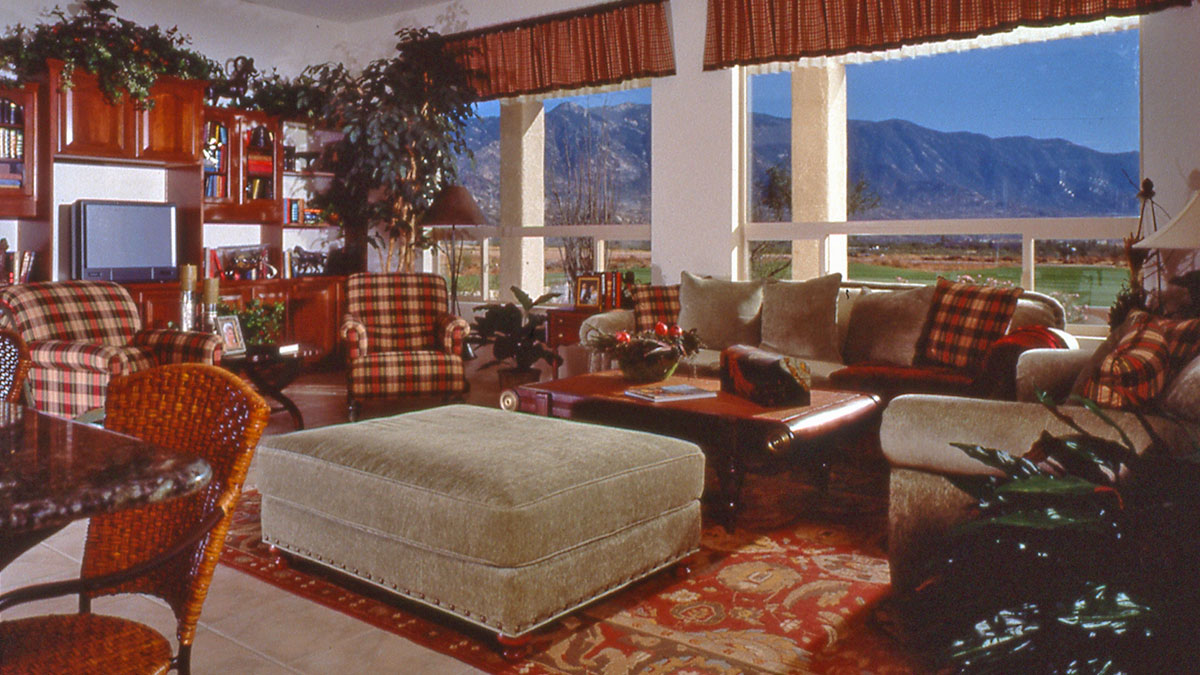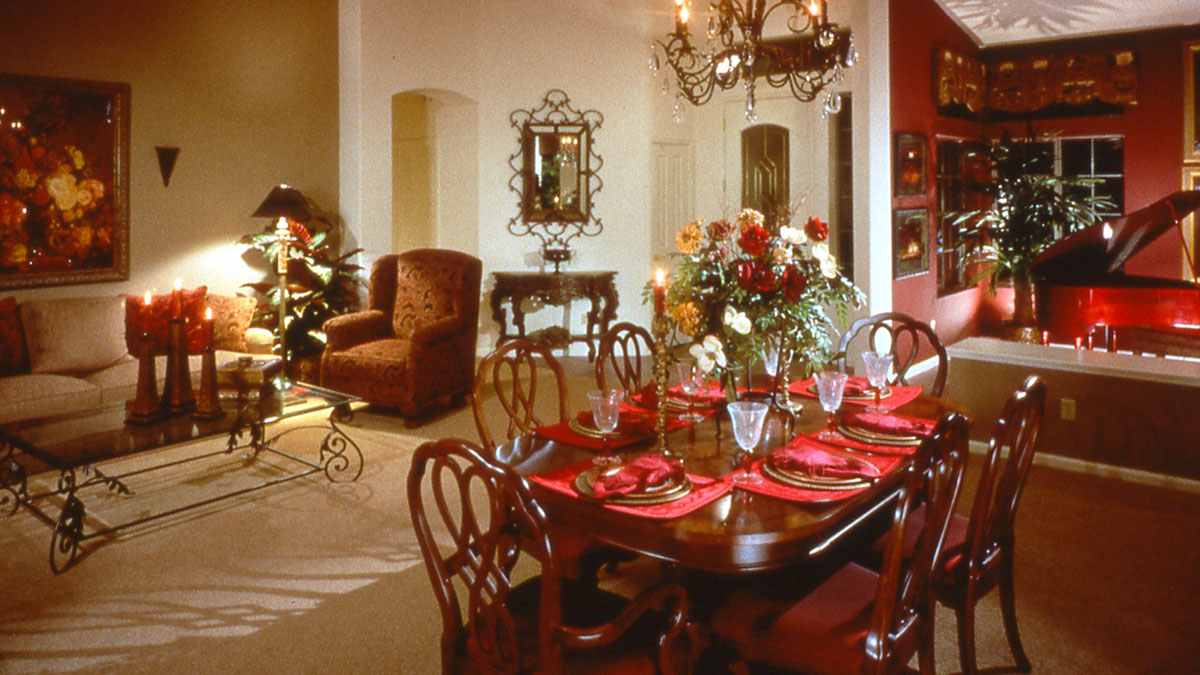 Yesteryears come to life with these throwback images of homes at the Robson Resort Communities. With 50 years of developing resort living communities for retirement, the Robson Resort Communities have seen quite a few things change throughout the years. From shag carpeting and bold wallpaper designs to flower-patterned sofas and overall structural designs, relive the good old days with these archived photos.
Homeowner Gratitude
If you have visited a Robson Resort Community, you have felt it: the upscale, active community energy where houses are turned into homes and neighbors into extended families. Throughout the years, homeowners have expressed their gratitude for Ed Robson and every comment is a reflection of our history as a company.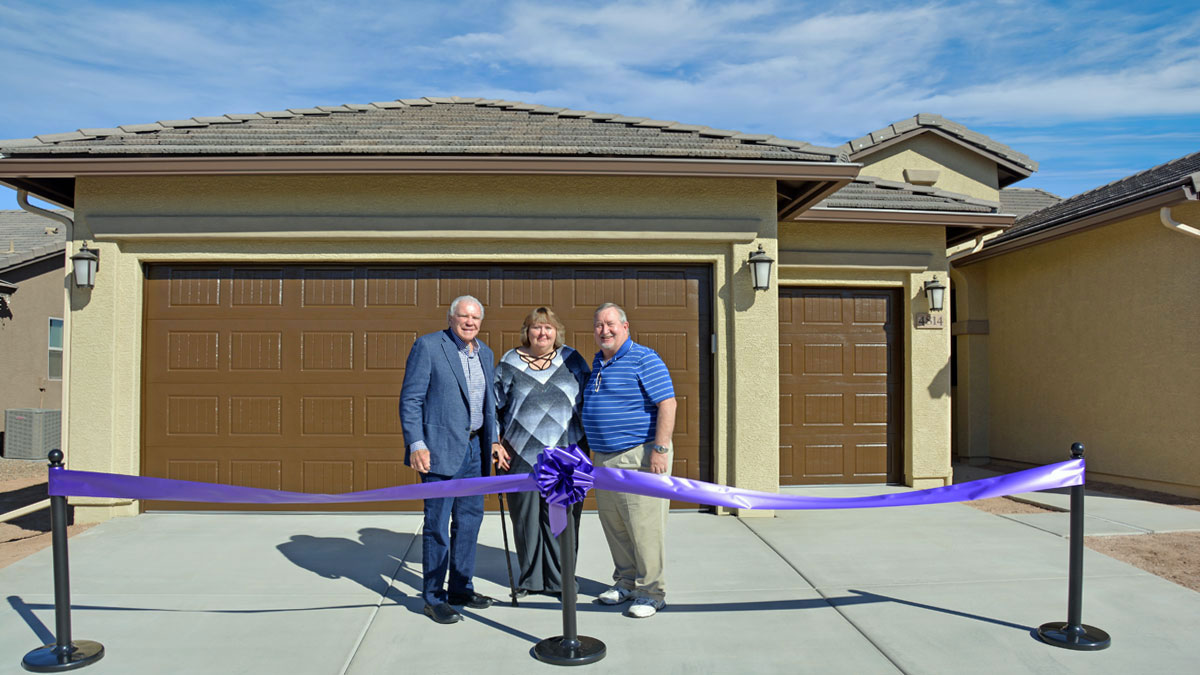 Warm Thanks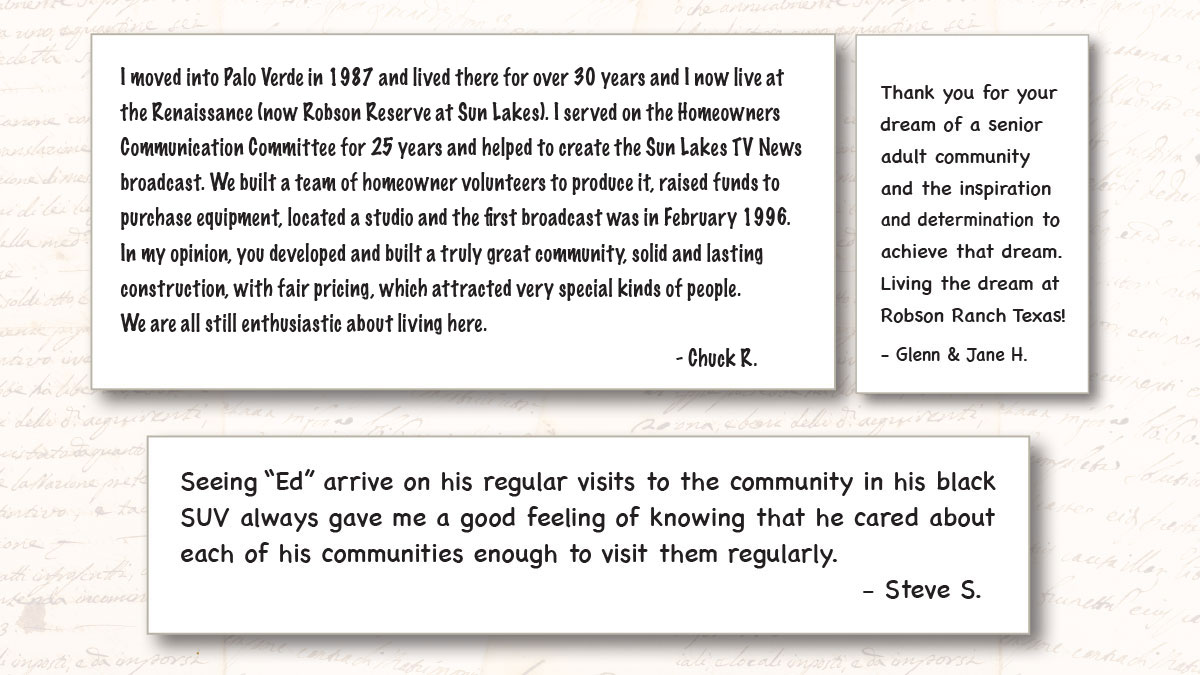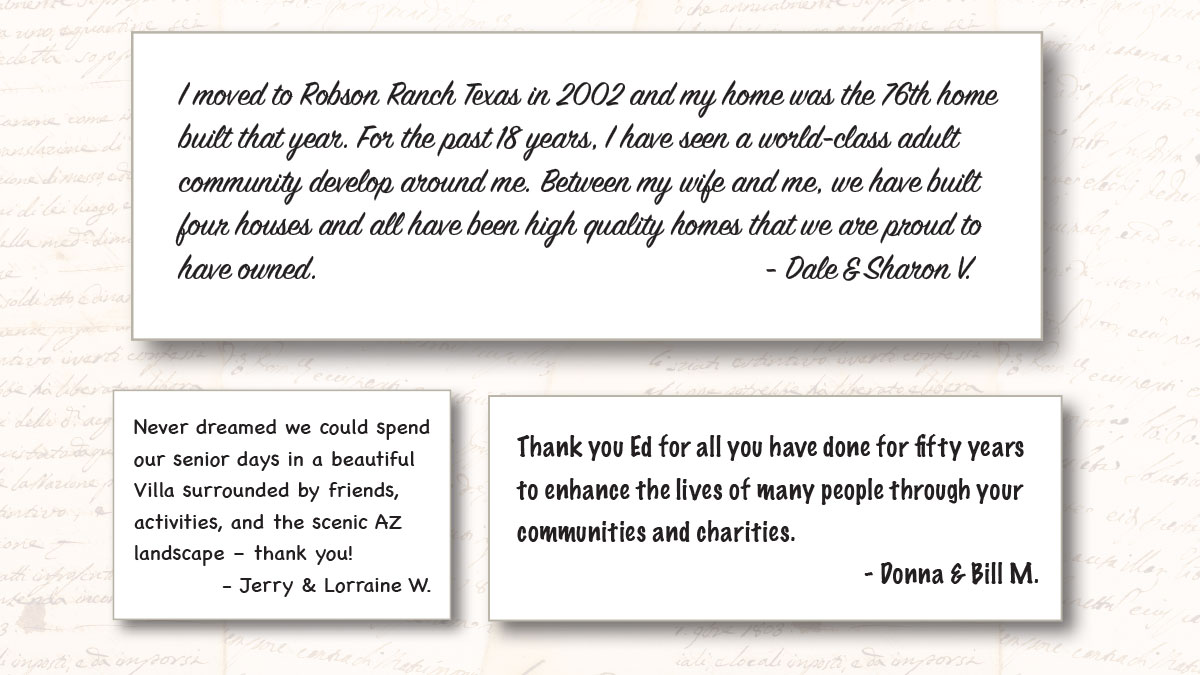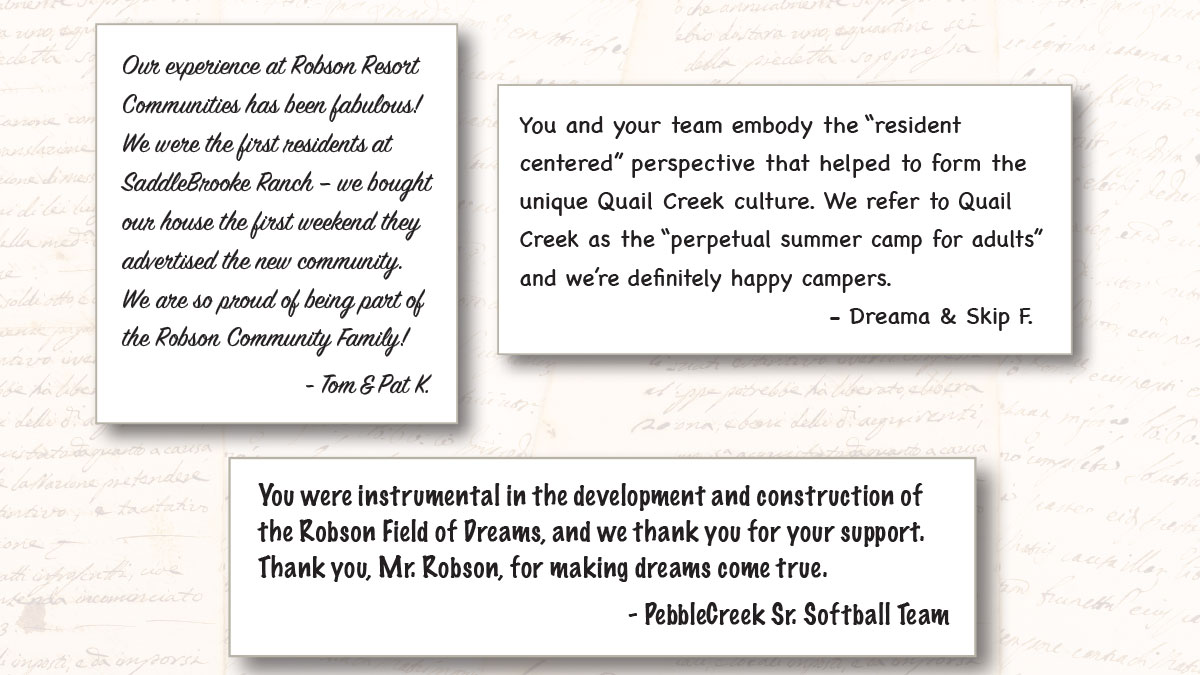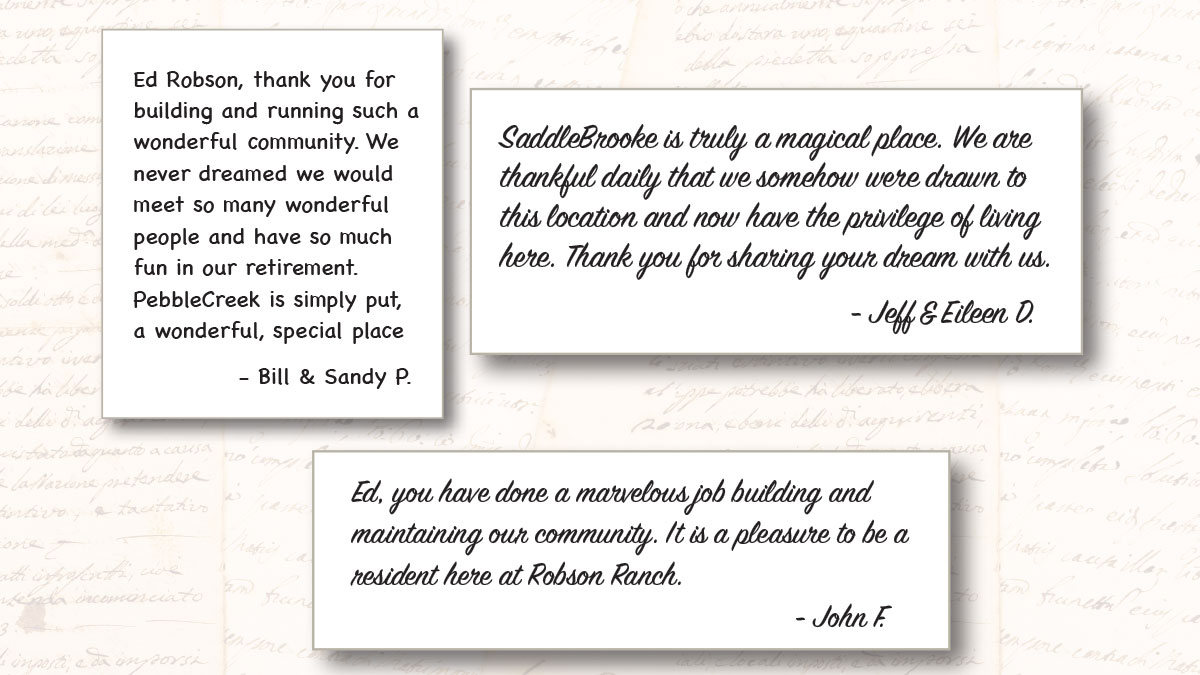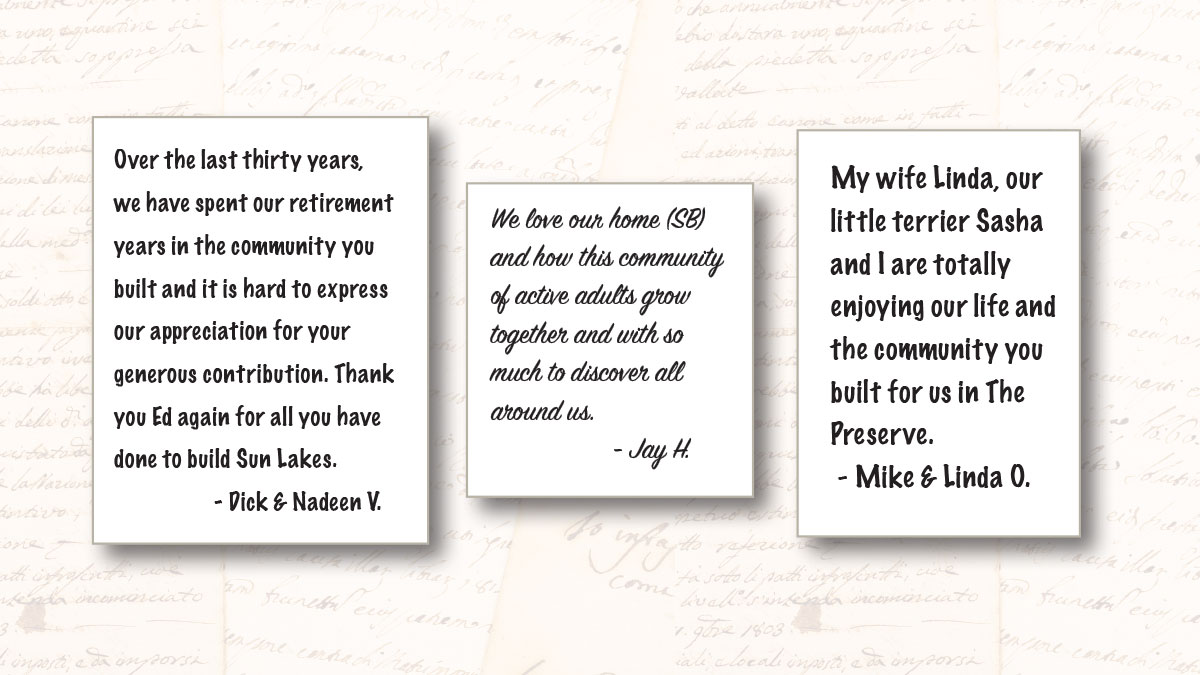 With a forward-thinking vision, Ed Robson has developed luxurious retirement communities that combine innovative new home designs with a beautiful setting. Without this vision, active adults would not be enjoying a Robson Resort Community or experiencing their lives in the way they have over the past 50 years.
Read through homeowner comments and feel the overall thankfulness for the Robson Resort Communities.
How We Have Grown
Our 50th anniversary marks an amazing milestone! The Robson Resort Communities have championed developing resort living communities for 55 and over adults since 1972. The progress of each retirement community reflects our dedication to creating communities that foster wellness, connection, and adventure for active adults. See how the communities have grown with photos of the early days along with present-day images.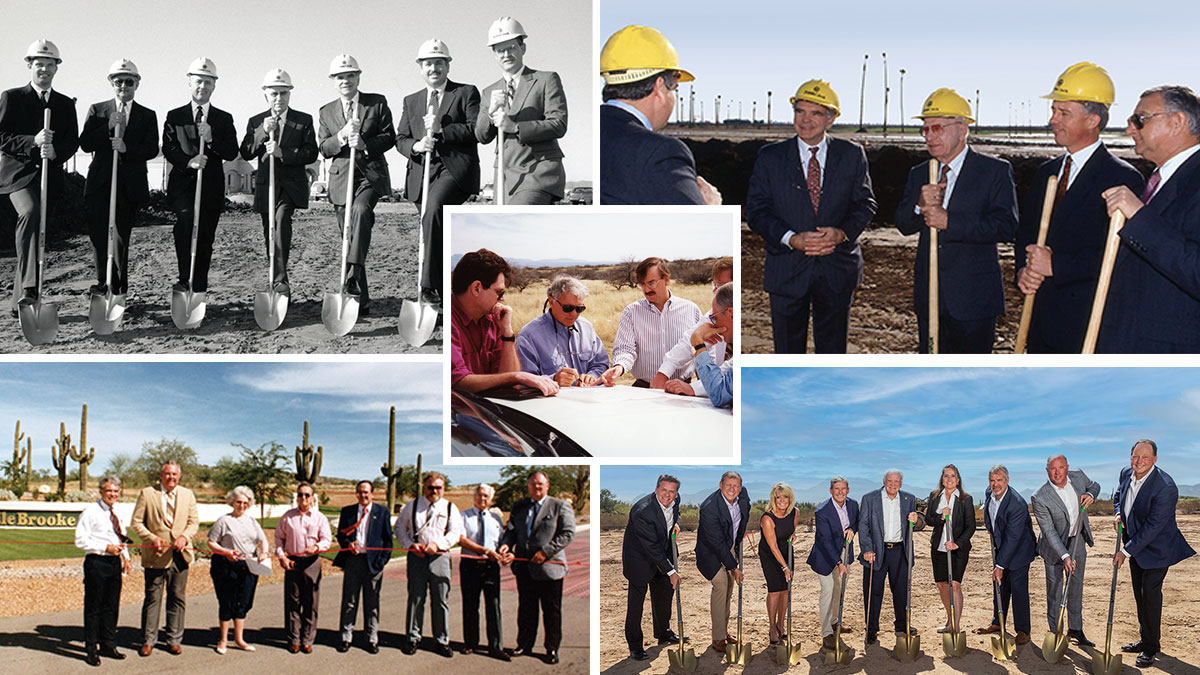 Communities - Then & Now