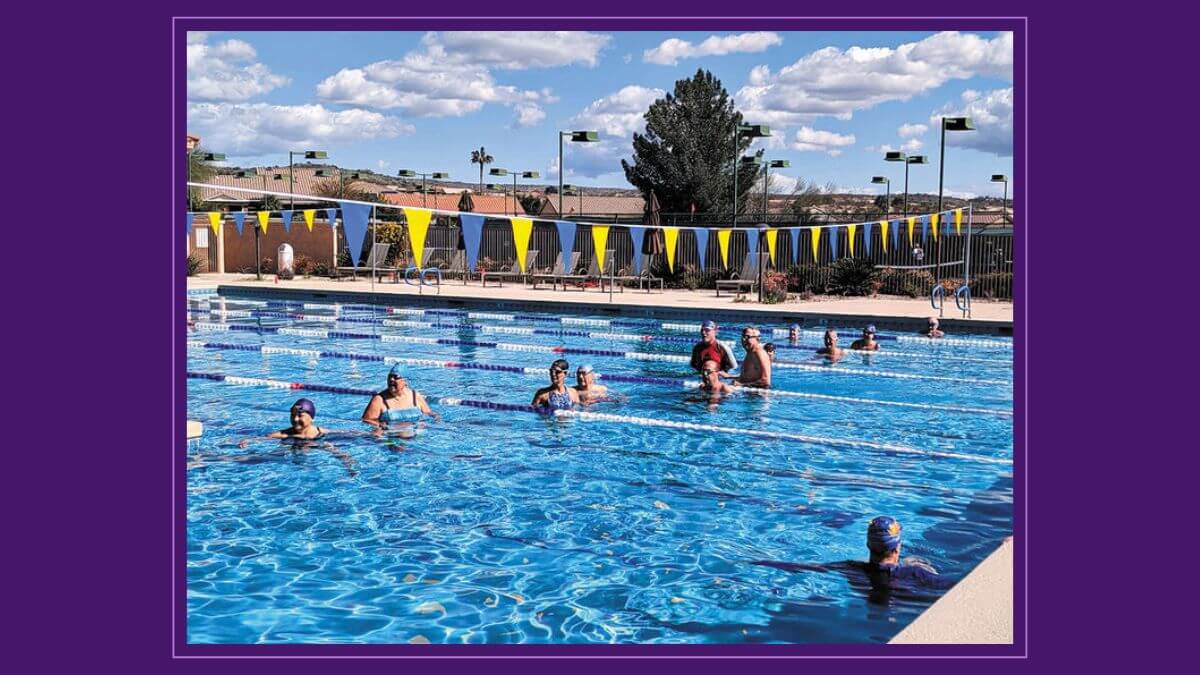 Dive into Summer Swimming with the SaddleBrooke Swim Club
June 20, 2023
Summer is the perfect time for 55+ active adults to soak up the sun, stay fit, and enjoy invigorating activities. And for residents of The Preserve at SaddleBrooke, there's no better way to combine all of these elements than with summer swimming. The SaddleBrooke Swim Club offers a range of opportunities to enjoy the health benefits of swimming within a supportive community, making it the ideal summer activity for active adults.
Refreshing and Low-Impact Exercise
With soaring temperatures, what better way to beat the heat than by taking a refreshing dip in the pool? Swimming provides a full-body workout while keeping you cool in the water. The buoyancy of the water reduces the impact on joints, making it an excellent low-impact exercise for 55+ adults. Whether you're new to swimming or a seasoned swimmer, the Swim Club offers a supportive environment where you can enjoy the water and stay active.
Comprehensive Fitness Benefits
Swimming is a fantastic way to improve overall fitness and well-being. It engages various muscle groups and enhances strength, flexibility, and cardiovascular health. With the Swim Club's coached practices on Tuesdays, Thursdays, and Saturdays, you'll have the opportunity to focus on technique and fitness work. The experienced coaches will guide you through invigorating workouts tailored to your abilities and goals. It's a great way to challenge yourself and achieve your fitness targets.
Fun and Social Community
The Swim Club, it's not just about swimming; it's about fostering friendships and building a supportive community. Whether you're looking to socialize, make new friends, or enjoy the company of like-minded individuals, the Swim Club offers a welcoming atmosphere. You can participate in practice sessions, special clinics, and even compete if you desire. The emphasis is on having a fun experience with your swim friends, regardless of your skill level or competitive aspirations.
Accessible and Affordable
The Swim Club is open to swimmers of all abilities, from fitness-oriented individuals to those interested in competitive swimming. If you're already proficient in swimming laps, you can try a few SaddleBrooke Swim Club workouts for free before joining the club for an annual fee of just $20. The Swim Club provides a welcoming environment where you can enhance your skills, improve your fitness, and enjoy the company of fellow swimmers. Additionally, the DesertView pool, with its beautiful surroundings, is the perfect setting to enhance your swimming experience.
This summer, embrace the joy of swimming and stay active with the Swim Club. With refreshing workouts, supportive community, and numerous health benefits, swimming is the perfect activity for 55+ active adults. Take advantage of the beautiful DesertView pool, join the coached practices, and make a splash in your fitness journey. Whether you're a beginner or an experienced swimmer, the Swim Club welcomes you to a summer filled with fun, friendships, and invigorating workouts. Dive in and discover the incredible rewards of swimming!
Contributions by Claire Guidas
About The Preserve at SaddleBrooke
The Preserve at SaddleBrooke is an exceptional 55-plus community in north Tucson. Whether you prefer golfing or other activities such as tennis, Pickleball or swimming, the community offers ideal active adult living. With its spectacular mountain views, scenic golf course fairways, and impressive high-end amenities, The Preserve at SaddleBrooke is the perfect place to call home. Contact us to learn more today!