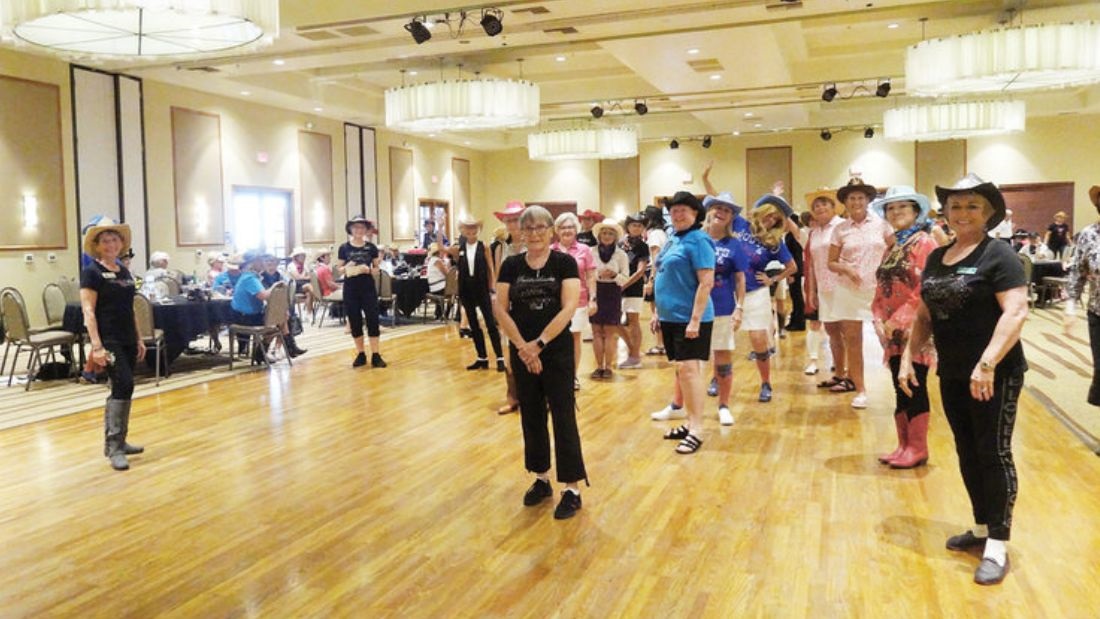 From Golf Links to Dance Floor – MountainView/Preserve Women's Golf Association
June 27, 2022
As the MountainView/Preserve at SaddleBrooke Women's Golf Association prepared for their Member-Guest Tournament, Terry Kelly, golfer, and member of the SaddleBrooke Line Dance Club was asked to teach a line dance at an evening event.
She told them, "I'm just a novice!" But Terry knew she could call on some of her fellow club members. After a day of golf, the Women's Golf Association adjourned to the MountainView Ballroom for drinks, appetizers, and conversation.
Finally, it was time for the line dancers to do their thing. The Line Dance Club President, Kaye Caulkins, started things off with a few jokes and remarks about similarities between golf and line dancing. Eight smiling dancers decked out in club T-shirts demonstrated two fun dances: "Looking Good" and "Shuffle Boogie Soul." A big thank you to SaddleBrooke Line Dance Club member, Lynn Stewart, for running the music!
Then, the club's novice workshop coordinator, Anne Romeo, (a golfer herself) got the golf girls up on the dance floor. Wow, what a wonderful response, as so many jumped right up from their chairs! "Looking Good" was the dance chosen to be taught, and everyone, indeed, was "looking good" and very happy. It was a fun evening for all, and the line dancers always enjoy sharing their love of line dancing with others.
The Preserve at SaddleBrooke residents interested in joining the Line Dance Club are welcome to join in on the fun!
Written by: Judy Saks
Active 55+ living includes over 100 activities, clubs, and classes at The Preserve at SaddleBrooke / SaddleBrooke in Tucson, Arizona. Discover all this Arizona retirement community has to offer including new homes for sale, high-end amenities, golf, and more. Call 866-818-6068 today!