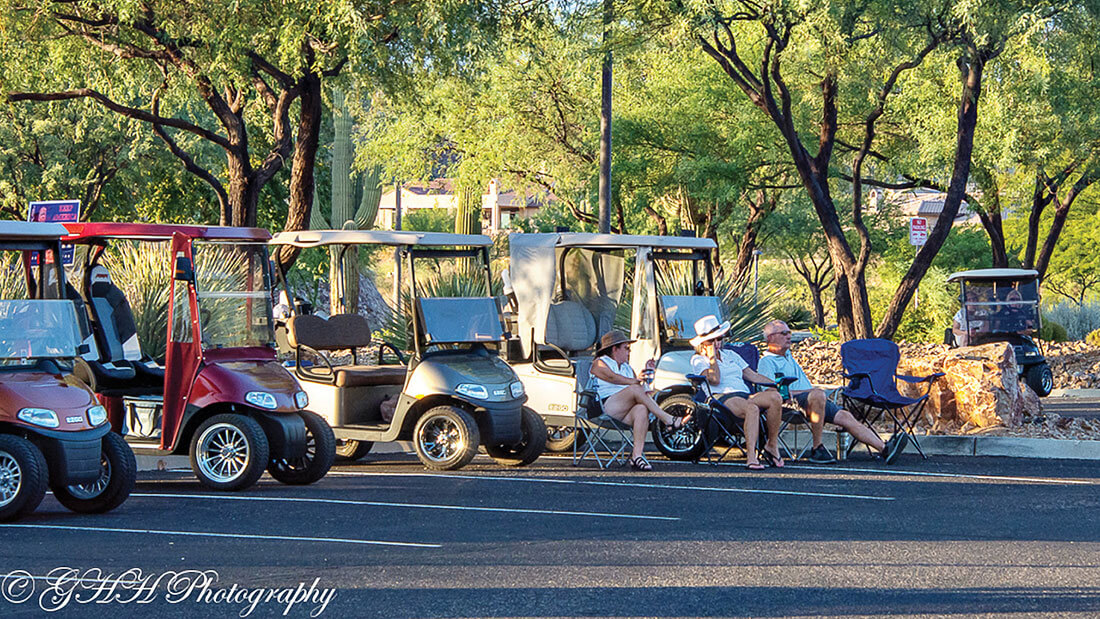 Happy Hour à la Carte at The Preserve at SaddleBrooke
November 25, 2020
It's 5 o'clock somewhere, but it's 2020 everywhere! Those who were burnt out sorting all their gimmicks, gizmos, and gadgetry; bored binge-watching while the Monsoons did not happen; or who had reported their spouse missing months ago because their jammies were the same color as the Barcalounger; cleared their very, very busy calendars and put a great big circle around October 13.
Parking lots aren't just for parking and backseat bingo anymore, they can be a safe gathering place for some cart camaraderie featuring mixology, munchies, and music. The cooped-up old kids took nappy hour before happy hour, then cruised their carts down to the Preserve parking lot for Happy Hour à la Carte, where everyone individually ordered off the menu of their own cart cantina. We take our cocktails seriously and our friends with a twist, so this twist on happy hour was indeed a cocktail of fun, friends, music, and dancing, and a possible advance in the search for a COVID containment cure.
Since the onset of the pandemic and social separation in 2020, there have been 10 resales in The Preserve at SaddleBrooke units 42, 43, and 45, and almost 20 new homes completed in unit 44-A. Finally released from captivity, the cart clan was eager to make new friends and reunite with long-time-no-see friends, who looked so different they were just like new friends. Just a heads up, gray became very in vogue this season in the Brooke. Nobody was saying all those COVID calories and carbs made anyone look bigger, just saying they have become easier to see. Since the Fashion Police had not been defunded, the familiar old lounging rags had been swapped for some stylish, snazzy glad rags.
Live from The Preserve at SaddleBrooke Parking Lot, Chuck Moses got the crowd movin' and groovin' to favorite songs and singers. It didn't take our well-loved and frequently-requested entertainer long to work in a little Garth Brooks, as it was obvious we had slipped on down to the asphalt oasis to hang around friends in low places, like parking lots. We were not the usual shady suspects lurking in parked vehicles where the whiskey drowns and the beer chases the blues away, we were just happy people who had found a way to get even happier. It was a fabulous cart cabaret, with a great mix of old favorites and top hits, and there was plenty of room on the star-lit dance floor to let your wild out, or for a little cheek-to-cheek with the one who still makes your toes curl. Pink mountains at night are a Brookester's delight, and the light breeze off the Catalinas made the evening's ambience perfection.
The Neighborhood Support Group thanks social workers Bonnie Barazani and Deborah Adinolfi for restoring our sanity for a happy hour and a half. We showed appreciation for the wonderful lives we have here in the Brooke Bubble as the cart-hop made the rounds and collected hundreds of dollars for the Tri Counties Food Bank. It was a reminder to count our blessings and to be happy each and every hour. The evening closed, stillness set in, and the stars took their place. Music filled our souls. Friends filled our hearts. Ah, the world sure looks better at closing time.
Written by: Ann Lange
Photo by: Gary Hodges