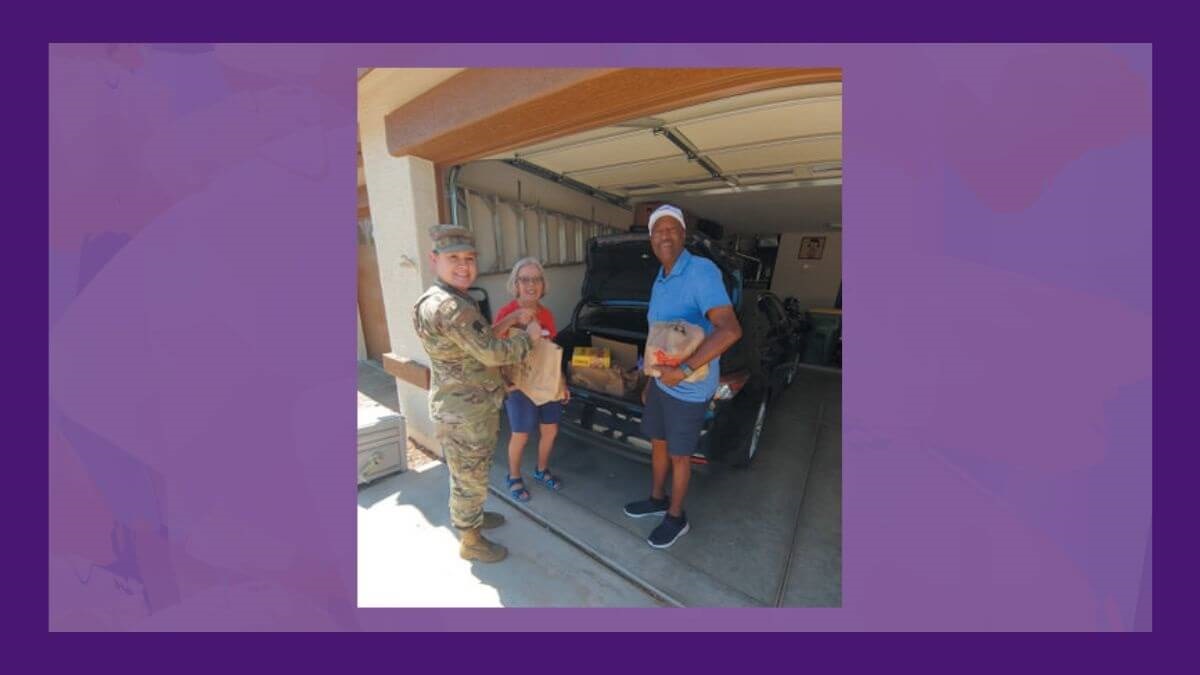 How Quail Creek Supports the Troops
August 24, 2023
The Green Valley Chapter of the Military Officers Association of America (MOAA) is thankful to Quail Creek residents for their generous support of the Food for the Troops program. Quail Creek supports the troops through this program, which aims to provide food to junior airmen in need in the 162nd Fighter Wing, Arizona Air National Guard, in Tucson.
Independence Day Donations
As Quail Creek celebrated Independence Day, the residents came together to make a difference. Around 150 pounds of groceries were donated to the Food Locker. The food is given to junior airmen in need of food as payday approaches. The community also contributed $202 in cash to further support the cause.
The 50/50 Raffle
Residents of Quail Creek showed their enthusiasm for supporting the troops by also participating in the 50/50 raffle. This raffle serves as a fundraiser for the Turkeys for the Troops program, organized by the Green Valley MOAA Chapter during Thanksgiving. The total intake for the 50/50 raffle was an impressive $362, with $181 going to the lucky winner. A standout moment came when Green Valley resident Jim Whitehouse won the 50/50 raffle. However, instead of keeping the winnings, Jim graciously donated the entire amount back to MOAA to assist in supporting the Food Locker at the Air National Guard. Jim's generosity and selflessness are truly commendable.
Supporting JROTC Cadets
In addition to their support for Food for the Troops, Quail Creek residents also purchased $350 worth of Jim Click raffle tickets. These tickets contribute to MOAA's program, which awards $2,500 scholarships to Junior Reserve Officers' Training Corps (JROTC) cadets each year. Quail Creek's involvement in this program highlights their commitment to investing in the education and future of our young military leaders.
A Giving Community
Quail Creek has proven time and again to be a giving and supportive community. Their contributions to MOAA's projects, such as Food for the Troops and the JROTC scholarship program, are a testament to their dedication to the well-being and success of the men and women in uniform. The Green Valley Chapter of MOAA extends its heartfelt appreciation to all the residents of Quail Creek who continue to support their initiatives.
In conclusion, the Quail Creek community's remarkable support and generosity for our troops is evident through their unwavering dedication. Quail Creek supports the troops as they face challenges, an the Green Valley Chapter of MOAA is grateful.
Contributions by Peggy McGee
About Quail Creek
Discover the outstanding active adult living and luxury amenities at Quail Creek, located just south of Tucson in Green Valley. Browse our new homes for sale, and become part of this giving 55+ community today. Enjoy golf, creative arts, fitness, Pickleball, clubs, classes, and activities designed to enhance your retirement lifestyle.