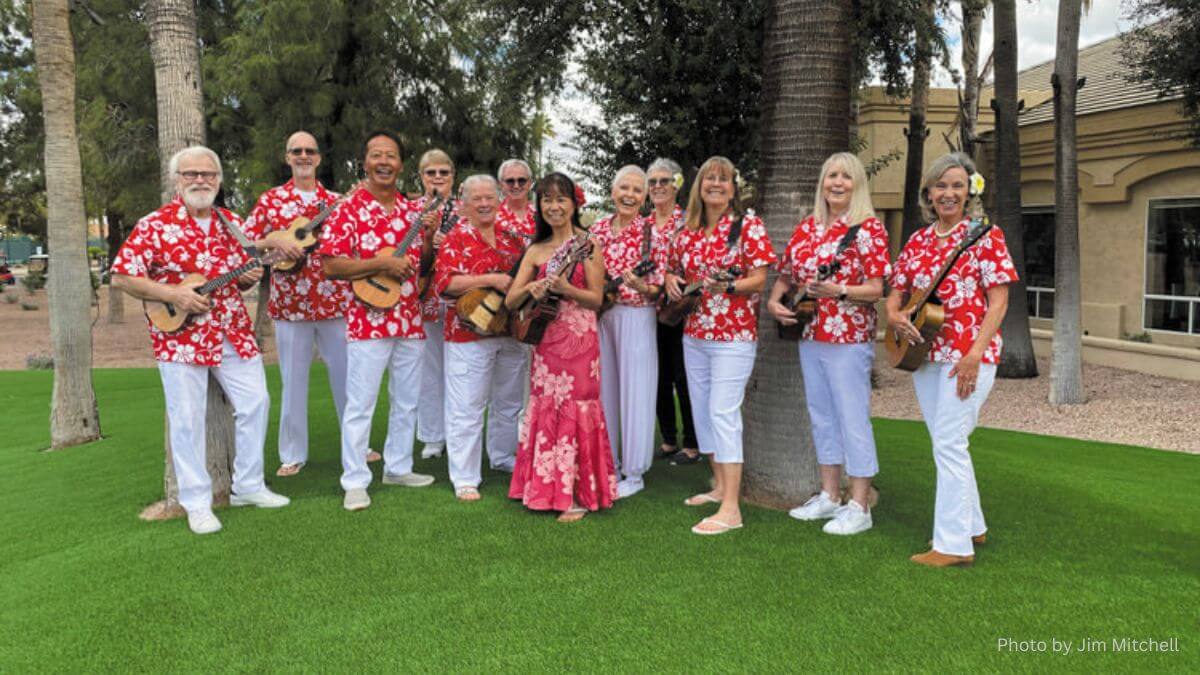 Island Style: PebbleCreek Ukulele Club a Hit!
April 19, 2023
As the sun shone, the PebbleCreek Ukulele Club, also known as "Island Style," performed at the Glendale Folk Festival for an enthusiastic audience. The club has been a regular performer at the festival for the past three years, offering a 20-minute program featuring a blend of Hawaiian and folk numbers that got the audience singing along.
A Beautiful Hula and Workshop on Hawaiian Ukulele Music
Club member Irene Manalili performed a beautiful hula while the group played and sang the Hawaiian melody, "Lovely Hula Hands." Later in the afternoon, the group held a workshop on Hawaiian ukulele music, with Irene teaching participants the hula. It was a fun and memorable experience for everyone involved.
Positive Feedback and Hawaiian Shirts
This year, the club brought the largest contingent of players ever to perform at the Glendale festival. The feedback on the performance was overwhelmingly positive, and the audience loved the Hawaiian shirts worn by the performers. The festival, held annually at the Saguaro Ranch Historic Park, offers many forms of acoustic music, food trucks, and booths.
Newcomers Always Welcome
The PC Uke Club meets every week from 1 to 2:30 p.m. in the Palm Room at the Eagle's Nest Clubhouse and welcomes newcomers and visitors to attend the meetings and join in on the fun. Playing the ukulele is a happy and relaxing way to bring people together through music.
Contributions by Gillian Driscoll
Join the Fun at PebbleCreek
The PebbleCreek Ukulele Club is just one of the many clubs offered at PebbleCreek, a 55+ community in Goodyear, AZ, that offers best-in-class retirement amenities for active adults. Whether you're into creative arts, golf, casual dining, or fitness, there is always something new to enjoy. Contact us today to learn more about our new homes for sale, luxury amenities, and fun activities.