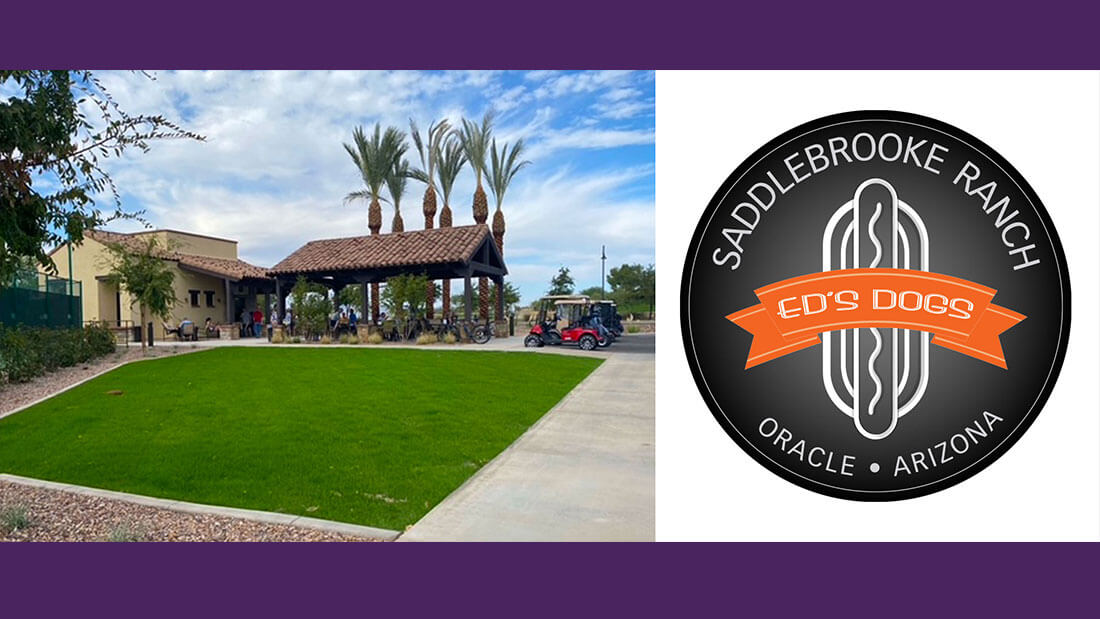 New Amenity at SaddleBrooke Ranch – Ed's Dogs
November 3, 2020
The active adult lifestyle at SaddleBrooke Ranch just keeps getting better with new amenities! Ed's Dogs is now open. This casual dining spot is sure to become a favorite for a quick bite to eat and reflects a piece of Robson Communities Founder's, Ed Robson, childhood memories.
Back in 1942, Ed Robson was a 12-year-old boy growing up in Arlington, Massachusetts. Like most kids, he spent his days rooting for Ted Williams, riding a Schwinn, and drinking 5-cent cokes.
As an aficionado of hot dogs, young Ed would sneak under the subway turnstiles, saving his dime, to buy a Howard Johnson's style hot dog in Harvard Square after working up an appetite practicing in the choir at Emanuel Episcopal Church on Newberry Street in downtown Boston.
Now, these weren't just any dogs, they were very tasty! Those skinny and delicious franks were delivered grilled on a toasted bun which left just enough room for extra relish, chopped onions, and a little special mustard.
Times may have changed, but these enjoyable hot dogs haven't.
Ed's Dogs features delicious hot dogs with special names. Many of the hot dogs on the menu are named after one of Mr. Robson's treasured canines he has had through the years.
This new casual dining option, Ed's Dogs, serves a variety of gourmet hot dogs like the "Mickey" with a special blend of pork with roasted green chilies, pepper jack cheese, special sauce and a toasted classic bun in addition to mouthwatering hamburgers such as the "Duke" with two quarter pound patties with your choice of cheese and all the fixings. Ed's Dogs also offers a variety of beverages including popular brews from the Ranch House Brewery. See what else Ed's Dogs has on the menu.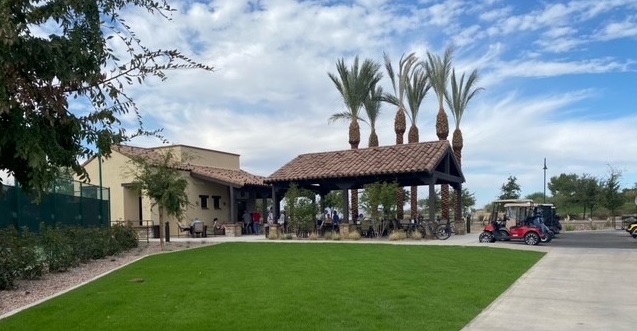 Ed's Dogs is conveniently located with incredible views across the lake and golf course. This new amenity is part of an amenity expansion that is currently underway. Once completed, this expansion will include two additional tennis courts bringing the community total to six, four bocce ball courts and a new ramada near the west end of the bocce ball courts that includes storage for bocce and tennis equipment and supplies.
After challenging a neighbor to a friendly tennis match or hosting out of town visitors, Ed's Dogs is a great new amenity that you are sure to enjoy! Additional luxury amenities at SaddleBrooke Ranch include:
– The Ranch House
– La Hacienda Club
– Championship Golf
– Resort-Style Pool Complex
– Creative Arts & Technology Center
– Esperanza Spa & Salon
– Viva Athletic Fitness Center
– Pickleball Complex with 24 Courts
– Dog Park
– Walking Trails
To learn more about these amenities and many more, please see our Amenities Overview flyer or visit our Amenities page.
At SaddleBrooke Ranch, residents Live Life Inspired! Discover the luxury amenities, countless activities and new homes in the North Tucson area at SaddleBrooke Ranch today!