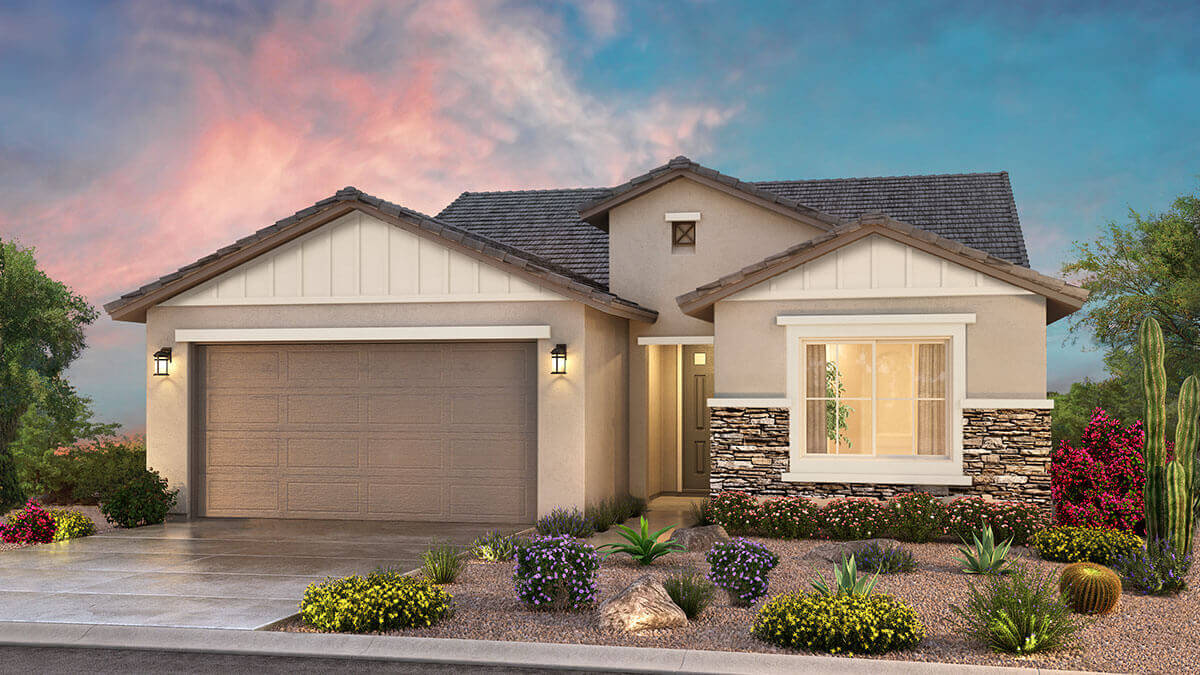 New Bali Home Design at SaddleBrooke Ranch Elevates Retirement
August 14, 2023
We are thrilled to unveil our latest addition to the lineup of beautiful new homes at SaddleBrooke Ranch – the Bali Home Design. Part of the Tradition Series, this exceptional home plan blends innovative design with impressive included features, promising an unparalleled retirement living experience. Therefore, get ready to embark on a new chapter of your life in style and comfort.
A Grand Entrance
Step into the Bali and experience an open concept layout that exudes warmth and elegance. The inviting foyer flows into the adjoining kitchen, great room, and dining area, creating a space that is perfect for entertaining guests or simply enjoying quality time with loved ones. Also, the seamless integration of these areas sets the stage for an exceptional home with 10-foot ceilings that is as functional as it is beautiful.
Versatility at Its Best
One of the standout features of the Bali is the spacious den, which offers endless possibilities. Whether you need a dedicated home office to pursue your passions or a versatile area for entertaining guests, you can easily transform this room to suit your needs. Embrace the flexibility and make this space truly your own.
Comfort and Privacy
The Bali offers exceptional comfort and privacy with two luxurious bedroom suites, each equipped with a private bath. Additionally, this thoughtfully designed home provides a haven for relaxation and rejuvenation. Moreover, every inch is carefully crafted to ensure your utmost comfort, creating an oasis for restful sleep.
Embrace Outdoor Living
We understand the value of outdoor living. The Bali features a generous covered outdoor living space, calling you to step outside and immerse yourself in the beauty of Arizona's desert landscape. Whether watching the sunrise or hosting a gathering, this is the perfect place to create lasting memories.
A Lifestyle Designed for You at SaddleBrooke Ranch
SaddleBrooke Ranch, located in Oracle, Arizona, just outside of Tucson, dedicates itself to providing an active adult lifestyle that caters to your unique needs. Moreover, our modern home designs and exceptional amenities are carefully curated to enhance your quality of life. Take a moment to discover the joys of resort-style living and all that awaits you. From a fitness center to a championship golf course, swimming pool, and a vibrant social scene, you'll have access to a range of amenities and activities. Embrace an active lifestyle, make new friends, and create unforgettable experiences – all within the welcoming community of SaddleBrooke Ranch.
Elevate your retirement living with the new Bali Home Design at SaddleBrooke Ranch. This exquisite home combines innovative design, impressive features, and a vibrant 55+ community that offers a retirement experience like no other. So, why wait any longer? Don't miss out on the opportunity to start living your best life. Contact us today to discover the active adult lifestyle that awaits you at SaddleBrooke Ranch.