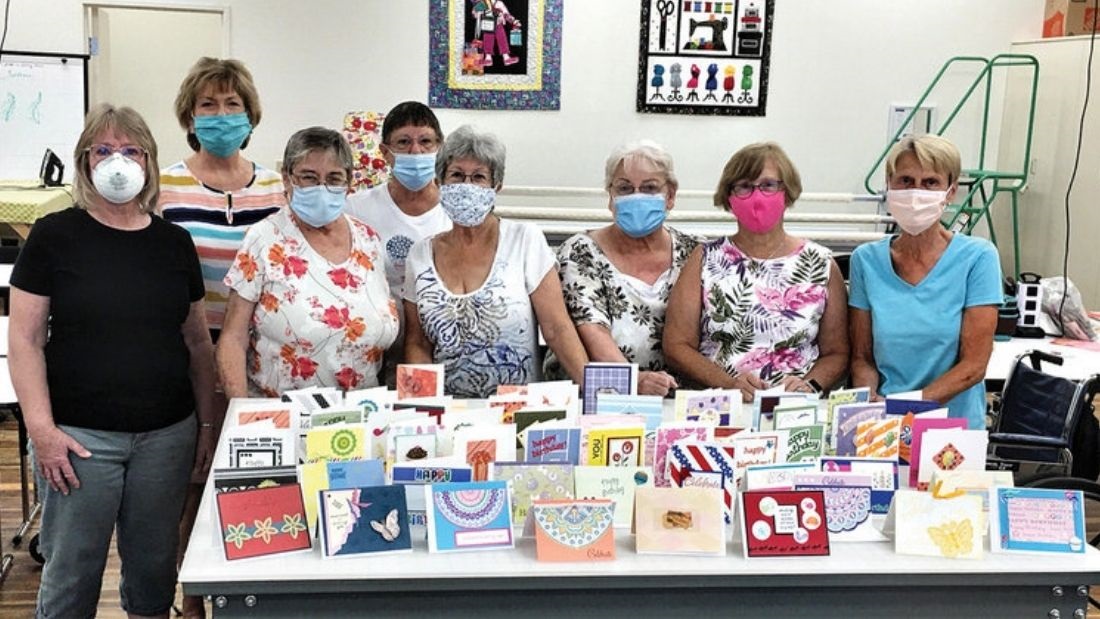 Paper Crafting Club at Robson Ranch Arizona
February 2, 2022
Hobbies, especially ones that tap into your creativity, are excellent ways to help enhance your emotional well-being and keep you engaged. Crafting is a great retirement hobby that lets you relax and find pleasure in an activity that makes you happy.
The Creative Arts Center at Robson Ranch Arizona offers a variety of crafting opportunities. In fact, the Paper Crafting Club invites all Robson Ranch AZ residents to come to check out their activities. Whether you are interested in ways to display your photos in a scrapbook or card making, this is a fun and fulfilling hobby. In addition to scrapbooks and cards, this club crafted gift boxes, desk calendars, and notepads that all make wonderful gifts.
If you don't have many people to send cards to, you can still have fun making them for our charitable projects. The club has given cards of appreciation to first responders, nurses, veterans, and food bank volunteers. In addition, they donate cards to senior living facilities for staff to give to residents and for residents to send to their loved ones. They have even made cards for the local animal shelter to give to folks adopting their "furever" pets.
About the Paper Crafting Club
Paper crafting classes are held at least once a month to teach different techniques, such as embossing, stenciling, making cards out of fancy napkins, and different folding styles. There are occasional classes for those new to scrapbooking. This club also holds an annual Crop 'til You Drop event where for two full days members reserve a table, bring all their materials, and for 11 hours straight, you can work on your projects and leave everything set out as you come and go as needed. It's a great opportunity to get a lot of crafting accomplished!
On top of all the creative work, the camaraderie among the club members makes the time all the more special. It's a rare day that there isn't a lot of laughter, and we all know that laughter is good for the soul! Members are always ready to help when someone is trying something new or has questions about design, color, or other aspects of the project at hand.
Yearly dues for the Paper Crafting Club include the use of all the equipment and supplies in the cabinet. The club meets twice a week and encourages all residents to come check out the fun crafting activities!
Written by: Jaine Toth