PebbleCreek Art Club's Summer Sketching Success
July 26, 2023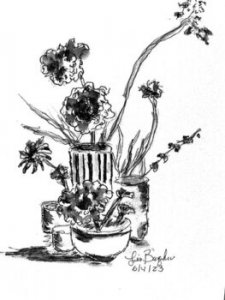 There was a purpose to the PebbleCreek Art Club's summer sketching. According to John Sloan, an American painter and founder of the Ashcan school of art, "The important thing is to keep drawing when you start to paint. Never graduate from drawing." Similarly, Arshile Gorky, who had a seminal influence on Abstract Expressionism, wrote: "Drawing is the basis of art. A bad painter cannot draw. But one who draws well can always paint."
The 30-30 Sketch Group
During summer, about 40 members of the PebbleCreek Art Club spent 30 minutes each day in June putting pencil or pen to paper as part of the 30-30 sketch group. Betty Jean Kennedy initiated this group in 2022 to encourage artists to draw daily and enhance their skills. Artists recognize the importance of sketching before starting a painting to ensure a successful composition.
The artists' sketches vary widely in subject, ranging from pencil sharpeners and flowers on the table to blankets thrown over chairs and more. Most people do their sketches in pencil or ink, but some also use watercolors, pastels, or colored pencils.
Carol Collins, hailing from Minnesota and contributing sketches of horses, explained, "The painting I am currently working on has five horses. So, I'm getting some practice before painting them."
The Group Grows
Having heard about last year's 30-30 group, many artists were enthusiastic to join the experience. With a larger number of participants this summer, an online Google group was created to facilitate the sharing of sketches.
Cynthia Lavin, who recently relocated to PebbleCreek, expressed her excitement, stating, "I am so excited to participate for the first time. It was a big move from Chicago, and this is just what I want to get back into this creative flow/path."
"This is a genius program for all artists in PC," wrote Cathy Lai. "I feel lucky and appreciate this opportunity. This is my first year to join, and I feel that I can learn a lot from all the talented artists."
The artists in the group range from novice to professional. Many of them have been Artist of the Month in previous years. Everyone's sketches are appreciated and encouraged, with friendly comments such as "Great work" or "love your creativity."
While it's not necessary to be in PebbleCreek to participate, those who are there are encouraged to come to the Creative Arts Center for open studio from 9 a.m. to 3 p.m. Tuesday through Saturday, except Wednesday morning. PebbleCreek Art Club's summer sketching is a chance to escape the heat while interacting with other artists.
With contributions by Emily Grotta
About PebbleCreek
PebbleCreek is recognized as a top choice for 55+ active adult living in the heart of metro Phoenix in Goodyear. With its luxurious new homes and outstanding location, PebbleCreek offers residents breathtaking landscaping and world-class amenities. You will enjoy our state-of-the-art fitness club, championship golf and Pickleball facilities, and fun club and activities such as the PebbleCreek Art Club. Discover why PebbleCreek is the ideal place for your retirement destination.