PebbleCreek Hiking Club Diary
November 12, 2020
PebbleCreek Hikers Explore Nearby Trails in Goodyear – 
A group of PebbleCreek Hiking Club members conducted an exploratory hike to find a trail connection between the Estrella Foothills and the Estrella Star Tower hiking trail systems. The exploration was a success, as a trail going through a tunnel under Estrella Parkway was found to connect the two trail systems. The Estrella community just south of the river has now finished connecting all of their hiking/biking trails systems. The hiking club does hikes at four levels (4-5 miles, 6-8 miles, 9-11 miles, and 12+ miles) and has hikes six days a week (Monday through Saturday).
Written by: Pete Williams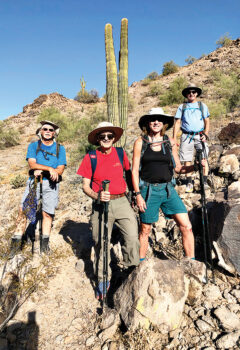 PebbleCreek Hiker Celebrates 2k Milestone – 
Dave Ausman (Ausy) and six fellow "B" hikers enjoyed champagne and orange juice while celebrating an important hiking milestone of 2,000 miles hiked. Ausy was born in New York, but spent much of his adult life in New Hampshire, and has years of experience hiking and backpacking in the mountains of New England. However, while serving in the Air Force, he was based at Luke and was exposed to the Southwest lifestyle, which helped convince Ausy and wife Joan to move to PebbleCreek upon retirement in 2018. Although there is a big climate difference, he quickly transitioned to hiking desert trails and established himself as one of the strongest "B" hikers. Hiking is one activity which is healthy and relatively safe during COVID-19, and lends itself to social and physical distancing. Visit the club's website at https://pchikers.org/ for updates and pictures.
Written by: Lynn Warren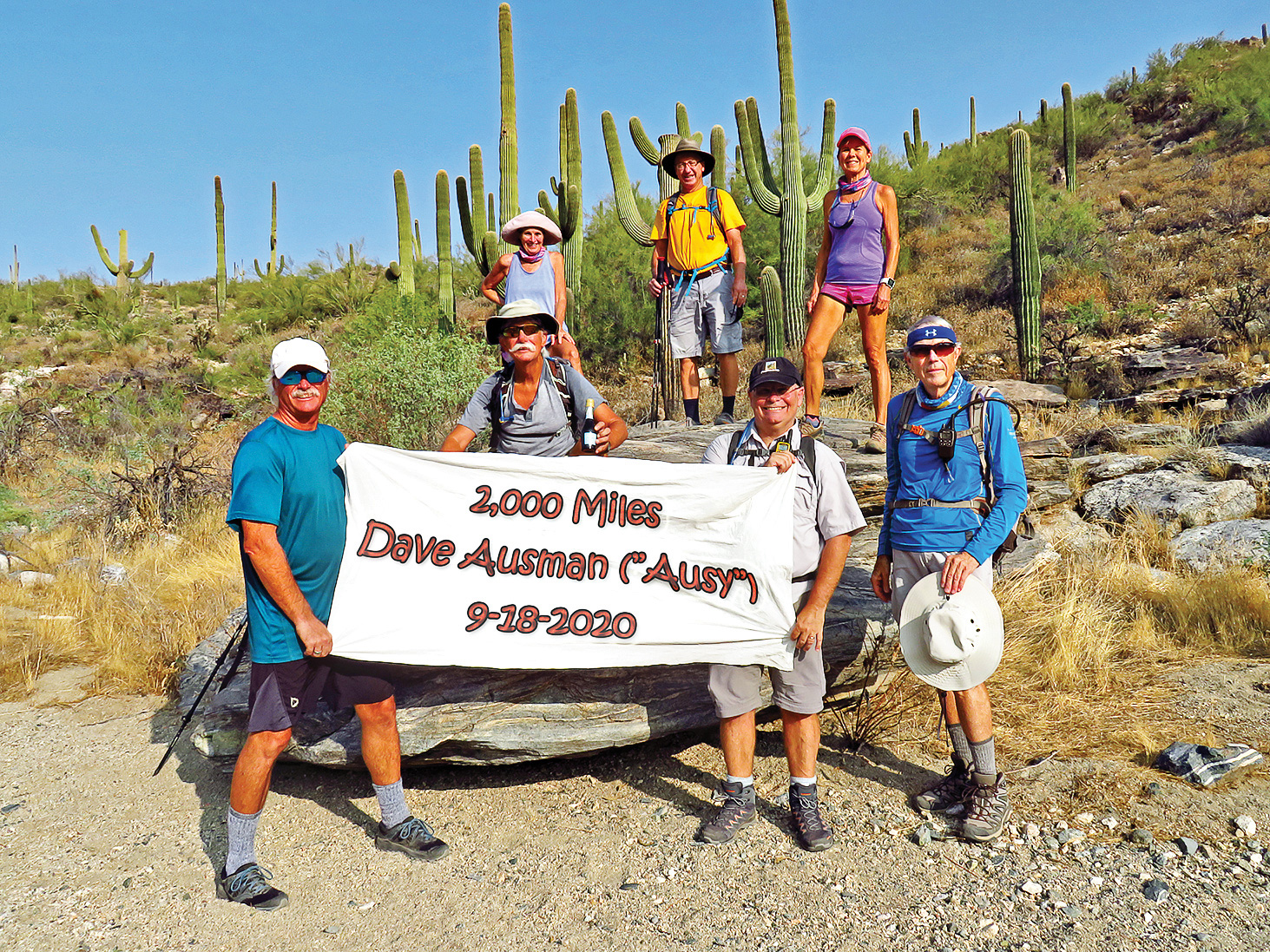 Backpacking in Buckskin Gulch – 
Utah has some incredible scenery, much of which can be seen from the road. However, Buckskin Gulch, a unique and impressive geologic feature southeast of Kanab (and near The Wave), is below the surface and can only be experienced from within. The gulch is approximately 14 miles long and is considered the longest slot canyon in the world. It features amazing rock patterns and sheer walls, which in places are several hundred feet high. On Sept. 28, four PebbleCreek hikers embarked on a three-day, bucket list backpacking trip from Buckskin Gulch Trailhead to White House Trailhead on the Paria River, at a total distance of 27 miles. For day hikes, there are no restrictions on the number of hikers, but for overnight camping, the number of campers is limited to 20 in the entire Paria River Wilderness area. Due to this restriction, the hikers engaged Kanab's Dreamland Safari Tours because they had permits and experience in the gulch. Buckskin Gulch can be a very dangerous place if there is any chance of monsoon activity, which can create flash floods with little chance of escape. Fortunately, this year's "non-soon" created mostly, but not totally, dry conditions in the gulch. Even though the elevation gain was minimal, the hike wasn't exactly a walk in the park since the hikers were challenged by having to carry 30-lb. pack, including nine pounds of water. They waded through several pools of water and knee-deep mud, all part of the Buckskin experience. However, everyone completed the trip safely and considered it an experience of a lifetime.
Written by: Lynn Warren