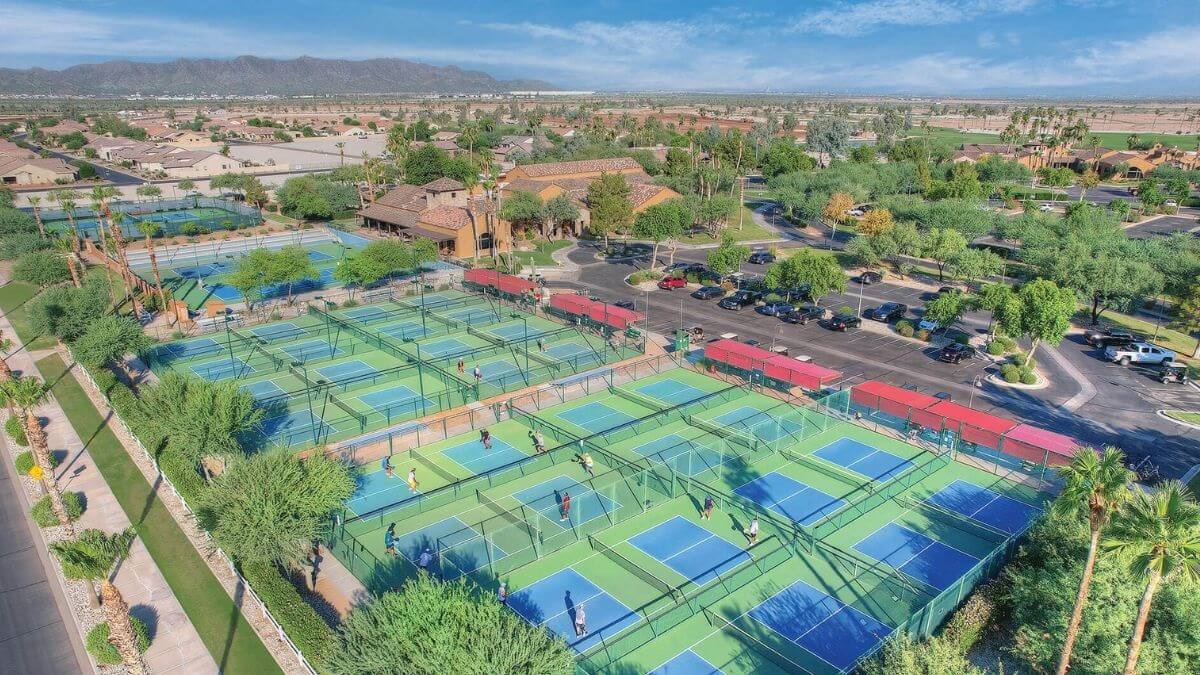 Pickleball Popularity at the Robson Resort Communities
September 12, 2023
Over the past decade or so, Pickleball has taken the active adult community by storm! Combining elements of tennis, badminton, and ping pong, Pickleball has surged in popularity among retirees, becoming a staple at recreation centers, some schools, and 55+ communities including the Robson Resort Communities. But what makes this sport so appealing to active adults? Let's explore Pickleball popularity at the Robson Resort Communities and its overall growth with active adults.
Serving More Than 90 Pickleball Courts
As Pickleball became the latest retirement sensation, the Robson Resort Communities expanded their luxury amenities to include courts galore. Combined, the Robson Resort Communities currently feature 90+ Pickleball courts with proposed plans to add even more courts at select communities. Find your Pickleball paradise and see what the Arizona 55+ active adult communities and the Texas retirement community currently offer.
Metro Phoenix & Greater Phoenix Area Pickleball Communities
The Goodyear 55+ retirement community, PebbleCreek, features 20 private courts for your Pickleball prowess. In addition, the community has a proposed plan to add 16 additional courts bringing the total to 36 Pickleball courts when completed. With a community of more than 1,500 Pickleball enthusiasts, it's no surprise that residents have formed a variety of Pickleball clubs for some neighborly competition and endless fun!
Surrounded by everything that makes Arizona a top retirement destination, Robson Ranch Arizona is easily one of the best Pickleball communities in the Greater Phoenix area. Robson Ranch boasts 16 dedicated courts and in 2015, the community hosted the USA Pickleball Nationals event. Talk about Pickleball prestige! The Robson Ranch Arizona Pickleball Club website currently has over 600 members and growing.
Southern Arizona Pickleball Communities
Quail Creek in the Green Valley and Sahuarita area showcases a Pickleball complex with 16 courts, a shady ramada, and restrooms. Plus, Quail Creek has plans to add an additional 16 Pickleball courts with a ramada and a parking area. After completion of the additional 16 courts, this Arizona Pickleball community will feature a total of 32 dedicated Pickleball courts. The Quail Creek Pickleball Club promotes good fellowship and sportsmanship for active adults who enjoy socializing, competing, and learning together.
SaddleBrooke Ranch, just north of Tucson, takes it up a notch with a state-of-the-art 24-court, a ramada, benches, and restrooms. Pickleball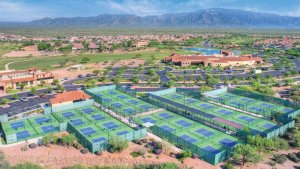 is one of the largest sports within this 55+ active adult community. As the popularity of Pickleball continues to grow within the community, the SaddleBrooke Ranch Pickleball Association organizes events, Pickleball lessons, and many other activities focused on all things Pickleball.
At The Preserve at SaddleBrooke and SaddleBrooke in Tuscon, Pickleball is one of the most popular retirement sports. Active adults can enjoy Pickleball at one of the courts located at the Mountainview Sports Complex.
Texas Pickleball Communities
Retirement living for 55+ active adults at Robson Ranch within the Dallas / Fort Worth Metroplex comes with many benefits including 16 dedicated Pickleball courts and an active Pickleball club. The Robson Ranch Denton Pickleball Club offers a variety of league play, fun, and friendship. Read more about how this Texas retirement community has learned to love Pickleball.
When it comes to retirement living, Pickleball communities offer plenty of activities to keep you motivated, engaged, and active. Are you ready to take part in the Pickleball Popularity at the Robson Resort Communities? For more information about each Pickleball community and the outstanding 55+ lifestyle, contact us.
Why is Pickleball So Popular Among Active Adults?
Pickleball's popularity among active adults can be attributed to its accessibility, social benefits, fitness advantages, adaptability, affordability, mental stimulation, and inclusivity. It's a sport that not only helps individuals stay physically active but it also fosters a sense of belonging and community. Here are a few of the top reasons that Pickleball has become such a popular sport for retirees.
1. Accessible and Easy to Learn
One of the primary reasons for Pickleball's popularity is its accessibility. The rules are easy to follow, and the learning curve is relatively low, making it easy for active adults of all skill levels to pick up the game quickly. Unlike tennis, which can be physically demanding and require more skill, Pickleball allows players to enjoy a fun, low-impact activity without feeling overwhelmed.
2. Social Interaction
Staying engaged and connected with others is something that many active adults seek after retirement. Pickleball provides an excellent opportunity for social interaction. It's typically played in doubles, encouraging camaraderie and teamwork. Many players find that the social aspect of the game, along with post-game gatherings, fosters a strong sense of community. Active adults at the Robson Resort Communities have formed a variety of clubs and groups dedicated to playing Pickleball. Whether you are interested in joining a Pickleball club, looking for drop-in match play, or just want to watch the fun, the Robson Resort Communities offer this and more.
3. Physical Fitness
Pickleball is an excellent way for 55+ adults to stay physically fit. While it offers a good workout, it's less strenuous on joints compared to sports like tennis or racquetball. The smaller court size and slower-paced rallies reduce the risk of injury, making it an ideal choice for those looking to maintain their fitness without overexertion.
4. Adaptable to Various Skill Levels
Pickleball can be played at different skill levels, from beginner to advanced. This versatility means that players can continuously challenge themselves and improve their game over time. For active adults, this adaptability provides a sense of achievement and a goal to work towards, promoting continued engagement with the sport.
5. Affordable and Accessible Facilities
Many retirement communities and recreation centers have recognized the demand for Pickleball and have invested in dedicated courts. Today, the Robson Resort Communities feature 90+ dedicated Pickleball courts throughout the Arizona and Texas retirement communities. Proposed plans to add even more courts in select communities are underway. The affordability of the equipment, including paddles and balls, also makes it an attractive option for active adults looking for a new hobby.
6. Mental Stimulation
Pickleball requires strategy and quick thinking, which can provide mental stimulation and keep cognitive skills sharp. From teens to active adults and seniors, players appreciate the mental challenge that the game offers, as it's not just about physical prowess but also about making tactical decisions during play.
7. Inclusivity
Pickleball is a sport that can accommodate individuals with varying physical abilities. This inclusivity factor allows people with different mobility levels to participate, reinforcing a sense of community and belonging. As more people discover Pickleball, it's likely to continue thriving in the active adult community for years to come. So, whether you're a seasoned player or a newcomer, Pickleball offers something fun for everyone to experience.
Reach out to the Robson Resort Communities today to learn more about the new homes for sale, luxury community amenities, and 55+ lifestyle.