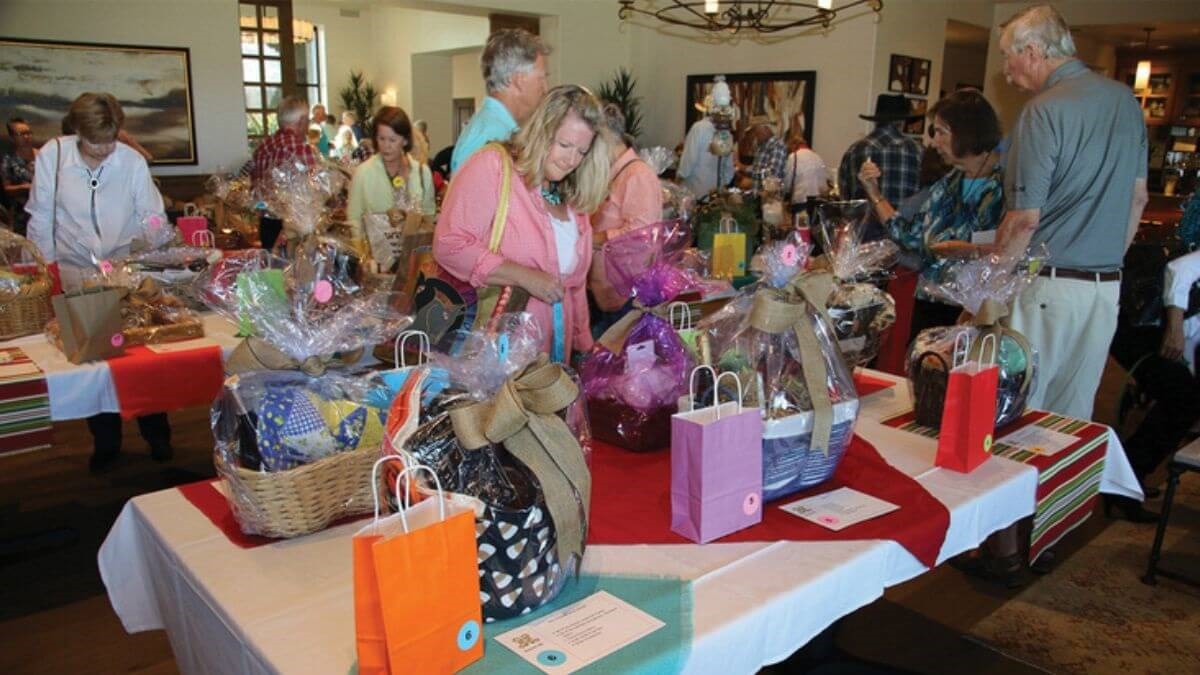 Quail Creek Javelina Hoedown
December 15, 2022
If you missed the Quail Creek Javelina Hoedown recently at the Madera clubhouse, you missed a great party! About 250 lucky people attended this year and helped The Women of Quail Creek (TWOQC) raise over $14,000 for 2023 Scholarships to be awarded next April. They bought cash and gift basket raffle tickets and bid on over 70 silent auction items.
The bar opened, music began, and the fun started! Before dinner, attendees had time to peruse the silent auction and gift baskets set up in the Copper Room. Hoedown attendees enjoyed a Chuckwagon dinner. Then, came the tough decisions. Participants bid on silent auction items and chose which gift baskets to place their raffle tickets. To make things a bit easier, the Basket Committee listed the contents on a card in front of the basket.
While waiting for the announcement of the winners, Hoedown guests danced to the tunes spun by DJ Tony G throughout the evening. There were many very lucky people that night! Two winners took home cash from the cash raffle while 30 others took home one of the many large gift baskets. The gift baskets included items donated by local Quail Creek artists and crafters, as well as gift certificates and other items from Green Valley, Sahuarita, and Tubac businesses. The silent auction featured about 70 items—everything from beautiful handmade quilts, wooden bowls, handcrafted jewelry, a $300 gift certificate from Ashley Furniture, a timeshare week, gourmet wines, specialty dinners, and so much more!
Thank You from The Women of Quail Creek
The Women of Quail Creek would like to thank everyone who attended and so generously supported the silent auction and raffles. The Women of Quail Creek would also like to thank all those who worked on the committees to help bring the event together. An event like this one is possible because of the generosity of our retirement community and the many women who worked to make it happen. Thank you!
If you were lucky enough to attend, we hope you had fun. And if you missed it this year, there will be another fun-filled fundraiser next year. Watch the What's Happening and the Quail Creek Crossing next fall for details.
Written by: Deb Melton
About Green Valley Retirement Living at Quail Creek
The Javelina Hoedown is one of the many fun activities for active adults at Quail Creek. Learn more about the clubs, activities, and events at Quail Creek here. Located in the Green Valley and Sahuarita area, Quail Creek offers some of the best Arizona retirement living near Tucson. From the unique charm of the area to the stunning new-build homes for sale to the friendly residents, you will love everything this over 55 active adult community has to offer. Learn more now about Quail Creek retirement living!