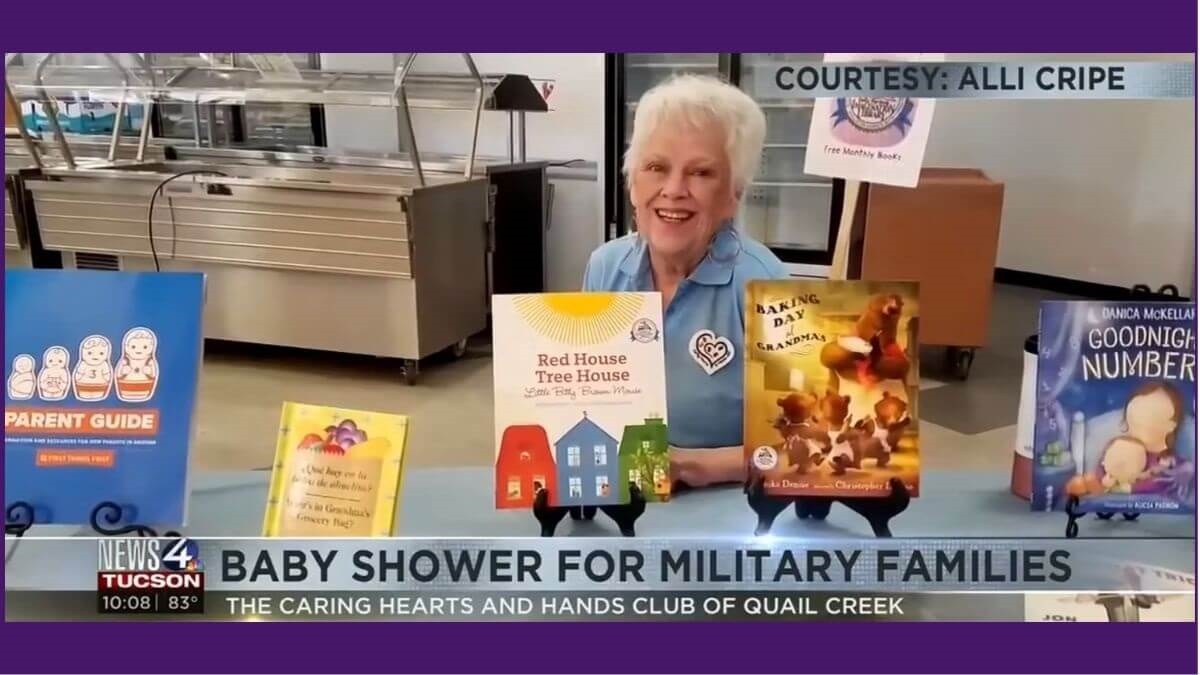 Quail Creek Military Baby Shower a Huge Success
July 25, 2022
The Caring Hearts and Hands Club of Quail Creek celebrated a Star-Spangled Baby Shower with the 162nd Wing of the Air National Guard in Tucson for 31 babies, soon to be the newest members of the Guard family. With close to 80 people in attendance—expectant mothers, their husbands or significant others, and additional family members— The Caring Hearts and Hands Club of Quail Creek delivered a baby shower extraordinaire!
See the Caring Hearts and Hands Club of Quail Creek Military Baby Shower preparation in action!
About the Star-Spangled Baby Shower at Quail Creek
These well-deserving military families were selected by 162nd Wing based on their financial needs. The Caring Hearts and Hands Club of Quail Creek wanted to ensure that these babies' needs were well covered. Each baby received: a new stroller (a monetary gift from American Legion Post 131); a handmade diaper bag stuffed with handmade baby essentials; a mom's handmade bag with supporting mommy products; a large laundry basket stuffed with brand-new baby clothes, receiving blankets, more baby products, and a handmade quilt, all lovingly put together by the members of the club. In addition, the club worked with the following organizations:
300 diapers – Courtesy of Diaper Bank of Southern Arizona
$50 grocery card for each family – Courtesy of Operation Homefront
Enrollment in Dolly Parton's Imagination Library
A baby shopping cart seat – Courtesy of Q & A Group, LLC.
Wait, there is more! Attendees of the Quail Creek Military Baby Shower enjoyed games and expectant families received prizes ranging from baby bathtubs to Diaper Genies, and more. Finally, each family received tickets for large raffle items, and seven lucky winners went home with prizes including:
Pack 'n Play
Highchair
Handmade christening gown or suit (made by Sue Ann Obremski)
Cross-country baby backpack for hiking
Beautiful crib-size handmade quilt (designed and quilted by Quail Creek Quilt Covey)
Diaper cake containing toys and money
Above all, the Caring Hearts and Hands Club thanks the generous residents for making the Quail Creek Military Baby Shower a huge success. The help and support over the past six months with monetary donations and gifts in kind were greatly appreciated. Collectively, we have let our underserved military families know that we appreciate and support them.
Written by: Connie Vaughan
About Quail Creek
Retirees looking for an active adult community with high-end amenities, abundant social activities, and stunning new homes for sale have found this and more at Quail Creek. Located in Green Valley, a top 55 and over destination in Arizona, Quail Creek offers an outstanding 55 plus living.
If you are ready to learn more about Quail Creek in Green Valley, call 888-648-0332 or request more information now!