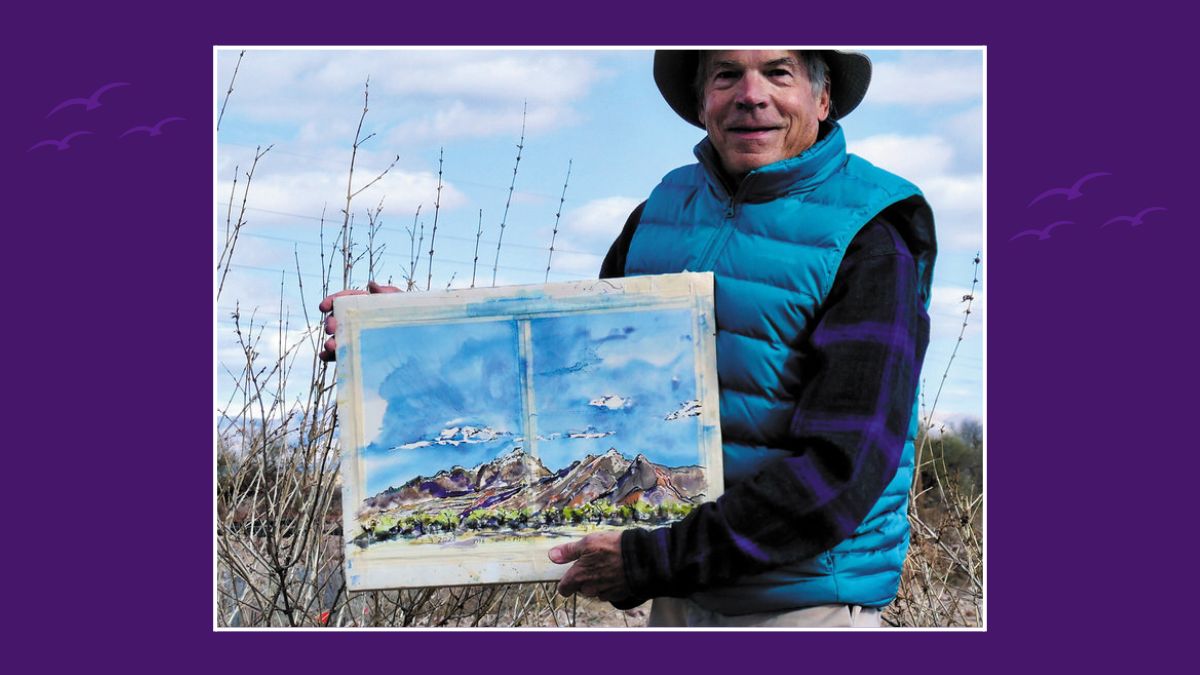 Quail Creek's Artist of the Month: Multitalented Artist Steve Piepmeier
July 26, 2023
Artist, photographer, jewelry maker, and entrepreneur—four nouns that describe Quail Creek's Artist of the Month, Steve Piepmeier. But there is so much more.
When you first meet this quiet, unassuming, modest, and talented man, you would have no idea that he is so complex. Why? Because he will never tell you. Modesty is his middle name. However, I did manage to dig out some interesting facts and stories during my interview.
Here are a few things I learned about Steve:
Steve spent his early years in Pennsylvania. Soon after, he attended the Maryland Institute College of Art (one of the oldest art schools in the nation) where he earned a B.A. and a Master of Fine Arts degree. I would have expected he would go on to be an art curator or owner of an art gallery. While Steve surely would be qualified to do this kind of work, his free spirit and need for adventure took him in another direction—a commune. Yes, Steve lived for a number of years in a commune where he worked for a book publisher and did illustration and research on the American long rifle. All the while, he kept journals and drawings and photographs of interesting subjects he would keep forever. Yes, forever. Steve still has them all—45 years of art journals.
Steve was boyhood friends with a well-known Santa Fe artist Bill Berra who told him to get out of Pennsylvania and come to Santa Fe, N.M., where the Southwestern art culture was happening. Bill is also the brother of Marjorie, Steve's wife. But that is another story. Moving to Santa Fe, Steve took a job at Bishop Lodge, a dude ranch. There began his love of horses. You will find today any number of paintings and jewelry creations of Steve's that portray horses and their surroundings.
Soon Steve found his purpose and love. He began working for the Elaine Horwitch Gallery. Elaine is credited with putting Southwestern art on the map.
Santa Fe, historically a melting pot of Southwestern art, became a driving force in Steve's life. While working for the gallery, Steve met many artists and learned the art of gallery life. In addition, celebrities such as Robert Redford and Ralph Lauren came to buy art from the gallery. Through this experience, Steve became knowledgeable in Southwestern art.
Fast forward to 2014 when Steve and Marjorie moved to Quail Creek.
The Creative Arts and Tech Center building was nearing completion. When Steve learned there was no art club, he and other artists immediately went through the process to start one. And now, almost 10 years later, it's an art club offering numerous classes in different mediums for the beginner, all the way up to the advanced artist. All this because an artist with a wealth of knowledge and experience in art moved to Quail Creek at just the right time. Steve still serves as an advisor to the board of Quail Creek Fine Arts Painting Club (QCFAPC).
The next time you see Steve, say hello to the "Piepster" and thank him for his many contributions to Southwestern art. This is your invitation to join the Art Club and take part in one of our many classes taught by amazing and talented artists and enjoy the club's camaraderie. You might also get a chance to ask Quail Creek's Artist of the Month Steve Piepmeier about some of his experiences in the "Land of Enchantment." And, trust me, you will be glad you did.
Written by Emilie Ortega, President, QCFAPC
About Quail Creek
From the moment you arrive at Quail Creek, a vibrant retirement community located just 25 miles outside of Tucson, you'll indulge in pure luxury and breathtaking beauty. Whether you crave indoor or outdoor hobbies or entertainment, countless amenities and exciting pursuits await you. From state-of-the-art fitness facilities to cozy social spaces, from delectable culinary adventures to the opportunity for creative pursuits in the arts, Quail Creek has it all and more. Contact us today to learn more about the 55+ lifestyle at Quail Creek.