Robson Ranch Arizona RV Club
November 5, 2021
Recently, the Robson Ranch Arizona RV Club had its first rally of the season. Four RVs left Robson Ranch in Eloy and headed north to the cooler temperatures of Prescott, Arizona. In late 2019, Wagonmasters Cathy and Corky Rodine, along with assistants Alice and John Corbett, made a scouting trip to find accommodations for a future rally. As a result of the pandemic, the two couples—along with Becky and Wayne Moritz and Renee and Lee Kleinjan—waited until 2021 for this rally.
Rally activities included: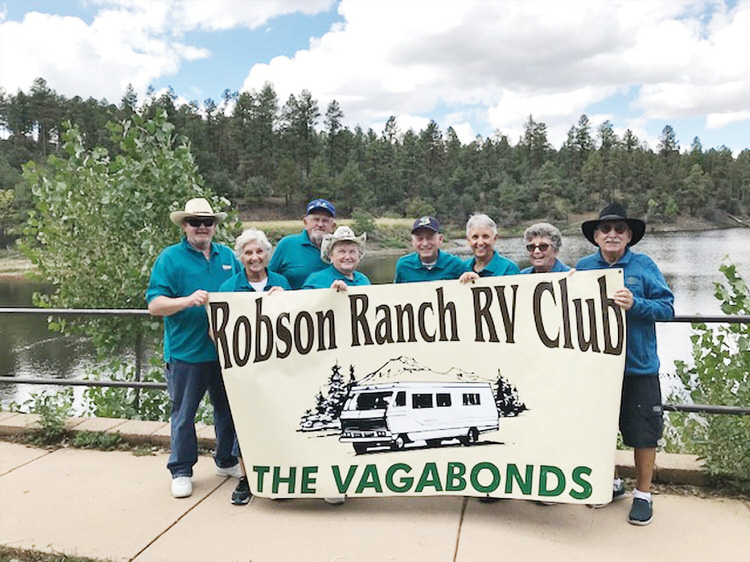 Chamber of Commerce-guided tour of downtown Prescott
Docent-led tour of the Sharlot Hall Museum
Picnic lunch at Lynx Lake
Several restaurant meals
Shopping
And much more
Future rallies for this season include Catalina State Park in Tucson, Arizona; Las Cruces, New Mexico; Williams, Arizona; Parker, Arizona; Rocky Point, Mexico; and Santa Fe, New Mexico.
About the Vagabonds RV Club
The Vagabonds RV Club at Robson Ranch Arizona is a social group for those that enjoy the RV lifestyle. The club meets monthly from October through May in a multi-purpose room within the Sports Club. Club members share their RV experiences, plan future trips and have fun.
Learn more about the social clubs and fun activities available at the 55 and over retirement community, Robson Ranch Arizona, here!