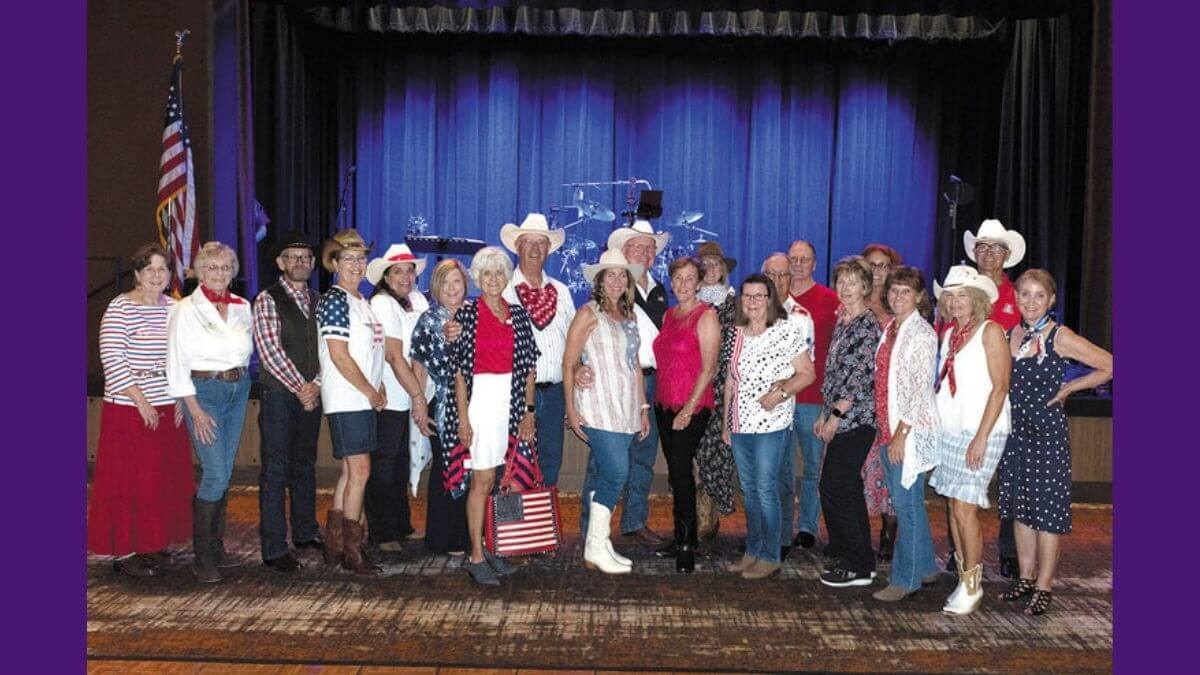 SaddleBrooke Ranch Dancers Decked Out in Red, White, and Blue
August 24, 2023
Decked out in red, white, and blue, SaddleBrooke Ranch dancers gathered in the Sol Ballroom to enjoy the SBR Social Dance Club's monthly western dance. The Tucson-area band, Whiskey Roads, provided the lively tunes as 50 dancers swirled and twirled to their favorite country-western songs. Notably, dancers from the western dance clubs at SaddleBrooke and Sun City Rancho Vistoso joined in, adding a lively mix to the evening. This club regularly sponsors western dances showcasing the finest country-western bands in Tucson. They perform live on the Sol Ballroom stage. Also, they offer a diverse range of country-western music, from two-step and waltzes to swing, partner patterns, and even a few western line dances.
Door Prizes
Monthly western dances feature changing entry requirements, like wearing specific attire such as cowboy boots or hats. For this dance, attendees embraced the theme, showcasing red, white, and blue in their shirts, bandanas, hats, scarves, shawls, jewelry, and even purses. Sandy Cooper, the winner, earned two tickets to the next dance.
All levels of dancers are welcome at the dances and newer dancers are encouraged to "come on down" and practice their newly acquired skills. Given the size of the dance floor, registration is limited to 90 dancers.
Other Social Dances
The club also sponsors rock 'n' roll and social dances, featuring a live band or DJ, as well as a variety of ballroom and western dance lessons. Western dance lessons include the two-step, western waltz, swing, and partner pattern dances. Two-step and other lessons occur in the fall.
For details on upcoming dances and lessons in 2023 and/or to register for the dances and lessons, go to the club's website at www.sbrsbdc.club. Information about the dances and lessons is sent directly to club members and those subscribed to the club's mailing list. Additionally, you can find details on the club's website and in the Ranch Reminder and Ranch Events weekly newsletters. Registration typically opens around four weeks before the event.
Contributions by Janelle Authur
About SaddleBrooke Ranch
SaddleBrooke Ranch provides a wealth of luxurious amenities designed to enhance your lifestyle. Enjoy engaging in social activities or clubs like the SaddleBrooke Ranch Dance Club. Then, expand your horizons through learning experiences at the Creative Arts and Tech Center. Relax at the resort-style pool complex or connect with friends in welcoming gathering spaces. This 55+ community redefines resort living for active adults in every aspect. Learn more about the new homes available by contacting us today.