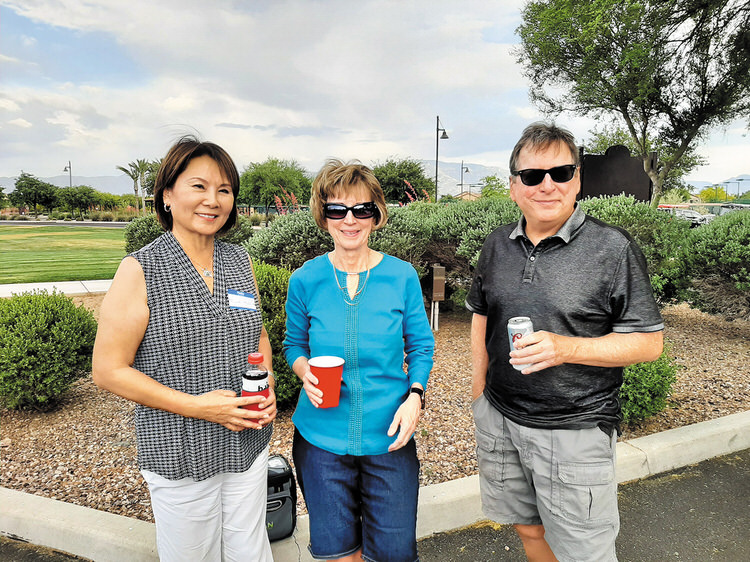 SaddleBrooke Ranch Embraces Community Spirit at Rainy Potluck
July 26, 2023
SaddleBrooke Ranch is truly a special place to call home. What distinguishes this active adult community from the rest is how SaddleBrooke Ranch embraces community spirit by offering a variety of social opportunities. Residents Bev Hinton and Deb Sandin recently organized a block party potluck for the residents of Units 3 and 4A. The event showcased this remarkable community spirit, even in unexpected weather conditions. This thriving community fosters a sense of belonging and togetherness.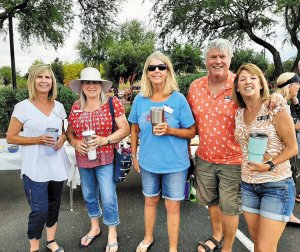 Despite an unseasonal spring thunderstorm, the residents of Units 3 and 4A showed up for the potluck with a delicious appetizers and desserts. At one point, the organizers and their helpers had to quickly scramble back to their vehicles when the rain started. Thankfully, the weather eventually cleared up. With lively music playing in the background, residents mixed and mingled, enjoying the company of their neighbors and making new connections.
Even those who hadn't RSVP'd due to a conflicting Wine Club gathering on the Event Patio decided to join in on the fun. It was wonderful to see everyone come together and enjoy themselves, despite the wet weather. When the rain started again at the scheduled end time, residents gathered their leftovers and headed home, all in agreement that the party was a success.
Living at SaddleBrooke Ranch means having a close-knit community where residents support and enjoy each other's company. SaddleBrooke Ranch embraces community spirit. The potluck was just one example of the many unit events that take place throughout the year. The residents are already looking forward to the next gathering. So, if you're looking for a welcoming and active community, SaddleBrooke Ranch might just be the perfect place for you.
With contributions by Deb Sandin
About SaddleBrooke Ranch
Discover SaddleBrooke Ranch, a luxurious 55+ active adult community just north of Tucson, Arizona. Enjoy breathtaking mountain views, stunning homes, and resort-style amenities, including a resort-style pool, championship golf, and dog park. Experience vibrant social life, connecting with new neighbors and forming lasting friendships in this friendly North Tucson oasis. Contact us to explore available new homes at SaddleBrooke Ranch and start your exciting journey towards a fulfilling community living experience.