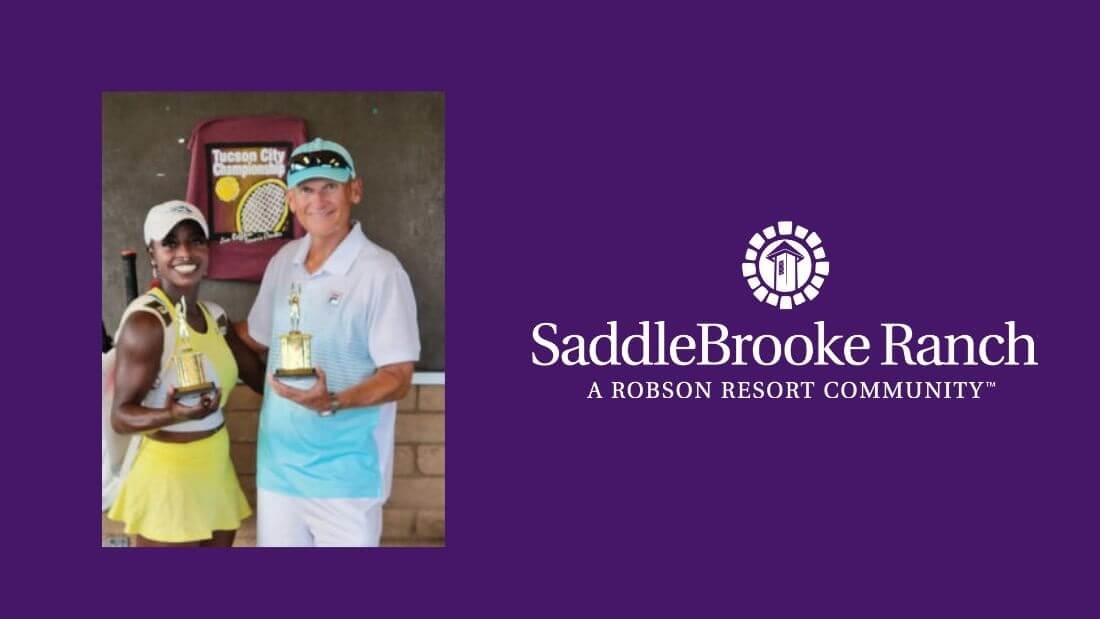 SaddleBrooke Ranch Tennis Association Member in the News
November 8, 2022
SaddleBrooke Ranch Tennis Association member, Wayne McGiboney, with his partner Caroline Ogunware, are the new Tucson City Champions in the 18 & Over 7.0 Mixed Doubles. They won the final 6-1, 6-0. The Tucson City Tennis Championships took place at Reffkin Tennis Center in Tucson.
Also, in the prior weekend, the El Conquistador 40 & Over 8.0 Mixed Doubles team that Wayne is on won the Southwest Sectional Championship competing against the five teams that won the Phoenix, Northern Arizona, Southern New Mexico, Northern New Mexico, and El Paso, Texas, regions. The team will compete in the 2022 National Tennis Championships.
Of note, Wayne just started playing tennis again last year after a 17-½ year hiatus. The Tucson City Championships was the first tournament he has played in 19 years. Congratulations, Wayne!
Written by: Deb McGiboney
About SaddleBrooke Ranch
SaddleBrooke Ranch is a resort living community for ages 55 plus located just north of Tucson in Oracle, Arizona. The ideal location of this retirement community offers a quiet sanctuary from the hectic pace of life. The greater Tucson area captures the Southwestern lifestyle and offers a cultural oasis of museums, shopping, and outdoor activities, perfect for ideal active adult living.
Whether your interests include tennis or fine arts, SaddleBrooke Ranch is full of fun activities, clubs, events, and much more.
Learn more today about SaddleBrooke Ranch! Start your new home search or discover more about the overall 55+ lifestyle.