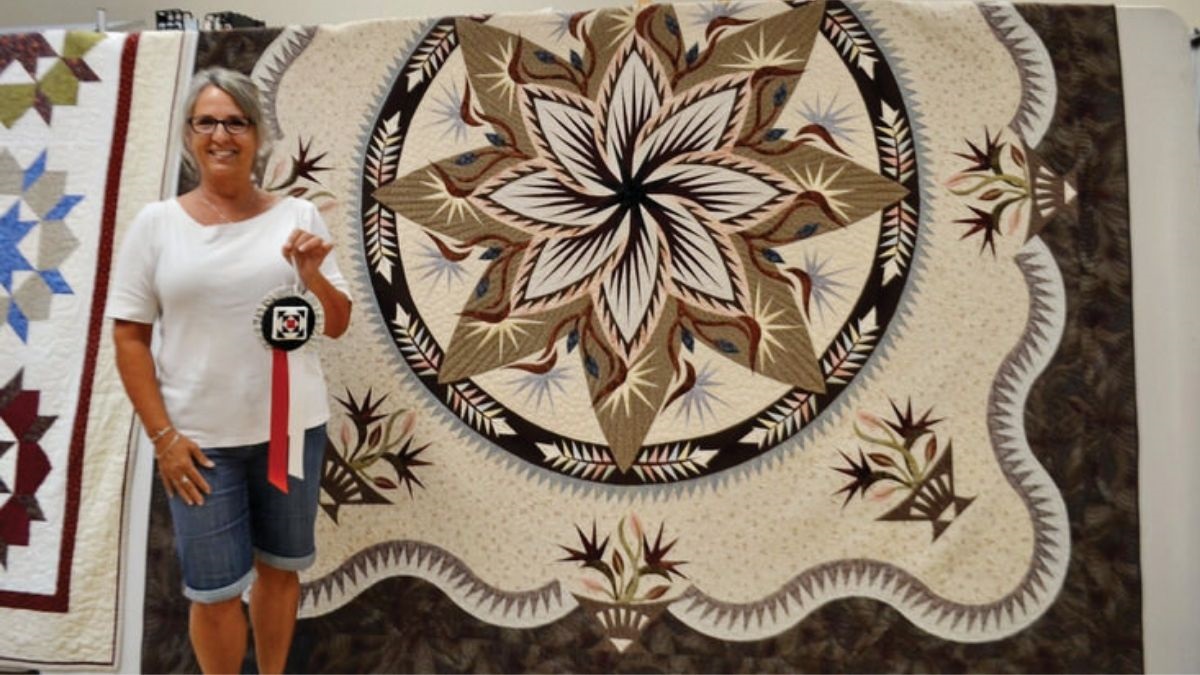 The Art of Quilting Show at PebbleCreek
May 5, 2022
The PebbleCreek Quilters Club hosted The Art of Quilting quilt show in the Creative Arts Center recently. Committee Co-Chairs, Barb Maurer and Ronda Jones, committee members, and volunteers turned the Creative Arts Center's workshops into a dazzling boutique displaying a vast array of 230 quilted and appliqued items that included clothing, nesting baguette bags and Camden totes, pillows, wall hangings, and king-size quilts.
A few comments made about the uniqueness and creativity displayed at the PebbleCreek Quilters' quilt show were:
"A beautiful display of talent and artistry."
"I was blown away by such creativity, talent, and designs."
"Enjoyed it very much. I'm so glad I went."
"Impossible to vote on the best ones!"
PebbleCreek Art of Quilting Quilt Show Competition
Those attending the quilt show had an opportunity to vote on their favorite quilts or accessories in six categories: art, hand-applique and vintage, modern, traditional, challenge, and two-colors. Although it was difficult for guests to choose a favorite in each category, choices were made and votes were cast.
Winners of each category:
Barbara Van Trump, art
Mary Hill, hand-applique and vintage
Londi McCready, modern
Cindy Rainey-Bell, traditional
Barbara Mauer, challenge quilt
Kathy Brown, two-colors quilt
The PebbleCreek Quilters Club enjoyed visiting lecturer, Lenna DeMarco, who presented two lectures on her research and writing of quilt history. Ms. DeMarco restores quilts and repairs antique quilts for museums, dealers, designers, and private collectors. And, she also researches and writes about quilt history. She is past president of the American Quilt Study Group and the Phoenix Area Quilters Association. In 2016, Ms. DeMarco was inducted into the Arizona Quilters Hall of Fame for her work in preserving and promoting quilt history nationally and in Arizona.
PebbleCreek Quilters Club members appreciate the enthusiasm of the nearly 620 guests who attended the quilt show, and they thank everyone for their participation in the viewer's choice selection.
The PebbleCreek Quilters Club looks forward to hosting the next quilt show.
Written by: Jonnie Chandler
About the PebbleCreek Quilters Club
The PebbleCreek Quilters Club includes over 150 members that love to sew, quilt, and enjoy sharing their tips, tricks, and skills. The club promotes fellowship among quilters and initiates quilt programs, classes, and workshops. In addition, the PebbleCreek Quilters Club also supports many local charities by creating and distributing various items.
Learn more about the available clubs, classes, and activities available at PebbleCreek.