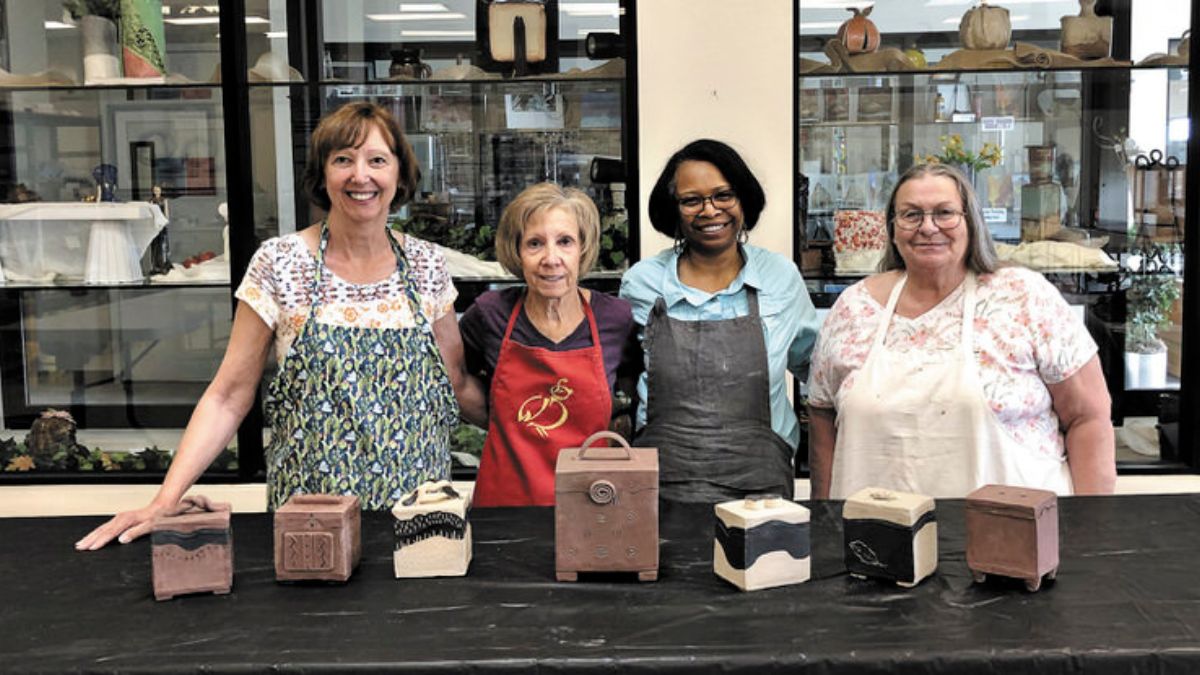 The World of Ceramics and Pottery at Robson Ranch Arizona
July 26, 2023

Recently the Ceramics and Pottery Club at Robson Ranch Arizona concluded its classes on creating unique boxes with lids, resulting in stunning and individualized pieces. At the club, there are various opportunities for members to delve into the art of ceramics, going beyond traditional notions of ashtrays from the past. With a wide range of creations, from bowls and trays to lidded boxes, totems, ornaments, and ceramic animals, the club provides a welcoming space for all to explore their passion for clay work. Come discover the world of ceramics and pottery at Robson Ranch Arizona.
Explore the World of Ceramics
Moreover, the club takes pride in offering classes that cater to their members' diverse interests in clay work. Unlike the cliché ashtrays of the past, the club encourages members to craft beautiful and functional items. Whether it's bowls, trays, totems, ornaments, or ceramic animals, our club is dedicated to fostering creativity and skill in ceramics.
Orientation Classes and Beyond
Are you ready to unleash your creativity and passion for ceramics and pottery? Visit Studio 1 at the Creative Arts Center. Feel free to drop by to witness the ongoing projects, engage with members, and learn more about the club. And if you like what you see, why not sign up for the next orientation class? This class provides an introduction to the techniques and tools essential for creating unique pieces. Once you've completed the orientation, you can learn to make a variety of items, opening up a world of possibilities for your artistic expression.
A Clean and Organized Studio
In order to maintain a creative and inspiring environment, we recently dedicated time to clean and organize our studio. Volunteer members worked diligently to ensure tables, cabinets, and shelves were spotless and well-arranged. As a result, our efforts have transformed the space into a tidy and welcoming area where members can now focus on making vases, mugs, dishes, figurines, garden décor, birdhouses, and more. The spacious, clean, and comfortable air-conditioned studio houses the year-round club, providing the perfect setting for your creative endeavors.
Discover the world of ceramics and pottery at Robson Ranch Arizona, where you can create unique and fun items for yourself, your family, and your friends. The club eagerly looks forward to sharing the joy of ceramics and pottery with you! Reach out to Mary Ann Bechtel for more information.
About Robson Ranch Arizona
Robson Ranch boasts a prime location in the Casa Grande area, offering easy access to both Phoenix and Tucson. It stands out as a luxurious 55+ resort, featuring championship golf and a state-of-the-art sports club complete with a resort-style pool & spa, an indoor pool with lap lanes, and a well-equipped fitness center. Moreover, residents can indulge in their artistic pursuits at the creative arts center, enjoy the serenity of walking trails, and pamper their furry friends at the dog park. With an extensive selection of over 50 clubs and activities, there's something for everyone to explore and enjoy.