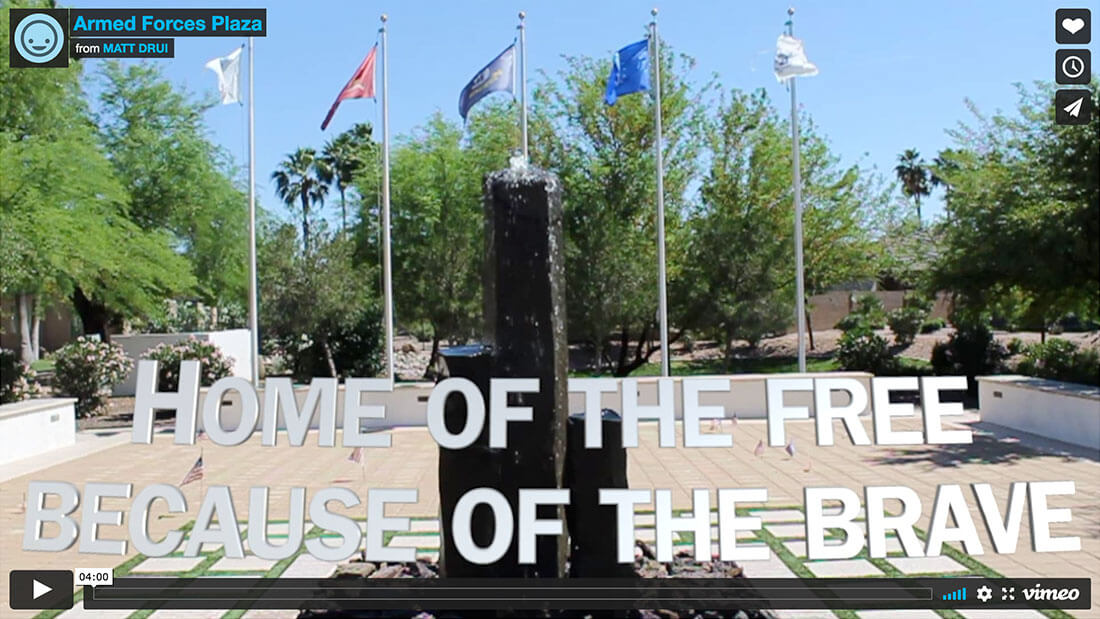 Video Released Commemorating 10-year Anniversary of Armed Forces Plaza
May 15, 2020
Ten years ago on May 15, the PebbleCreek Armed Forces Plaza was dedicated. Mr. Ed Robson donated the land for the plaza. It was once the location of the original sales office. Today it is a place of honor. It is a place where we remember, and recognize, the selfless service of the many men and women who have served, or are currently serving, in the Armed Forces.
The Activities Office has created a special video for this occasion. In addition to celebrating the 10-year anniversary of our Plaza; this video also recognizes Armed Forces Day, May 15, 2020. Because we are not able to gather together in the plaza at this time, we wanted to make this video to honor and recognize, as well as give thanks, to the members of our Armed Forces.
The contributions you are about to see were recorded in the plaza on May 8, 2020. Our presentation features John Spooler delivering the Pledge of Allegiance. Mr. Spooler was a founding member of the group who worked to make this plaza possible. You will see that his delivery evokes the emotion of the event, and it's a true honor to hear him give the Pledge. And sharing her beautiful voice to honor our servicemen and women, Pat Ingalls sings the National Anthem. Her moving rendition is a treasure, captured in just one take. Pat truly has a gift that we thank her for sharing.
On behalf of the entire PebbleCreek HOA staff, we want to thank all of the brave servicemen and women who have served and who are currently serving.
If you have questions about the Armed Forces Plaza, or would like to inquire about purchasing a paver to honor the service of someone in your life, you can reach out to the Activities Office by calling 623-535-9854.
Source: Traci Baker, Director of Community Activities & Communications