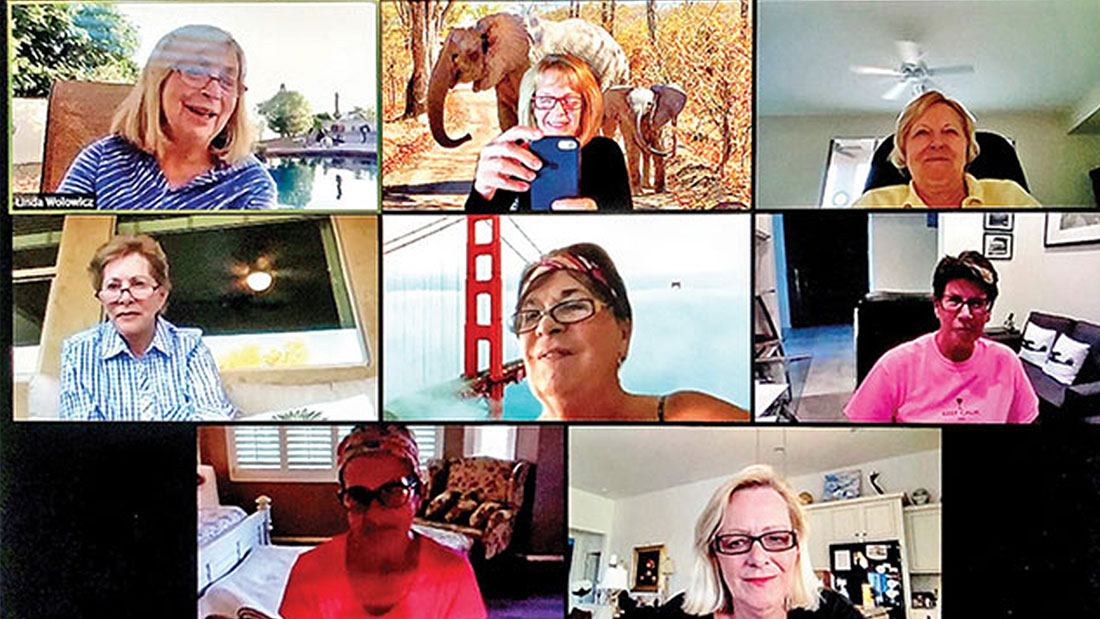 Zoom Wine Tasting
July 22, 2020
During May, while we continued sheltering in place, the Wonderful Wandering Women's Wine group of SaddleBrooke Ranch, which was initially started by Linda Wolowicz and Rebecca Williams, met for the first time ever via Zoom.
During the summer of 2013, Linda and Rebecca talked about how great it would be to get together with other women, most of whom had partners who could care less about wine, who would enjoy getting together on a regular basis to taste wine, and so the Wonderful Wandering Women's Wine group was born.
The group met for the first time in August 2013 and have met monthly since then. Over the last seven years, as a few members moved away, others have been added. Yet the basic plan of the group has remained—each month, a member hosts the group and provides a tasting of her choice of four wines and appetizers that best marry with the wines being presented.
Over the last several years, we've set aside December for a holiday dinner and wine tasting, where each member invites a significant other or friend to enjoy the good cheer of the season together, with one of our members planning the extravaganza.
In addition to the four wines, the monthly host provides wine pairing snacks such as fruit, crackers, chocolate, pate, cheese, nuts, crab, bread, pudding, fish, cake, etc.
To date, we have tasted over 275 different wines from around the world. Our tastings ranged from California boxed wines, to a French Sauterne, to a Pinot Grigio from Arizona, to Cabernet Sauvignons from South Africa and Chile. Tasting adventures also included sparkling wine from New Mexico, Gewurztraminer from Germany, Rose from Bulgaria, Sauvignon Blanc from Australia, and on and on.
Tastings are sometimes vertical—differentiated by vintage (say from 2013 to 2018) of the same wine from the same winery. In this kind of tasting, we get a sense for the influence of the yearly climate. We've also enjoyed horizontal tastings—tasting similar wines all from one year, say 2016, and what varies instead is the producer. Other times, we've tasted similar wines from different countries, or the wines from a particular country that they're noted for.
Sometimes the wine tasting has been blind. Then at the end, we're often surprised to find the group's top pick is a lesser blend, vintage, or lower priced wine.
The possibilities we've found are endless. What is constant is our enjoyment and appreciation of each wine, and more importantly the sisterhood of our group. The support and caring for each other is what we most cherish and look forward to. I feel blessed to be part of this amazing group of women.
Arlene Wong